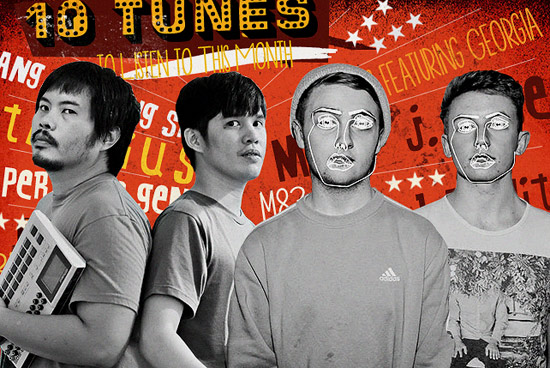 (SPOT.ph) Hot tracks are set to heat up your playlist this October. Listen to Mary J. Blige and Disclosure's collab, Magic!'s sweet reggae single, Perfume Genius' gripping release, M83's cinematic synth tune, and 2:54's alternative rock entry. We have local tracks for your enjoyment, too. Hear the latest from Tarsius, Ang Bandang Shirley, Eyedress, half-lit, and Top Junk.
Song: "Right Now"
Artist: Mary J. Blige (produced by Disclosure)
The Lawrence brothers have once again teamed up with American songstress Mary J. Blige to produce a sexy, smooth, and soulful track with a retro feel. The two acts have collaborated in the past for the dance ditty "F for You."
Fun fact: "Right Now" was produced by Disclosure for Blige's The London Sessions album, set to come out on December 2.
Song: "Baluga 2000"
Artist: Tarsius
Tarsius' new single opens with tribal beats then smoothly escalates into an eclectic groove. The fluctuating energy makes it unpredictable, for a minute catching you off guard, but you can quickly pick up and get moving to it again.
Fun fact: "Baluga 2000" is a Tarsuis and Team Manila collaboration.
Song: "Let Your Hair Down"
Artist: Magic!
"Let Your Hair Down" may not live up to the hype set by "Rude," but it's definitely worth a listen. Reggae is always a pleasure to hear, and the genre works great in this slow love track. The chill sound might as well transport you to the Carribean.
Fun fact: Magic! is set to perform at the Newport Performing Arts Theater, Resorts World Manila on October 22.
ADVERTISEMENT - CONTINUE READING BELOW
Song: "When I'm Gone"
Artist: Eyedress featuring Georgia
Psychedelic artist Eyedress has released a teaser to his forthcoming debut record, Astral Traveling Man. Once again, Eyedress brings the listener to a whole new dimension-somewhere so entrancing you'll never want to leave.
Fun fact: Eyedress is music producer Idris Vicuña.
Song: "Grid"
Artist: Perfume Genius
"Grid" by Perfume Genius, a.k.a. Mike Hadreas, is the perfect soundtrack for a messed up (but rather fun) night. It's dark and hypnotic, with haunting banshee howls, horns, and heavy bass.
Fun fact: "Grid" is off Perfume Genius' third album entitled Too Bright, which was released on September 22.
Song: "Nakauwi Na"
Artist: Ang Bandang Shirley
It seems nothing can be sweeter than Ang Bandang Shirley's "Nakauwi Na." Solid guitar riffs and drum beats contrast against the vulnerable message in the lyrics. It's something we can all relate to-that relief and comfort of home.
Fun fact: "Nakauwi Na" is off the band's latest album, Tama Na Ang Drama.
Song: "In the Cold I'm Standing"
Artist: M83
Electronic act M83 recently reissued their first three albums. They also just put out a music video for "In the Cold I'm Standing," a dreamy, delicate, cinematic synth tune from their 2005 album, Before the Dawn Heals Us. The video is a completely different experience in itself, but be warned: It's almost NSFW.
Fun fact: The band is named after a galaxy.
ADVERTISEMENT - CONTINUE READING BELOW
Recommended Videos
Song: "backspace me"
Artist: half-lit
half-lit, a side project of local electronic artist B.P. Valenzuela, recently released "backspace me." The track is too delicate (you can say fragile) and personal, like an introspection or a confession. "backspace me" will make you want to dig deep into your feelings of love, hurt, regret, and more.
Fun fact: According to the artist, "half-lit was made in an attempt to channel my post-midnight loneliness into something else."
Song: "Blindfold"
Artist: 2:54
"Blindfold," off the band's forthcoming sophomore LP entitled The Other I, is a refreshing alternative rock track with a lot of control. We love the rise and fall in the song's intensity, plus the mixture of rock and ethereal electronic sounds.
Fun fact: The London-based band is composed of Colette Thurlow, Hannah Thurlow, Joel Porter, and Alex Robins.
Song: "Significant Other"
Artist: Top Junk
Top Junk pleases with "Significant Other," a dance-y track infused with disco, rock, punk, and electronic flavors. Frontwoman Tuesday Vargas sounds a lot like Gwen Stefani, which adds more spunk to the single.
Fun fact: The band's Retox EP is now available on iTunes, Spotify, Deezer, Amazon, and Rdio.
Share this story with your friends!
---
Help us make Spot.ph better!
Take the short survey
Load More Stories