(SPOT.ph) Tank warfare in the final days of World War II sounds like the perfect flick for action fans. Director David Ayer's Fury holds nothing back in that aspect: visceral blood spatter, spectacular pyrotechnics, and limbs that are unapologetically blown off. And yet, it is less of a macho fest, and more of an intense and personal look into men hardened by war.
The grisly film takes its name from the moniker of a Sherman tank, its barrel-and deadly missions-emblazoned with the word. Brad Pitt is riveting as Sergeant Don "Wardaddy" Collier, a gnarled and battle-scarred veteran with an appetite for violence. His tough facade only cracks when he is out of the tank he calls his home.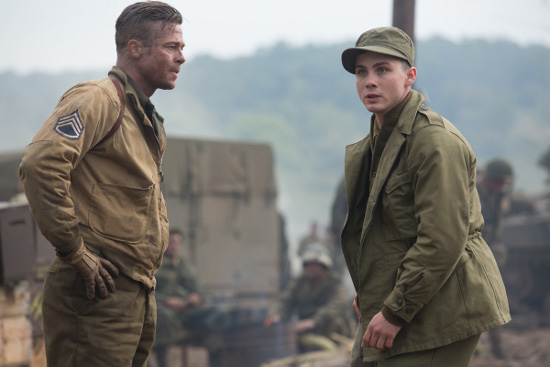 The weathered crew consists of Boyd Swan (Shia LaBeouf), Trini Garcia (Michael Peña), and Grady Travis (Jon Bernthal), who have all managed to tilt their moral compasses when it comes to point-blank murder. But it is Logan Lerman's portrayal as Norman Ellison that truly anchors the film. It is a coming-of-age story for the kid trained as a clerk: someone who's non-violent by nature, but quickly and forcibly learns the tough lesson of war-you must kill, kill well, or be killed. Lerman, who has always shown promise in previous roles, is a tour de force and his performance may very well earn him a Supporting Actor nod.
ADVERTISEMENT - CONTINUE READING BELOW
The violent fight sequences are interwoven with quieter moments, best seen when Wardaddy and Norman barge into the apartment of two cowering German women. In the midst of frightening carnage, Wardaddy tries to hold on to a semblance of normalcy as he washes the grime off his face and breaks bread with the rest of his men. The crew comes down from the disturbing euphoria of combat in their own ways, too: They curse and push each other around, or in Boyd's case, desperately cling to faith.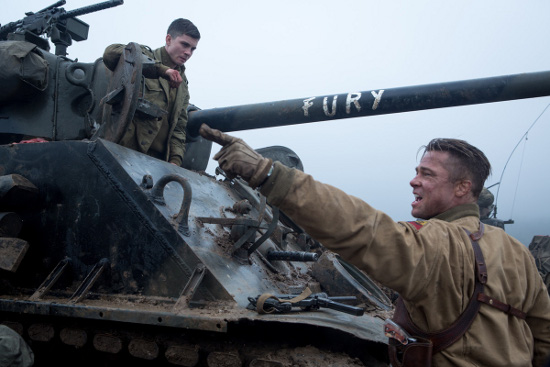 Plot-wise, we just seem to be following the soldiers along war-stricken Germany. Things only pick up in the final standoff between Wardaddy's men and a marching German battalion. It works for the context of the film, however, because they, like the audience, don't know where they're headed. The Allies may have already won, but the crew's fate still hangs in the balance.
ADVERTISEMENT - CONTINUE READING BELOW
Recommended Videos
The film's editing is worth a mention, with Ayer seamlessly weaving from sprawling fields where we witness the battle unfold, to close-up shots of the cramped quarters inside a tank. The latter scenes feel more intimate, as though we are also part of the tight-knit crew fighting for their lives. We emerge from the vehicle, as battered and worn as the men in it-a testament to the film's gripping character-driven tale.
RATING: •••• 4 out of 5 spots
Fury is currently showing in theaters.
Photos courtesy of Pioneer Films
Share this story with your friends!
---
Help us make Spot.ph better!
Take the short survey
Load More Stories