Top 10 Favorite Taylor Swift Moments
From impromptu duets to personal interactions with fans, it's a Taylor Swift love fest.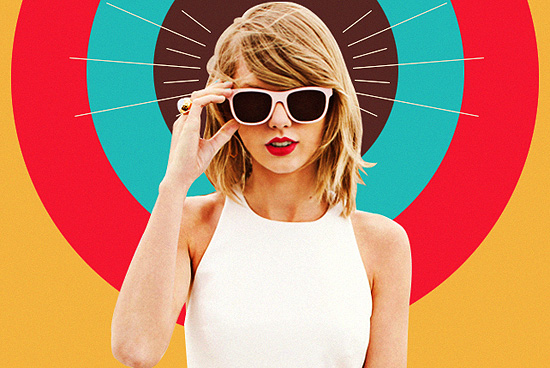 (SPOT.ph) Taylor Swift has been the name on practically everyone's lips these days, thanks to her latest hit album 1989 and her recent decision to never, ever get back together with Spotify. Plus, there was that whole Saturday Night Live skit for Swiftamine or medicine to combat vertigo caused by suddenly loving Taylor. All jokes aside, she's been around for a while now and she's given us plenty of reasons to love her. We compiled just some of the best.
Share your favorites in the comments section below!
ALSO READ:
10 Favorite Tom Hiddleston Moments
10 Best Benedict Cumberbatch Moments
10. She has awesome music videos.
Trust Taylor to make songs about heartache and negativity interesting...at least visually. Sure you've got "Shake It Off," but there are other crowdpleasers, too. She partied, sang about bad boys in the desert, made us speculate about that scarf, and reminded us why dancing in our rooms is a must-do, even to this day. Oh, and she recently released the Gone Girl of music videos.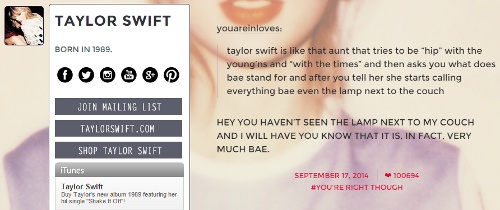 ADVERTISEMENT - CONTINUE READING BELOW
9. She made a Tumblr account.
Despite her undoubtedly busy schedule, this pop star is active on a lot of social media websites. Her latest online venture is social-networking platform Tumblr, where she "reblogs" and responds to her fans. One of her first posts was replying to a user that called her an "aunt that tries to be 'hip' with the young'ns and 'with the times.'"
8. She shut down "sexist" music critics.
Most songs are about love, and Taylor is probably best known for hers. She recently defended her songwriting, saying she is "unfairly criticized for her lyrics, while men who write about exes are not." She's right; if Bruno Mars can write and sing about his exes, why can't she? Besides, guessing who her songs are about is half the fun.
CONTINUE READING BELOW
Recommended Videos
7.  She blew her nose in front of 18,000 people.
Stars are just like us! They have stuffy noses and bodily functions!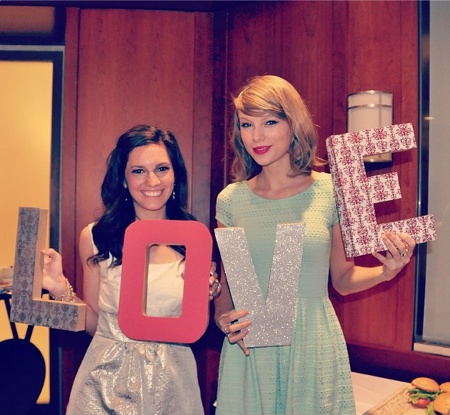 ADVERTISEMENT - CONTINUE READING BELOW
6. She attended a longtime fan's bridal shower.
Earlier this year, Taylor dropped by a lucky fan's bridal shower and it went exactly how you'd expect it to be-and then some. Not only did she pose for photos with the bride, she also brought cool presents, including a KitchenAid mixer and some cute artwork made by the singer herself.
5. She did an impromptu duet with Zac Efron.
It started off as a quick demonstration of Zac Efron's limited guitar-playing skills, but ended as an impressive duet about guesting on The Ellen DeGeneres Show.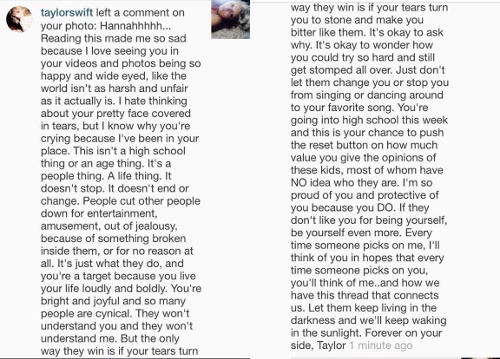 4. She sent a heartfelt message to a bullied teenager.
Taylor once reached out to a bullied fan with a heartfelt message over Instagram. "Every time someone picks on me, I'll think of you in the hopes that every time someone picks on you, you'll think of me... and how we have this thread that connects us," she wrote in her message. "Let them keep living in the darkness and we'll keep walking in the sunlight."
ADVERTISEMENT - CONTINUE READING BELOW
3. She treated fans to an exclusive listening party...in her own home.
As if people needed more reason to want to be her friend, Taylor scoured the Internet for fans to join her "1989 Secret Sessions," an exclusive listening party for her new album. She also reportedly made her guests pumpkin chocolate-chip cookies, and had a dance party, too. How's that for up close and personal?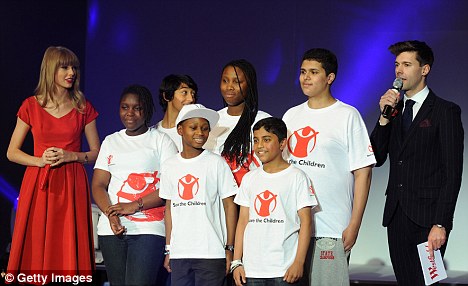 Photo via Daily Mail Online
2. She topped a list of most charitable celebrities. Twice.
She topped non-profit organization Do Something's annual "Top 20 Celebs Gone Good" list for two years in a row, threw a private concert for a 6-year-old leukemia patient, donated 14,000 books to the Nashville Public Library, and many, many more fuzzy and heartwarming things.
1. She hosted Saturday Night Live.
If there's anything that will guarantee instant likeability, it's probably hosting Saturday Night Live. We love stars that can laugh at themselves and make us laugh at the same time.
ADVERTISEMENT - CONTINUE READING BELOW
ALSO READ:
10 Favorite Tom Hiddleston Moments
10 Best Benedict Cumberbatch Moments
Share this story with your friends!
---
Help us make Spot.ph better!
Take the short survey
Load More Stories