What Not to Do During Sex According to Movies
Who says only porn can be educational?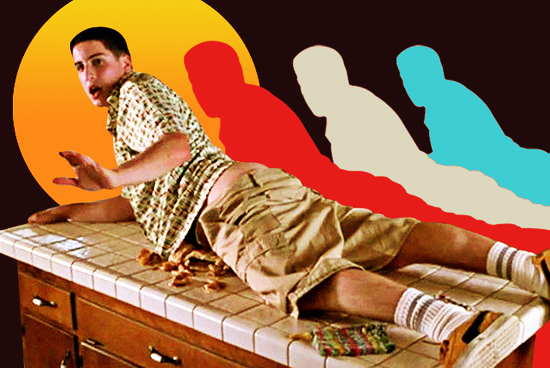 (SPOT.ph) A lot of work goes into making sex scenes look as good as they do. Just ask actors Patrick Wilson and Brooklyn Decker, who bravely show the world that filming the scene is, well, the farthest thing from sexy. Then there are scenes where even the finished product is awkward. Some accidental, others intentional, all painful to watch. Don't shield your eyes right away, though. You could learn a thing or two.
This list is not ranked.
1. Her (2013)
These days, it's possible to have virtual sex with anyone, even if you are miles apart. To beat his crushing loneliness, Theodore (Joaquin Phoenix) engages in phone sex with a very kinky stranger (voiced by Kristen Wiig). It starts off well enough, and escalates to involving a dead cat.
Lesson learned: Lay off the strange animal acts, and if things get weird, it's okay to stop. Really.
2. Bridesmaids (2011)
Saturday Night Live alum Kristen Wiig gets another spot on our list, thanks to Bridesmaids. If you're a fan of Don Draper, it's best to separate that character with Jon Hamm's in this film. He's the opposite of smooth and suave here.
Lesson learned: Mutual rhythm is very important. So is proper dirty talk. There is nothing sexy about "rocking the cradle" or making monkey noises.
3. Gigli (2004)
Gigli is widely hailed as one of the worst films of all time, and for good reason. Lesbian Ricki (Jennifer Lopez) inexplicably falls in love with mobster Larry (Ben Affleck). When they (unfortunately) get to the sex, she seduces him to bed by making turkey noises. Why? We just don't know.
ADVERTISEMENT - CONTINUE READING BELOW
Lesson learned: Enough with the animals!
4. American Pie (1999)
Kids, listening to your friends is not always a good idea. After being told that third base feels like "warm apple pie," Jim (Jason Biggs) just couldn't resist giving it a try. The worst part? His dad walks in on him, and he wants to talk about it in detail.
Lesson learned: Don't listen to your horndog friends. Also, please lock your doors. Or at least establish a knock-first rule in your house.
5. Superbad (2007)
Watching a sex scene that involves Michael Cera sounds uncomfortable enough, but you really have to see this scene to believe it. He and Martha MacIsaac are finally at it, but it turns out she's very, very drunk. He's also very nervous. At the end, she throws up everywhere and starts crying.
CONTINUE READING BELOW
Recommended Videos
Lesson learned: Drunk sex sounds good in theory, but it usually doesn't go well.
Skip to 1:13 for the scene
6. (500) Days of Summer (2009)
Back when things were much happier between Tom (Joseph Gordon-Levitt) and Summer (Zooey Deschanel), they decide to try their hand in shower sex. Turns out, it's not as "pretty doable" as porn makes it seem to be.
Lesson learned: Invest in a sturdier bar for your shower curtains. Or a glass wall.
7. Last Tango in Paris (1972)
Before The Godfather, Marlon Brando engaged in some pretty controversial scenes in the art-house classic, Last Tango in Paris. He plays middle-aged Paul who begins an anonymous sexual relationship with a much-younger and betrothed Parisian woman (Maria Schneider). Their encounter includes using butter to, er, make things go smoother.
ADVERTISEMENT - CONTINUE READING BELOW
Lesson learned: If you must include food, what's wrong with reliable chocolate?
8. The Counselor (2013)
Reiner (Javier Bardem) thought he was going to score when his now ex-girlfriend Malkina (Cameron Diaz) stopped their car in order to have sex. Not with him, but with the car. The actual vehicle.
Lesson learned: Why. Would. You. Even. Do. This.
9. What's Your Number? (2011)
Ally Darling (Anna Faris) is on a quest to find her true love among a sea of questionable exes. One of them is Gerry Perry (Andy Samberg), a puppeteer with a serious crush on her sister, Daisy. It turns out she lost her virginity to him, and the resulting encounter is hilarious.
Lesson learned: Choose your first time wisely.

Showgirls Pool Scene by PatrickDC1991
10. Showgirls (1995)
This clip is a master class in terrible and embarrassing. A quick Internet search on the movie's pool scene would give you more or less the same description: dolphin sex. The thrashing just doesn't end.
Lesson leaarned: A painfully visual lesson on what should never, ever be done during pool sex.
Share this story with your friends!
---
Help us make Spot.ph better!
Take the short survey
Load More Stories