10 Best Cleavage Scenes in Movies
As one underwear brand put it: "It's sexier than nude"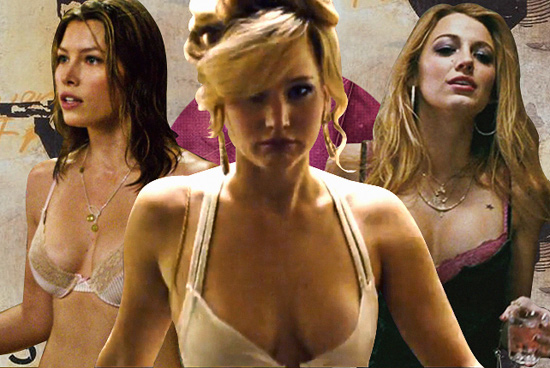 (SPOT.ph) In some ways, cleavage exposure in movies feels much more erotic than actual nudity. It's quite hard to put a finger on it, although its appeal certainly has a lot to do with the mystery and enigma it provides. A glimpse of the goods is just as alluring as the whole package, you know? In fact, here are 10 examples of the best cleavage scenes in movies.
This list is not ranked.
Also read:
10 Awesome Butt Moments in Film

Brooklyn Decker in Just Go With It (2011)
Supermodels jumping ship to the silver screen isn't a Hollywood rarity, but none has made a bigger splash than Brooklyn, who plays the object of Adam Sandler's affection in the movie. Remember the scene where she ascends from the water in a yellow two-piece bikini? Of course you do. In fact, the Sandman said it best: "Does the hotel know you took those pillows, honey?"

Ann-Margret in Carnal Knowledge (1971)
Prior to her turn as Jack Nicholson's sexy love interest in this Mike Nichols picture, audiences knew Ann-Margret best as the cute and innocent Kim MacAfee in the 1963 musical Bye Bye Birdie. Her appearance in Carnal Knowledge erased all that and mankind was given a puzzle, "How does that dress stay in place?"

Jennifer Lawrence in American Hustle (2013)
It seems J-Law can do no wrong, and her turn as a con artist's highly unstable wife in this David O. Russell crime drama only reinforces that claim. Case in point: The scene where she walks into a bar in an ultra low cut dress and a loose bun. It almost makes you forget that her character is an irresponsible nutjob.
ADVERTISEMENT - CONTINUE READING BELOW

Drew Barrymore in Charlie's Angels (2000)
When Drew entered the car in a zipped-down tracksuit and distracted the clueless chauffeur by slowly licking the steering wheel...well, safe to say it was etched in our memories forever. Blondes indeed have more fun.

Blake Lively in The Town (2010)
Before this Ben Affleck-helmed drama, all we knew of Blake was that she played a socialite in the teen drama series Gossip Girl. Next thing we know, she's talking about schlong sizes in a thick Boston accent. This sudden change of character is a bit hard to comprehend, but the distraction provided by her cleavage-friendly outfits probably has something to do with the confusion.
CONTINUE READING BELOW
Recommended Videos

Scarlett Johansson in He's Just Not That Into You (2009)
Some women try not to be sexy. Scarlett? She embraces it. She's so in your face with it, it's almost scary. See Under the Skin.

Jessica Biel in I Now Pronounce You Chuck & Larry (2007)
When Adam Sandler questions the authenticity of Jessica's breasts in the film, she has no choice but to defend herself. "These are real, by the way. Nobody thinks they are. Everybody thinks they're fake. But they're real. In fact, I've got nothing to hide. Feel 'em," she insists. And so he does. Well played, Mr. Sandman. Well played.

Jane Fonda in Barbarella (1968)
The jury is still out on whether Barbarella should be considered a classic, but we think we can all agree that this is Jane Fonda at the pinnacle of her hotness. Of course, this thing is actually a soft-core porn flick disguised as a sci-fi blockbuster, which explains why you don't see anyone complaining.
ADVERTISEMENT - CONTINUE READING BELOW

Kate Upton in The Other Woman (2014)
Not everyone has the chops to steal Cameron Diaz and Leslie Mann's thunder in a romantic comedy, but she did just that by frolicking along the beachfront in her white bikini. A blonde bombshell with a million dollar beam and a carefree attitude-Kate Upton is the American dream.

Eva Green in Casino Royale (2006)
James Bond has romanced his share of women, but we can't picture him saying this to just anyone else: "I have no armor left. You've stripped it from me. Whatever is left of me...whatever I am...is yours." Ladies and gentlemen, behold the power of cleavage-baring garb!
Also read:
Share this story with your friends!
---
Help us make Spot.ph better!
Take the short survey
Load More Stories