Top 10 Most LSS-worthy Booty Anthems
Butts were all the rage this year.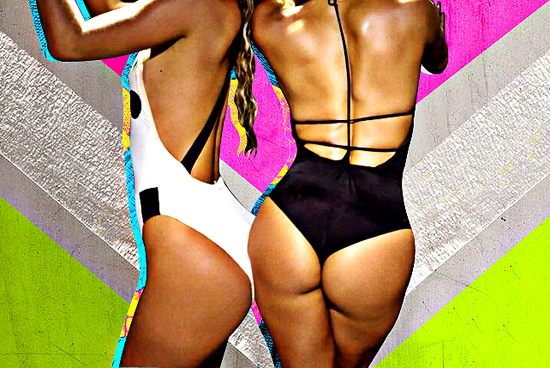 (SPOT.ph) Music comes in all forms but when it comes to butts, the general consensus is that bigger is always better. There have been plenty of booty anthems over the years, but it's safe to say that 2014 was the year of butts. Just ask Nicki Minaj and Kim Kardashian, who proudly showed off their goods not too long ago. As the year (almost) comes to a close, we pay homage to 10 catchy songs that celebrate amazing behinds.
10. "All About That Bass" by Meghan Trainor
We kick off our list with the debut single from recording artist Meghan Trainor, which was positively received by many because of its catchy beat and body positive lyrics. She sang about "bringing booty back" and loving your curves-all set to a thumping bass, of course.
9. "Rump Shaker" by Wreckx-n-Effect
Back in the '90s when cheesy music videos and stock footage of the weather were all the rage, a much-younger Pharrell had a hand in writing this butt-shaking masterpiece. The best part? The song makes use of a saxophone sample because, well, some part of this song has to be a little bit classy.
8. "Shake Ya Ass" by Mystikal
Also known as "Shake It Fast," the song received heavy airplay and charted on notable lists including the Billboard Hot 100. Since its release in 2000, the track has been featured in numerous films, TV shows, and even video games. Our personal favorite is the piano scene in Scary Movie 2.
ADVERTISEMENT - CONTINUE READING BELOW
7. "Bubble Butt" by Major Lazer
There are almost as many voices in this song as there are repetitions of the words "bubble butt." Electronic music project Major Lazer collaborated with Bruno Mars, Tyga, and Mystic Davis to produce this dance chart-topper in 2013.
6. "Booty" by Jennifer Lopez feat. Iggy Azalea
JLo's original version of the track featured Pitbull in the guest spot, but she later paired up with Australian rapper Iggy Azalea, who is also pretty famous for her backside. The two also released a booty-ful music video to accompany the official remix, much to the delight of fans.
CONTINUE READING BELOW
Recommended Videos
5. "Thong Song" by Sisqo
Sisqo's infectious and Grammy-nominated R&B salute to his favorite form of undergarment captivated listeners everywhere when the track first hit the airwaves in 2000. Apparently, people just couldn't get enough of him singing about girls with "dumps like a truck."
4. "Bootylicious" by Destiny's Child

In 2001, Destiny's Child asked the immortal and all-important question: are we ready for their jelly? It turns out that we all were, with the song topping the charts worldwide. They even managed to get the word "bootylicious" added to the Oxford English Dictionary in 2004.
3. "Anaconda" by Nicki Minaj
No booty-themed song roundup would be complete without Nicki Minaj's majestic track (and viral music video). It also sampled and paid homage to a very famous backside anthem that you'll see in a little bit. (Nicki also gives a fascinating lecture on anaconda pythons in this parody video from College Humor.)
ADVERTISEMENT - CONTINUE READING BELOW
2. "My Humps" by Black Eyed Peas
Don't lie, you joined in every time you heard Fergie singing about her lovely lumps, too.
1. "Baby Got Back" by Sir Mix-a-Lot
Here it is, the king of all booty anthems. It's been over 10 years since the song was first released but chances are, you still know at least some of the lyrics. Nicki Minaj may have breathed new life into the song, but nothing really beats a classic.
Share this story with your friends!
---
Help us make Spot.ph better!
Take the short survey
Load More Stories