MOVIE REVIEW: Exodus: Gods and Kings
It's a grand and visual spectacle, but ultimately falters.
(SPOT.ph) It's a tale that has been told time and time again. Cecil B. DeMille went on the more pious route with The 10 Commandments, while DreamWorks' animated The Prince of Egypt was equally as grandiose as the 1956 biblical epic. To take on a story as well-worn as Exodus means that you'd have to bring something new to the table. The question now is, did director Ridley Scott succeed? Moses himself sums it up early on in the film, "It's not even that good a story."
Scott is no stranger to ambitious, larger-than-life storytelling, and Exodus: Gods and Kings is not lacking in that aspect. He conjures a sweeping and visually stunning spectacle in the hazy deserts of ancient Egypt, from thrilling battle sequences to the Israelites toiling endlessly to build monumental pyramids.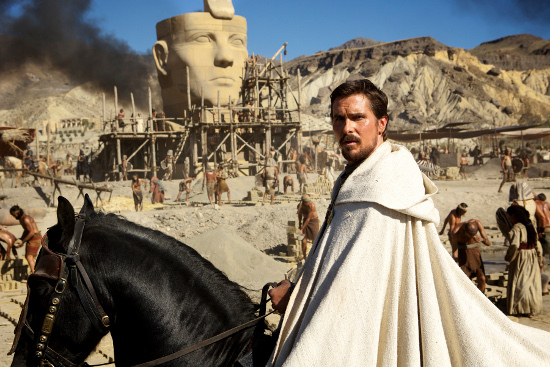 ADVERTISEMENT - CONTINUE READING BELOW
Perhaps the most impressive act of showmanship is the secular rendering of the 10 plagues. A vicious crocodile attack in the Nile River naturally gives way to frogs, boils, and locusts-a vivid and seamless montage that captures God's furious wrath. It doesn't, however, maintain the same execution for the mysterious and unexplainable Passover.
And this is where Exodus falters: It relies too much on visual effects, and gives too little effort on everything else. For a film that tries to be realistic, its casting is the farthest from it-you'd have to look to extras and one or two minor characters for any actors of color. Despite casting Christian Bale as Moses, even he cannot inject life into his one-dimensionally written role. He is a man who subscribes to no particular belief, which could have been deeply explored but wasn't. He questions and challenges God, but Moses doesn't feel as compelling a character as probably intended.
CONTINUE READING BELOW
Recommended Videos
ADVERTISEMENT - CONTINUE READING BELOW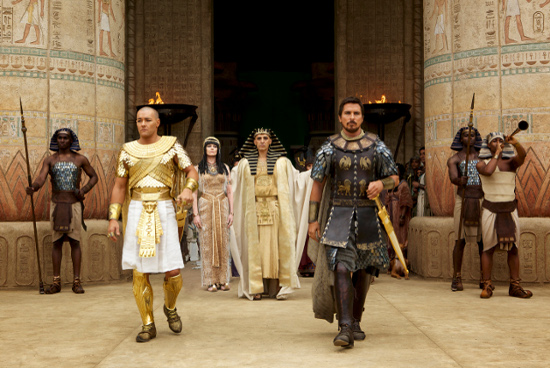 Joel Edgerton plays a petulant and guyliner-obsessed Ramesses who lacks the drive and ambition that we've come to expect from earlier takes on the character. He is undoubtedly cruel but displays a small shred of humanity, as seen when he loses his son to the Passover. Even the friendship-slash-rivalry between the two barely registers, despite its establishment so early on in the film.
ADVERTISEMENT - CONTINUE READING BELOW
The rest of the star-studded cast feel stranded and haphazardly done: Sigourney Weaver doesn't make an impact as Ramesses' conniving mother, and Breaking Bad's Aaron Paul's considerable acting talents are sadly wasted with the underwritten role of Joshua. Only Ben Mendelsohn manages to stand out as the treacherous viceroy who exposes Moses' true heritage.
The script, penned by the team of Adam Cooper, Bill Collage, Jeffrey Caine, and Steven Zaillian, simply couldn't keep up with the visual effects. The two-and-a-half hour running time feels far too long, with quieter moments that fail to hold interest. Secular viewers may get a kick out of the film, but Scott's attempt to shake up the familiar ultimately falls flat. It's almost hard to believe this work is from the same filmmaker who gave us the spectacular but emotionally potent Gladiator over 10 years ago.
RATING: ••. 2 1/2 out of 5 spots
ADVERTISEMENT - CONTINUE READING BELOW
Exodus: God and Kings is out in theaters December 5.
Share this story with your friends!
---
Help us make Spot.ph better!
Take the short survey
Load More Stories