10 Fresh Tunes to Listen to This December
Loop-worthy singles by Ariana Grande, Beyoncé, Sarah Geronimo, Ciudad, and more!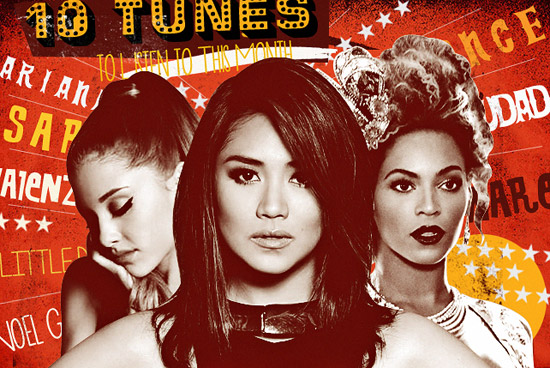 (SPOT.ph) Bid 2014 adieu with our list of newly dropped tracks. Update your holiday playlist with Ariana Grande's Christmas ditty, Beyoncé's house party material, Jessie Ware's saccharine sweet single, Little Dragon's electro-soul track, and Noel Gallagher's High Flying Birds' space rocker. Locally, we put together new favorites by Sarah Geronimo, Ciudad, BP Valenzuela, Jazz Nicolas, and Dragonfly Collector. Enjoy!

 

 

Song: "Santa Tell Me"

Artist: Ariana Grande

The Internet was pleased with Ariana Grande's jingly Christmas ditty, "Santa Tell Me." Though it probably won't become a classic like Mariah Carey's "All I Want For Christmas Is You," the single comes close with all the necessary elements-a catchy tune, jingle bells, easy lyrics, and a festive-sounding chorus.

Fun fact: The American singer and actress got her start in show business in the Broadway musical 13.

 

ADVERTISEMENT - CONTINUE READING BELOW

 

Song: "Kilometro"

Artist: Sarah Geronimo

Sarah Geronimo does Filipino pop music good in her latest release titled "Kilometro." The radio-friendly track packs the right amount of spunk mixed with Geronimo's signature sweetness. The music video, complete with lyrics we're sure karaoke-loving Filipinos will appreciate, features easy-to-follow choreography, too.

Fun fact: The Thyro and Yumi-assisted track is off Geronimo's new album, Perfectly Imperfect.

 

 

Song: "7/11"

Artist: Beyoncé

Queen Bey looks like she's having loads of fun in her newest music video for single "7/11." The homemade video complements the track's simplicity. It's a tune you can easily sing and dance to on your next house party, as demonstrated by Queen Bey herself.

Fun fact: Gab Valenciano was reportedly contacted by Beyoncé's camp during the conceptualization of the Super Selfie-inspired "7/11" music video.

 

 

Song: "You Shouldn't Wait"

Artist: Ciudad

Local act Ciudad's "You Shouldn't Wait" should please their fans with its genuine indie-rock sound and Mikey Amistoso's childlike vocals. It sounds like it could be another soundtrack to an indie romcom, and we like it.

Fun fact: "You Shouldn't Wait" quickly follows the release of another fresh Ciudad single titled "S.I.F.I.L."

 

 

Song: "You & I (Forever)"

Artist: Jessie Ware

Freshly dropped on YouTube is English singer-songwriter Jessie Ware's video for "You & I (Forever)." For this video, Ware invited family, friends, and fans to make an appearance and share the love. Although not exactly a holiday tune, "You & I (Forever)" is worth repeated plays this month for its feel-good theme and vocals.

ADVERTISEMENT - CONTINUE READING BELOW

Fun fact: The single is off the English singer-songwriter's latest album, Tough Love.

 

Song: "Second Nature"

Artist: BP Valenzuela

Young BP Valenzuela isn't fast becoming a local favorite for nothing. She produces delightful synthesized indie tracks that are mostly subdued and effortlessly hypnotic. "Second Nature" is a bit more playful, combining synth lines, sonic sounds, controlled percussion, and spoken word in between tempo changes.

Fun fact: "Second Nature" is from Valenzuela's debut EP, be/ep. The recently launched music video was directed by Apa Agbayani.

 

 

Song: "Underbart"

Artist: Little Dragon

Little Dragon just released their music video for "Underbart," which houses heaps of digital soul. The single, off their fourth album Nabuma Rubberband, is led by Yukimi Nagano's alluring vocals and aided by dreamy and shifting electro sounds.

Fun fact: The four-piece group hails from Gothenburg, Sweden.

 

 

Song: "Tangerine"

Artist: Jazz Nicolas

"Tangerine" opens with a confession: "No one understands me / I'm so used to this routine," and then progresses into a mix of sunny pop melodies and breezy vocals laced with more brooding lyrics. One listen and we were left wanting more.

Fun fact: "Tangerine" was written for one of Nicolas' bands, Boldstar.

 

 

Song: "Do the Damage"

Artist: Noel Gallagher's High Flying Birds

Never mind the video, Noel Gallagher's High Flying Birds' "Do the Damage" is a kick-ass space rocker that nails buildup and explosion from verse to chorus. Sadly, the B-side track might not appear on his forthcoming album.

ADVERTISEMENT - CONTINUE READING BELOW

Fun fact: Noel Gallagher's High Flying Birds' forthcoming album, Chasing Yesterday, drops on March 2, 2015.

 

 

<>Song: "The World is Your Oyster" <>Artist: Dragonfly Collector <>Dragonfly Collector is the latest project of singer-songwriter Clementine, formerly of Orange & Lemons and The Camerawalls. The title track from his forthcoming solo record merges whimsy and wonder in a The Decemberists-esque folk arrangement. <>Fun fact: Dragonfly Collector's debut album drops January 10, 2015.
Load More Stories