10 Funniest Christmas-themed TV Episodes
Bring on the Christmas cheer with some laughter thrown in, too.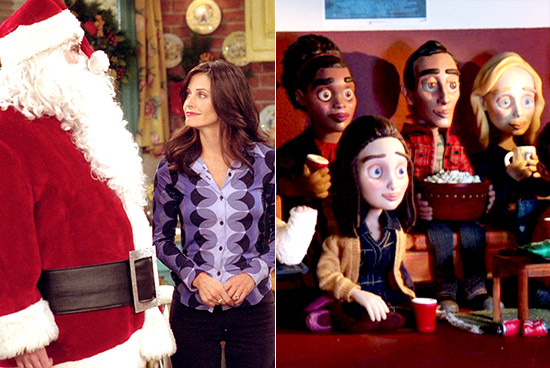 (SPOT.ph) If you're a fan of TV, there's nothing more familiar than the time-honored tradition of Christmas-themed episodes. Just ask The OC (hello, Chrismukkah) and The X-Files, who have had their fair share of memorable Yuletide episodes. We zero in, however, on funny Christmas episodes that still make us laugh with every rewatch.
There are plenty of funny Christmas-themed episodes out there. Share your favorites in the comments section below!
NBC's Community - Abed's Uncontrollable Christmas from Duke Johnson on Vimeo.
10. "Abed's Uncontrollable Christmas" from Community
Community is no stranger to fun, ambitious episodes and pop culture references, and this episode is a perfect example. The whole Greendale gang was rendered in stop-motion animation, as Abed (Danny Pudi) goes in search for the true meaning of Christmas. There are clever references to The Polar Express and Charlie and the Chocolate Factory, but what really seals the deal is the touching and poignant plot of the episode.
ADVERTISEMENT - CONTINUE READING BELOW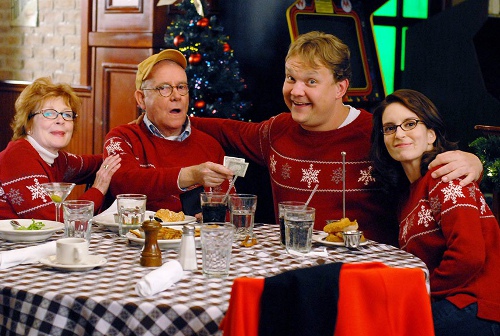 CONTINUE READING BELOW
Recommended Videos
9. "Ludachristmas" from 30 Rock
Nothing says Christmas like matching sweaters and awkward family dinners that end up badly. Jack's (Alec Baldwin) mother visits him for the holidays, while Liz (Tina Fey) is paid a visit by her impossibly cheery and optimistic family. Despite the holiday debacles that undoubtedly ensue, the episode ends on a warm and fuzzy note as the crew of the fictional TV show tries to tear down the iconic Rockefeller Christmas tree outside their building.
ADVERTISEMENT - CONTINUE READING BELOW
8. "The Bath Item Gift Basket Hypothesis" from The Big Bang Theory
The episode largely involves Leonard (Johnny Galecki) and his feelings for Penny (Kaley Cuoco), but the best and funniest part of this episode is undoubtedly Sheldon (Jim Parsons). The latter drives everyone up the wall with his obsession with proper Christmas gift protocol as he struggles to find the perfect present for Penny.
7. "Christmas" from Brooklyn Nine Nine
When Captain Holt (Andre Braugher) receives a series of death threats, he enlists Jake (Andy Samberg) to take charge of his security. Amy (Melissa Fumero) gets the precinct to take a Christmas photo for the captain, but a lack of enthusiasm and Rosa's (Stephanie Beatriz) refusal to smile gets in the way.
6. "Christmas Party Sex Trap" from The Mindy Project
No TV show does the rom-com genre better than The Mindy Project. Mindy (Mindy Kaling) hopes to win the affection of the handsome Cliff (Glenn Howerton) by throwing a Christmas party for the entire office building, and later, lure him into a "Sex Trap." One of the episode's high points is when she describes her plan, which involves a sultry rendition of "Santa Baby." Unfortunately, the actual Maria Menounos steals Mindy's thunder and Danny (Chris Messina) cheers her up with a special surprise of his own. Whew.
ADVERTISEMENT - CONTINUE READING BELOW
5. "Ron and Diane" from Parks and Recreation
Tom (Aziz Ansari), April (Aubrey Plaza), Andy (Chris Pratt), and Donna (Retta) plan their annual, sacred event: the Jerry Dinner. Any time Jerry (Jim O'Heir) does something stupid, they put a dollar in a box. This year, they've collected over $500, perfect for a fancy Christmas dinner. While reminiscing over their favorite "Jerry moments" of the year, Donna has a change of heart, and they decide to go to Jerry's house to invite him for dinner. It turns out he's throwing a huge Christmas party and they haven't been invited.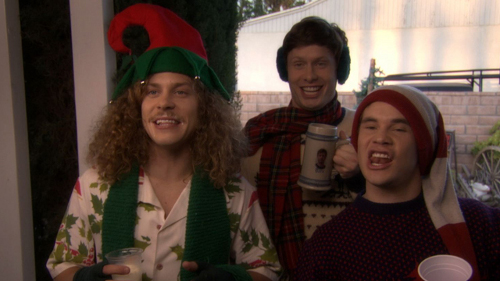 ADVERTISEMENT - CONTINUE READING BELOW
4. "The Strike" from Workaholics
Okay, so the episode doesn't exactly happen anywhere near the holiday season but that's what makes it funny. When the guys decide to celebrate a holiday of their own invention, Half-Christmas-which is basically Christmas in July-they are banned from celebrating the occasion in the office. They decide to go on strike for better work benefits, with hilarious results.
3. "Afternoon Delight" from Arrested Development
It's the Bluth Company's Annual Christmas Party, which also means that it's time for local teens to vandalize the family banana stand. Unfortunately for Michael (Jason Bateman), his son George Michael (Michael Cera) is too busy to help. Meanwhile, Michael's niece Maeby (Alia Shawkat) has been forbidden to attend the family party by her mother (Portia de Rossi), who has big plans of finding a date. The episode may be Christmas-themed, but it's definitely raunchy...which, of course, makes it funnier.
ADVERTISEMENT - CONTINUE READING BELOW
2. "Christmas Party" from The Office
The fictional Dunder Mifflin Paper Company throws a Christmas party and plays Secret Santa. During the gift exchange, Michael (Steve Carell) gives an iPod but when he receives a homemade oven mitt, he fails to see the sentimental value of the present and turns the gift exchange into a "Yankee Swap" in the hopes of receiving a better gift. Moral of the story? Don't go over the budget limit.
1. "The One with the Holiday Armadillo" from Friends
Friends takes our top spot, with their hilarious yet heartwarming Christmas episode. Ross (David Schwimmer) is determined to teach his son Ben (Cole Sprouse) about the magic of Hanukkah, which prompts him to declare a Santa-less Christmas. After he fails to find a Hanukkah-appropriate costume, he dresses as the "Holiday Armadillo," Santa's Tex-Mex friend. Chandler (Matthew Perry) and Joey (Matt LeBlanc) also appear later as Santa and Superman, respectively.
ADVERTISEMENT - CONTINUE READING BELOW
Share this story with your friends!
---
Help us make Spot.ph better!
Take the short survey
Load More Stories