MOVIE REVIEW: The Hobbit: The Battle of the Five Armies
An exhilarating goodbye to Peter Jackson's prequel trilogy...and Middle Earth
(SPOT.ph) The curtain falls for director Peter Jackson's The Lord of the Rings prequel and Middle Earth itself. Countless fans eagerly await its epic conclusion, but the question remains: Is it a fitting sendoff?
Admittedly, Jackson is basing a 144-minute film on little material, thanks to a slender fable that was split into three parts. The film opens on a high note, launching straight into the remarkably malevolent Smaug's (voiced by Benedict Cumberbatch) fiery and spectacular destruction of Lake Town. The thrilling sequence feels detached, like a leftover from the second movie, but it undoubtedly captures attention. Had the film not kicked off with Smaug's awakening, audiences would have been treated to nearly an hour's worth of quieter and reflective scenes-definitely not the best way to open a finale.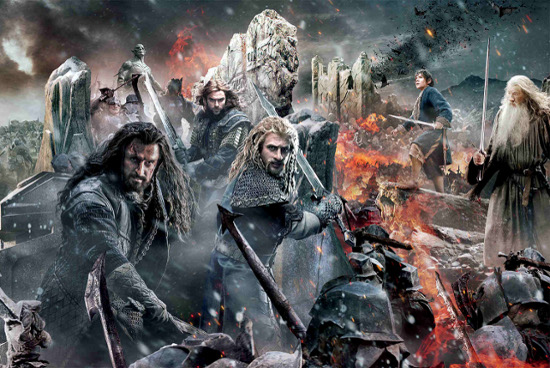 ADVERTISEMENT - CONTINUE READING BELOW
As the dragon is vanquished and falls thunderously to its death, trouble begins to brew in the form of politics. Erebor emerges as the vital cornerstone for various tribes that hold claim to the mountain and its vast riches deep within its bowels. Among the contenders are the elves led by Thranduil (Lee Pace), the dragon-slaying Bard (Luke Evans) seeking to help his displaced people, and dwarf king Thorin Oakenshield (Richard Armitage).
This time around, Bilbo (Martin Freeman) is a supporting character in his own narrative, setting the stage for other characters to shine. This is largely Armitage's film, with his character's descent into madness under a Tolkien malady called "dragon sickness." He plays Thorin with a paranoid and maniacal intensity, his eyes aflame with a lust for gold and power. Bard, on the other hand, becomes a reluctant but effective leader of men with single-minded determination to protect his kind. The contrast between the two is framed beautifully by a hole in Erebor's barricade. It is worth noting that Bilbo still manages to be the quiet but ever-beating heart of the story, though we see foreshadowing cracks in his character as the Ring exerts its considerable power.
CONTINUE READING BELOW
Recommended Videos
ADVERTISEMENT - CONTINUE READING BELOW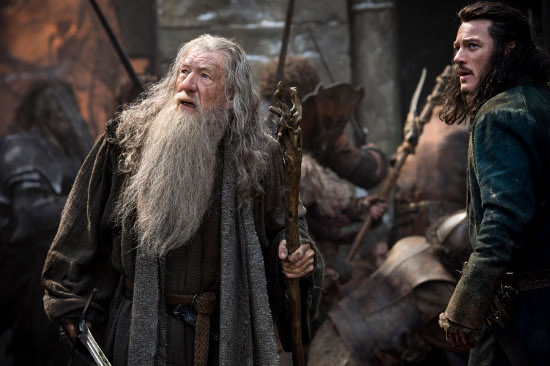 It is the exhilarating battle sequence that largely dominates the film, and with good reason. The scene is a breathtaking visual tour de force: Jackson renders his five-army battle royale with such visceral yet calculated action, from elves that gracefully launch arrows in one seamless go to blumbering Orcs that lay waste upon the battlefield. Jackson leaves plenty of room for individual fight sequences and character-driven moments aimed to tug at any fan's heartstrings. It is here, however, that the trilogy's fault is most evident. The battle feels thinly stretched at times, as though it's struggling to fill the running time. After all, there is not much material left to work with.
ADVERTISEMENT - CONTINUE READING BELOW
The Hobbit: The Battle of the Five Armies was once slated to be called There and Back Again. It may not be the most intriguing of titles, but it perfectly describes this adieu to Middle Earth. It's not as grandiose an ending as one would expect, but Bilbo's story proves to be quite the journey, taking us to the trilogy's end and back again to the beginning of this epic franchise.
RATING: •••. 3 1/2 out of 5 spots
The Hobbit: The Battle of the Five Armies is out in theaters today in 3D, HFR 3D, and IMAX 3D. Photos courtesy of Warner Bros. Pictures.
Share this story with your friends!
---
Help us make Spot.ph better!
Take the short survey
Load More Stories