10 Funniest Celebrity Interviews of 2014
From Brad Pitt to President Obama, these celebrities sure know how to poke fun at themselves.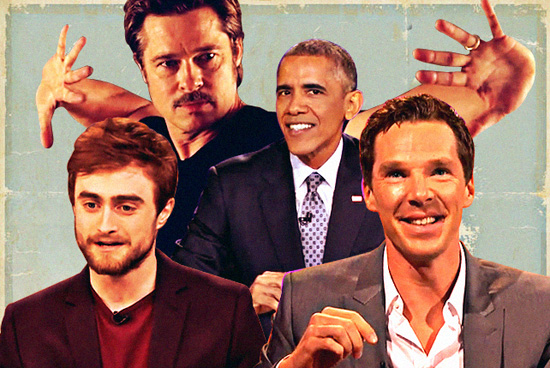 (SPOT.ph) These days, it's not enough for personalities to do a straightforward interview. We love to see our favorite celebrities act silly or reveal a surprising talent or funny side. After all, they're people, too. We round up some of the most hilarious and entertaining celebrity interviews that we saw in 2014.
Share your favorites in the comments section below!
This list is not ranked.
1. Brad Pitt on The Tonight Show with Jimmy Fallon
Brad Pitt has been a celebrity for a very, very long time now and so, he understands that studio interviews just don't cut it anymore. People want to be entertained. So what does he do? He and Jimmy Fallon reunite for a Breakdance Conversation, with special guest star, Brad's mustache.
2. President Barack Obama on The Colbert Report
Stephen Colbert (sadly) has only a few episodes left until The Colbert Report comes to a close. He's going big with his goodbye as he enlists the help of the President himself. Barack Obama takes over the popular segment "The Word" with the more presidential title "The Decree" and pokes fun at himself, Fox News, and Republicans.
3. Daniel Radcliffe on The Tonight Show with Jimmy Fallon
Who knew the famous boy wizard had a few more magic tricks up his sleeve? Daniel Radcliffe not only reveals his penchant for rap music (his personal favorite is Eminem), he also shows off his surprising rapping skills.
4. Ricky Gervais on The Tonight Show with Jimmy Fallon
ADVERTISEMENT - CONTINUE READING BELOW
Jimmy Fallon makes his guests do a lot of fun and crazy things, as exhibited by this list. One of them is Ricky Gervais' recent visit, where he takes part in the "Lip Flip" game. In the segment, the two have their lips digitally swapped while having a bizarre conversation on Madonna's "Vogue" dance and Fallon's interesting grooming techniques.
5. Benedict Cumberbatch on The Graham Norton Show
In the eyes of his fans, Benedict Cumberbatch can do no wrong. Except maybe pronounce the word "penguin" properly. Then again, many have found this idiosyncrasy endearing, anyway. Penglings? Peng-wings?
CONTINUE READING BELOW
Recommended Videos
6. Kristen Wiig on The Tonight Show with Jimmy Fallon
Saturday Night Live alumna Kristen Wiig is no stranger to spot-on celebrity impersonations, so it's pretty hilarious to watch her botch up her Harry Styles performance. She also stumbles through a One Direction song, but Fallon (who actually knows it) helps her out.
7. One Direction on The Graham Norton Show
When One Direction stopped by The Graham Norton Show, all everyone could talk about was the budding bromance between Sir Ian McKellen and Harry Styles. We're zeroing in, however, on when the boy band reacts to (literally) hysterical tweets about Zayn Malik's hair.
8. Kevin Spacey on The Tonight Show with Jimmy Fallon
Everyone knows what a talented actor Kevin Spacey is, so it probably comes as no surprise that he's really good at impressions, too. In each round, Spacey and Fallon are given a random celebrity to impersonate, with a random Halloween-themed topic to discuss in character.
ADVERTISEMENT - CONTINUE READING BELOW
9. Morgan Freeman on The Late Late Show with Craig Ferguson
He is best known for his, er, godly and booming voice. Talk show host Craig Ferguson takes full advantage of this by enlisting actor and comedian Josh Robert Thompson to do a Morgan Freeman impression...for Morgan Freeman.
10. Brad Pitt on Between Two Ferns
The man "living in Angelina Jolie's shadow" sat down for an interview on the web series Between Two Ferns with Zach Galifianakis. His awkward topics? His new movie, the quality of his acting, and Pitt's love for Friends.
Share this story with your friends!
---
Help us make Spot.ph better!
Take the short survey
Load More Stories