10 OPM Songs You Should Have Listened To in 2014
From great Friday nights to new beginnings-here's the best of OPM in 2014.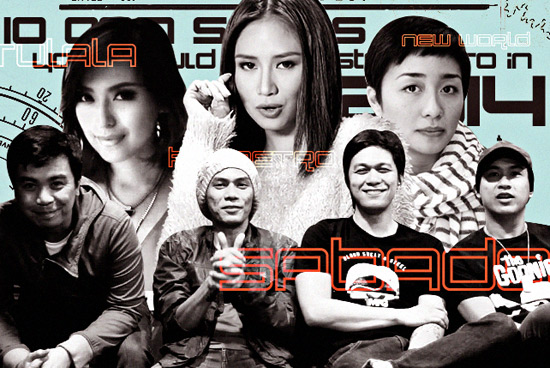 (SPOT.ph) There are times when it feels like there isn't anything new in the local music scene...mostly because YouTube is one click away and gig places are way over there (beyond the point of where you can tolerate the poor traffic). We're getting rid of that excuse.
From pop to post rock: Here are the 10 OPM tracks that you should've listened to this year. And yes, we're quite aware there's more.
1. "Sabado" by Eraserheads
The truly fantastic thing about the two new tracks from Ely Buendia, Raymund Marasigan, Buddy Zabala, and Marcus Adoro is that they didn't try to sound like anything else but who they are now-in the present. A little bit older and perhaps a bit wiser. The video (directed by Erik Matti) has a nostalgic charm to it, but despite the throwback to bad decisions of people in their 20s, we can't quite ignore this: "Ang oras na lumipas, hindi na natin maibabalik. Itapon ang kahapon, yakapin ang darating." The secular alternative to TGIF rubs allure all over the track but, curiously, it's also a bitter farewell to the best day of the week. Sabado na. Move on.
ADVERTISEMENT - CONTINUE READING BELOW
Also check out: "1995" by Eraserheads, "New Romancer" by Sandwich (2013, music video released in 2014), and "Ikot" by The Oktaves (2013, music video released in 2014)
2. "Kilometro" by Sarah Geronimo
Borrowing from Charice, the battle to be appreciated for your talent in the local scene is brutal. The nitty-gritty of the industry aside, there's always going to be a section of the market who would never give you the time of day because you're, simply put, baduy. Sarah Geronimo, or Sarah G as she is more popularly known these days, may be criticized for borrowing the best from the East Asian pop music scene...but the poetry in her new track is solid. We've yet to hear a stripped down version and already we can imagine what it sounds like (hook on the otherwise clunky title included). "Kahit alon ay umabot sa papawirin"? It's hands down one of the more elegant examples of the use of Tagalog in recent history. The image conjured by "inanod, inagos, at 'di ka na matanaw" is perfect, because what do we really know about being in the clear yet, in the clear yet, good? We're people from beaches and, uh, flooded streets! Going through "kilometrong layo" in standstill traffic is also very romantic.
CONTINUE READING BELOW
Recommended Videos
ADVERTISEMENT - CONTINUE READING BELOW
3. "New World" by Up Dharma Down
Taking a break from breaking our hearts with songs like "Indak," "Luna," and "Kulang," Up Dharma Down threw rainbow-colored good vibes at their fans with "New World." The song is definitely like a waiting hand, as the lyric suggests, as an invitation to build castles in the sand and create something. It's a track you should put on a "Good Morning!" playlist.
Also check out: The Japanese version of Luna, "Runa".
4. "Ang Pambansa ng Pambansa" by The Radioactive Sago Project
We're usually tapping our feet to "Samba Kanor," but writing about the feelings we get from an instrumental track may not be as interesting as, say, a commentary on a developing country's false sense of nationalism. The rest of At Ang Itlog at Ang Demonyo is stellar and it's safe to say that the band has not lost its touch. Now, let's all sing about the damn train that's still not here (see track two: "Tren").
ADVERTISEMENT - CONTINUE READING BELOW
5. "Wala" by The Purplechickens
It's the kind of song you listen to when you feel drunk, but not because you had liquor. You know that feeling: a haze of fatigue. And for what? Wala. Francis Cabal, writing for Splintr, points out the genius behind the lyrics (that perhaps may take some time to appreciate). The track, though brilliant, needs to jump a bit to stand out from everything else in Halang. "Dayami" is earworm for those with, er, refined taste in music while "Ang Landas ng Walang Kapatawaran" is the kind of song you want to sing at the top of your lungs. Let's face it, Halang is a stunning album. You literally stop to say: "Oh, fuck, these guys are good. How come nobody noticed this before?"
Also check out: "Dayami," the single from Halang.
6. "Tulala" by Joyce Pring
We have to admit: Maybe we're just surprised that Joyce Pring is singing. Maybe we're just surprised that she sounds good and maybe it's also surprising that this is a very, very videoke-friendly number. That's a lot of maybes. We'll add something certain: The music video is good. No, great. All it needs is someone holding their phone. We can't think of a more appropriate visual for "tulala, mukhang tanga" than dozens of people in one room staring at their phones, not talking.
ADVERTISEMENT - CONTINUE READING BELOW
7. "Always Right, Never Left" by Tide/Edit
Okay. Now we really have to talk about a song with no lyrics. This particular Tide/Edit track reminds us of Japanese artists Toe (post-rock) and Depapepe (acoustic). The first time you hear it, you'll feel sand between your toes. The second listening makes you smell the salt of the sea. On the third, you're already packing for the beach. Let's go.
8. "Lason" by Squid 9
We're not under the delusion that anything Mr. Mercygun touches turns to gold. However, this release from his Squid 9 project is something we're ready to gulp down-no questions asked. At the very least, it's catchy.
9. "I Should've Left" by Kai Honasan
Kai appeals to the generation that finds nothing off about playing the ukulele for a huge audience. Perhaps it's a metaphor for things personal spilling all over social network and everything being out in the open, bathroom selfies and about-to-sleep portraits included. This little number proves that such openness isn't always cringe-worthy, especially if it's about a lesson learned. "Speak well, but bite your tongue" applies to everything in life.
ADVERTISEMENT - CONTINUE READING BELOW
10. "What Lies Behind" by Fairwell Fair Weather
Smooth like a milkshake and just as toothsome. Fueled by great vocals, Fairwell Fair Weather packs a lot of potential for greater things. Tracks like "Sakali" have the unmistakable flavor of youth and recognizable talent. In a few years (or maybe even in the undefined "soon"), they'll pen even better lovey-dovey jazz tunes. We're sure of it.
Bonus Track:
"Pssst!" by Bullet Dumas
The only reason why this is in the bonus section is because we've been listening to this long before 2014. Y'all should've heard of his distinct guitar style (what an awkward way to describe something graceful) and promotion of a truly Pinoy sound by now.
Share this story with your friends!
---
Help us make Spot.ph better!
Take the short survey
Load More Stories