10 Most Ridiculous Shake, Rattle & Roll Sequences
Strange creatures and malevolent inanimate objects abound.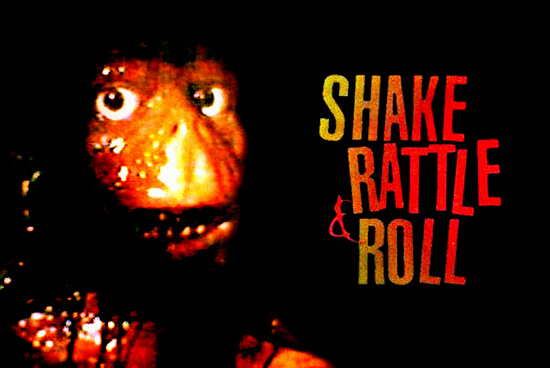 (SPOT.ph) There's more to the holiday season than just twinkling lights and Christmas carols. Every year, we get a fresh batch of movies for the Metro Manila Film Festival (MMFF), set to dominate all cinemas during the holidays. You can almost always rely on a new Shake, Rattle & Roll anthology flick to grace those giant screens. Every film features a set of three horror stories, with an all-star cast, and a good handful of, well, campy scenes that admittedly had us more amused than terrified.
ADVERTISEMENT - CONTINUE READING BELOW
CONTINUE READING BELOW
Recommended Videos
We pay tribute to some of the most ridiculous sequences from the franchise...so far.
This list is not ranked.
Also read:
10 Classic MMFF Movies to Look Back On Before MMFF 2014
Top 10 Movie Monsters in Philippine Cinema
Robinson won't like this: Shake, Rattle & Roll 15 features story inspired by mall urban legend-with a major detail changed
1. Pridyider (Shake, Rattle & Roll)
This segment is so memorable that it inspired a 2012 movie of the same name. The original episode tells the story of Virgie (Janice de Belen) and Lorna (Charito Solis), who move into a new house and inherit an old refrigerator, presumably from the former resident. It turns out this mysterious home appliance is haunted and hellbent on "eating" anyone who opens the door. Sure, this might have scared audiences 20 years ago but it's 2014. Just unplug it-which is exactly what Lorna does to save the day.
ADVERTISEMENT - CONTINUE READING BELOW
Most ridiculous scene: In one of the segment's final scenes, the refrigerator starts to consume poor Virgie, who really just wanted to cool off. By the way, it looks as though she's enjoying the cool temperature way too much.
2. Christmas Tree (Shake, Rattle & Roll 9)
The folks behind the franchise sure do love a formula. Myrna (Gina Alajar) just wants a nice Christmas reunion with her family. The malevolent (but beautifully decorated) Christmas tree gazes upon them, patiently biding its time until it can eat them as its Noche Buena.
Most ridiculous scene: When the Christmas tree comes to life, complete with an evil set of eyes and two tree trunks as legs.
3. Ukay-Ukay (Shake, Rattle & Roll 11)
In the same trend of inanimate objects coming to life, the 11th installment of Shake, Rattle & Roll features an old wedding gown meant to be worn by the engaged Kayla (Ruffa Gutierrez). You can figure out what happens next.
ADVERTISEMENT - CONTINUE READING BELOW
Most ridiculous scene: Every time the wedding dress springs to life and, well, starts attacking people. At one point, John Lapus fights back with a toilet plunger.
4. Yaya (Shake, Rattle & Roll 3)
Tanya (Kris Aquino) has just moved into her new home with her baby daughter. She then hires a mysterious nanny to watch over her baby.
Most ridiculous scene: Is it Kris Aquino's facial expression or the actual yaya? You be the judge.
5. Aquarium (Shake, Rattle & Roll 2k5)
Here's a concept we've never seen before! Just kidding. Janice (Ara Mina) and Benjie (Ogie Alcasid) move into their new condominium unit, which houses an antique aquarium that...well, you should know the rest by now.
Most ridiculous scene: The idea itself is pretty ridiculous. The aquarium's "seaweed" decor pulls its victims into its evil clutches and then drowns them, effectively defying laws of physics. Then again, most of these movies do.
ADVERTISEMENT - CONTINUE READING BELOW
6. Nanay (Shake, Rattle & Roll 3)
Maloy (Manilyn Reynes) and her classmates are on an exciting field trip to the beach. One of her friends foolishly collects a bunch of strange-looking eggs, which turn out to be the eggs of an ugly sea creature called Undin. Spurred by motherly instinct, Undin avenges its children by taking out the people that disturbed its habitat.
Most ridiculous scene: Undin somehow manages to travel from the lake to toilet bowls to attack its victims. Unless, of course, there is a very long pipeline that connects from the province to the city. If that isn't absurd enough for you, the scene where Maloy tries to give back Undin's eggs should do the trick.
7. Unwanted (Shake, Rattle & Roll 14: The Invasion)
It started out as an innocent trip to the mall for Hank (Vhong Navarro) and his girlfriend, Kate (Lovi Poe). An explosion triggers parts of the mall to collapse, rendering the couple and a handful of other survivors trapped within the wreckage. A band of alien-slash-sea creatures appear, killing them off one by one.
ADVERTISEMENT - CONTINUE READING BELOW
Most ridiculous scene: When Hank and Kate manage to escape the mall, they realize that the whole city has been infested with aliens...giant egg included. However, we give the plot plus points for, ahem, shaking things up and doing something new.
8. Poso (Shake, Rattle & Roll 2k5)
Continuing the grand tradition of inexplicably nefarious inanimate objects is a murderous poso, which starts killing off people after the wealthy Gloria Romero hires a fake occultist (Ai-Ai delas Alas) to contact her late grandson.
Most ridiculous scene: When the water pump starts to drip blood. Really.
9. Guro (Shake, Rattle & Roll 4)
Mr. Zerrudo (Edu Manzano) is the hot new teacher at Jodie's (Manilyn Reynes) school. She later discovers that he turns into a hideous monster, effectively squashing any attraction she may have had towards him.
ADVERTISEMENT - CONTINUE READING BELOW
Most ridiculous scene: When Jodie catches Mr. Zerrudo in the chemistry lab as he downs a concocted potion that turns him into a creature.
10. Manananggal (Shake, Rattle & Roll)
A teenager is tasked to take out the bloodthirsty manananggal ravaging the small town. Unfortunately for him, the creature also happens to be the beautiful girl he has his eyes on.
Most ridiculous scene: It is said that this segment is one of the most popular episodes of the entire series, but it earns a place on our list for its casting: a much-younger, pre-Kris Aquino "pak, naudlot" Bistek. Okay, the transformation scene was pretty ridiculous, too.
Also read:
10 Classic MMFF Movies to Look Back On Before MMFF 2014
Top 10 Movie Monsters in Philippine Cinema
Robinson won't like this: Shake, Rattle & Roll 15 features story inspired by mall urban legend-with a major detail changed
ADVERTISEMENT - CONTINUE READING BELOW
Load More Stories