10 Fresh Tunes to Listen to This January
New tunes for the new year by Madonna, Nicki Minaj with Beyoncé, Marc Ronson, Cheats, and more!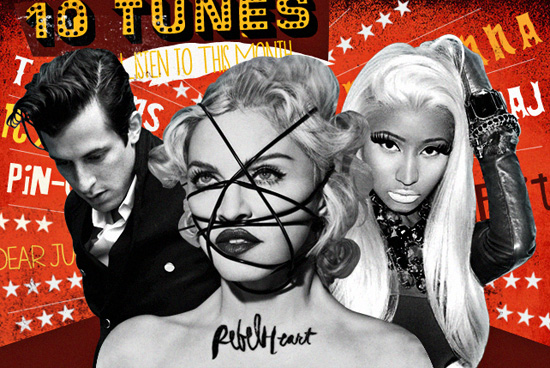 (SPOT.ph) While you're all still teeming with positivity and enthusiasm with the coming of the new year, we're bringing you some new music to listen to. Get even more psyched with Madonna's so-old-yet-so-new single, Nicki Minaj and Beyoncé's alpha female anthem, Mark Ronson and Kevin Parker's funky collab, Champs' bewitching alternative track, and Miguel's sexy surprise music. Plus, hear the latest from our every own artists Patience Dear Juggernaut, Cheats, Tandems '91, Ryoku with Clara Benin, and The Pin-Ups. Enjoy!
Song: "Living for Love"
Artist: Madonna
The pop icon's latest single is a combination of her past and present sounds. The dance-y track starts with a more familiar piano-led pop tune, then turns into an electro club anthem after a well-timed drop. We're a bunch of happy Madonna fans!
Fun fact: "Living for Love" is off Madonna's forthcoming 13th studio album, Rebel Heart, due out in March.
Song: "Our Great Escape"
Artist: Patience Dear Juggernaut
Patience Dear Juggernaut a.k.a. Wincy Aquino Ong is out with the first single off his forthcoming album, Introvert. It's a catchy, guitar-driven, indie-pop tune you can actually imagine playing in the background as you embark on your great escape.
Fun fact: Ong was in bands Narda and Us-2 Evil-0.
Song: "Feeling Myself"
Artist: Nicki Minaj feat. Beyoncé
Sultry, seductive, and spunky is Nicki Minaj and Queen Bey's second collaboration. In "Feeling Myself," Minaj serves some hard lyricism softened by Beyoncé's sexy hook. The single isn't as explosive as "Flawless," but it's worth listening to nonetheless.
ADVERTISEMENT - CONTINUE READING BELOW
Fun fact: "Feeling Myself" is off Minaj's fourth studio album, The Pinkprint, released last December.
Song: "Headfoam"
Artist: Cheats
"Headfoam" is a more subdued track from high-energy band Cheats. It's a newness that we warmly welcome, as the band proves it can do things differently and pleasantly surprise all the same.
Fun fact: Cheats is made up of Saab Magalona, Jim Bacarro, and Candy Gamos on vocals, Mau Torralba and Ernest Aguila on guitars, Manny Tanglao on bass, and Enzo Hermosa on drums.
Song: "Daffodils"
Artist: Mark Ronson feat. Kevin Parker
Pretty boy producer Mark Ronson's follow up to the Bruno Mars-aided smash hit "Uptown Funk" deserves just as much praise. "Daffodils" may not seem as radio friendly, but it is perfection, what with Kevin Parker's (Tame Impala) cool falsetto and Ronson's retro sound.
CONTINUE READING BELOW
Recommended Videos
Fun fact: Ronson's new album, Uptown Special, drops January 27.
Song: "All This Time (First & Last)"
Artist: Tandems '91
Tandems '91 has a knack for creating charming and groovy disco tracks that merge old, familiar sounds and modern melodies. "All This Time (First & Last)" is the kind of sunny jam you will want to play on your best days.
Fun fact: Tandems '91 is producer Aaron David Cruz.
Song: "Desire"
Artist: Champs
Champs is another sibling musical duo to watch. Their alternative, folk-pop sound (almost Alt-J-esque) is magnetic and begging for repeated plays. The duo just released a new music video for their single "Desire," which makes for an overall impressive production.
ADVERTISEMENT - CONTINUE READING BELOW
Fun Fact: Isle of Wight brothers Michael and David Champion make up the Champs duo.
Song: "Window Seat"
Artist: Ryoku feat. Clara Benin
Two young local artists to watch for collaborate in "Window Seat," a delight to even the pickiest listener. There's so much coolness and ease to the music that it's hard not to love it. Ryoku puts together a seamless track aided by the dreamy vocals of Benin.
Fun fact: Freelance producer Ryoku is also the controllerist of the band Dissonänce. Benin is currently working on her debut album, Human Eyes.
Song: "nwa"
Artist: Miguel feat. Kurupt
Don't let the raunchiness of the lyrics turn you off. Miguel's new single off his surprise EP titled nwa.hollywooddreams.coffee is smooth and groove worthy. Kurupt does a fine job in his verse, too, bringing in some '90s hip-hop coolness to the track.
Fun fact: Miguel has worked with artists like Usher, J. Cole, Musiq Soulchild, and Mariah Carey.
Song: "Can't Stand Waiting Here"
Artist: The Pin-Ups
The Pin-Ups just released the music video for "Can't Stand Waiting Here," a single demonstrating the band's '90s, indie rock, and new wave influences. What's to really love is the wisely created, kick-ass arrangement.
Fun fact: Mondo Castro, Hiyasmin Neri, Ryan Nachura, Raffy Bonifacio, and Hazel Silvestre make up The Pin-Ups. The band's Facebook bio reads: "The Pin-Ups is a new band. The Pin-Up Girls are dead! Long live The Pin-Ups!"
Share this story with your friends!
---
Help us make Spot.ph better!
Take the short survey
Load More Stories