10 Most Shocking Award Show Moments
From the Golden Globes' North Korea skit to Lady Gaga's egg-themed entrance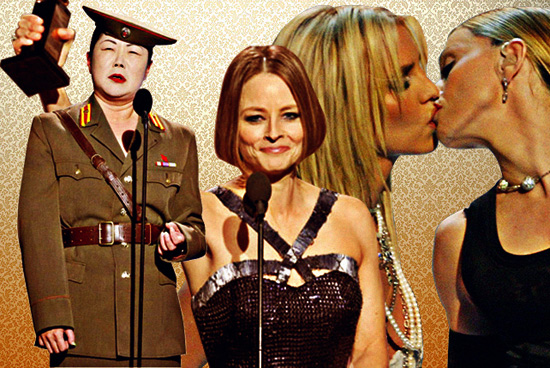 (SPOT.ph) Award shows are more than just the glitz, glamour, and prestige (although those are pretty fun, too). Some people tune in for the entertainment, which is usually what happens when you take giant egos, possible rivalry, potentially drunk celebrities, and put them all in one room for a couple of hours. Here are just some of the most shocking moments during award shows.
This list is not ranked.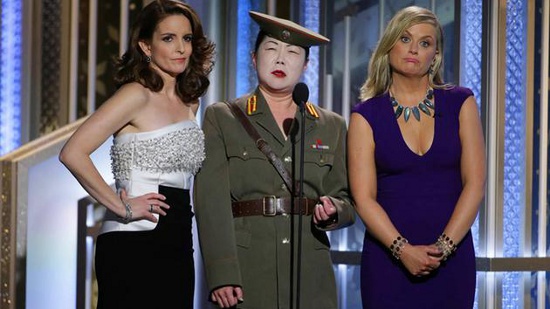 Photo via ABC 7 News
1. Margaret Cho's North Korea skit
The Golden Globe Awards is no stranger to shocking moments (as you will see later on). During the 2015 ceremony, hosts Tina Fey and Amy Poehler took a jab at Bill Cosby, but it was the sketch on The Interview movie that really had everyone talking. Comedian Margaret Cho appeared as North Korean journalist Cho Yun Ja who wanted a photo with Meryl Streep. Fey and Poehler insisted that Streep cooperate because there were "a lot of embarrassing e-mails" that could be released. Cho later joined the hosts onstage, saying, "In North Korea we know how to put on a show; this is not a show." She also defended her impersonation after some viewers called it racist. (Watch the full video here.)
ADVERTISEMENT - CONTINUE READING BELOW
2. Lady Gaga's egg-themed entrance
Talk about making an entrance. In 2011, Lady Gaga made a bizarre red carpet arrival when she attended the Grammys concealed in a giant egg for three hours. She was unable to chat with Ryan Seacrest on the red carpet because, as one of her assistants said, she was in an "embryonic stage and won't be born until the performance." By the way, the egg was even fitted with an oxygen tank and a fan because hey, it looked pretty stuffy in there.
3. Taylor Swift gets Kanye-d
In a shocking MTV Video Music Awards moment that spawned a song, countless "Imma let you finish" memes, and plenty of angry protests against Kanye West, the rapper infamously interrupted Taylor Swift's acceptance speech by stealing the microphone and announcing that "Beyonce had one of the best videos of all time." West later apologized on The Tonight Show with Jay Leno, saying he "hurt" Swift.
CONTINUE READING BELOW
Recommended Videos
4. Isaiah Washington drops the other F-bomb
It was supposed to be a celebratory moment for the Grey's Anatomy cast during the 2007 Golden Globes. Isaiah Washington was involved in an earlier dispute on set with co-star T.R. Knight (who also happens to be gay). Three months later, the show's actors and creator gathered backstage at the award show to answer questions after their big win. When asked about the fight, Washington moved to the microphone and denied he called Knight a gay slur. On air. With the whole world watching. Needless to say, it led to his dismissal from the show.
ADVERTISEMENT - CONTINUE READING BELOW
5. Jodie Foster "comes out"
When actress Jodie Foster accepted the Cecil B. DeMille Lifetime Achievement Award during the 2013 Golden Globes, no one expected her to make an entirely different statement. In 10 minutes, Foster talked about the changes in Hollywood, the importance of privacy, and managed to segue into thanking her partner.
6. Brüno drops over Eminem
In a memorable moment during the 2009 MTV Movie Awards, the always-outrageous Sacha Baron Cohen, dressed as his character Brüno in angel wings and a thong, descended on wires and landed face down on Eminem's lap. The rapper started to scream, "Are you f*cking kidding me?" before storming out of the venue with his entourage. Sure, Eminem may have admitted to being in on the joke later on, but it didn't make the moment any less shocking when we first saw it.
7. Tommy Lee and Kid Rock fistfight over Pamela Anderson
Love triangles are always messy. Just ask Pamela Anderson's former flames Tommy Lee and Kid Rock who were at each other's throats during Alicia Keys' performance at the 2007 Video Music Awards. The two were quickly escorted out of the venue, and Rock was cited for a misdemeanor battery for his assault on Jones.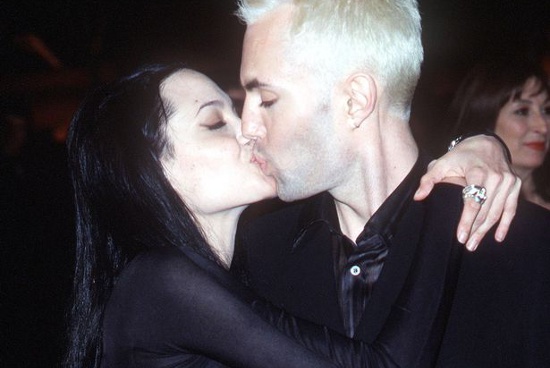 ADVERTISEMENT - CONTINUE READING BELOW
8. Angelina Jolie makes out with her brother
The Academy Awards has also had its fair share of shocking moments over the years, the most notable one dating back to 2000 when Angelina Jolie exchanged a kiss with her brother on the red carpet. It probably didn't help that when she went onstage to accept the Oscar for Best Supporting Actress, she gushed about him, saying, "I'm so in love with my brother right now. He just held me and said he loved me." She later laughed off the ensuing comments, calling them "pathetic."
9. Isaac Mizrahi gropes Scarlett Johansson
Isaac Mizrahi is probably best known for his women's fashion line, but back in 2006, the designer played red carpet reporter during the Golden Globes. While he was interviewing Scarlett Johansson (who, at the time, was wearing a tight red dress), he copped a feel on live TV and explained he was taking notes for the next time he makes a push-up dress.
10. Britney Spears and Madonna kiss onstage
It's one of the most iconic images in award show history. In 2003, jaws dropped worldwide when Madonna kissed Britney Spears onstage at the 2003 Video Music Awards. The sensational liplock was during a live performance of Madonna's hits alongside Spears and Christina Aguilera.
Erratum: The first version of this article misidentfied Pamela Anderson's ex as Tommy Lee Jones. This has been corrected.
Share this story with your friends!
---
Help us make Spot.ph better!
Take the short survey
Load More Stories