MOVIE REVIEW: Wild
Reese Witherspoon gives an honest and commanding performance.
(SPOT.ph) Cheryl Strayed (Reese Witherspoon) is living up to her unusual last name-lost, confused, and wandering off on the wrong path. After the death of her beloved single mother, Cheryl goes on a messy romp towards self-destruction: drug abuse and extramarital sex with different men. It's not until she finds herself broke, divorced, and reeling towards depression that she finally decides to walk another path-both literally and figuratively.
Jean-Marc Vallée's latest film, Wild, follows Cheryl as she attempts to exorcise her personal demons by going on a thousand-mile hike along the Pacific Crest Trail. This true-to-life tale is a road movie with a different twist-instead of a cross-country road, we have a hiking trail that stretches from the Mojave Desert to the Canadian border; and instead of an optimistic hero hitchhiking his way to the cold north, we have a broken heroine traversing one of the most unforgiving terrains in the US. The film, both in its theme and treatment, largely resembles Sean Penn's directorial efforts in the underrated survival drama Into the Wild (2007), only with a more fragile character at its center.
ADVERTISEMENT - CONTINUE READING BELOW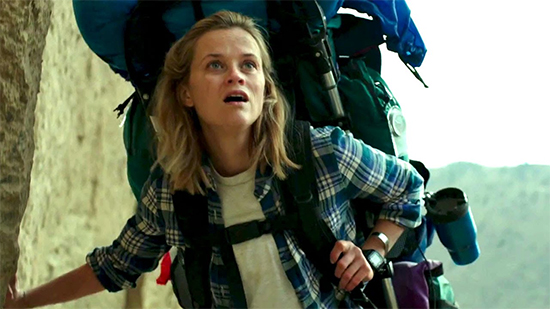 The film starts in medias res, showing us a very exhausted Cheryl reaching the top a rocky hill. She sits down on one of the large rocks and starts to pull a dead toenail off her heavily-wounded foot. The excruciating pain makes her knock one of her boots off the cliff by accident. In utter frustration she screams and hurls the second one after it. This opening sequence effectively sets the tone for the rest of the narrative-a tiresome and painful journey of a woman defiantly screaming at her life's unkindly circumstances.
ADVERTISEMENT - CONTINUE READING BELOW
Vallée, best known for helming last year's Dallas Buyer's Club, challenges Witherspoon to deliver a knockout performance that captures the brittleness of our spirit; making us realize that these difficulties can happen to any of us. That if we ever find ourselves trekking the PCT, we'd probably suck at it as much as she did. But despite struggling in the vast American wilderness (with a 65-pound bag slumped on her back), Witherspoon's intelligence as an actress shines through the muck with her depiction of Cheryl's confidence and determination, playing up a feminine strength.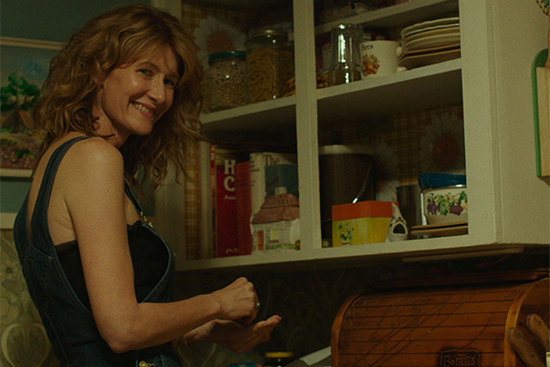 ADVERTISEMENT - CONTINUE READING BELOW
Another notable performance in the film is Laura Dern (Jurassic Park, Inland Empire) as Cheryl's deceased mother, Bobby, who is only present in flashbacks triggered by random things happening in the film. Dern's Bobby resonates through memories by the honesty in her role; not a single moment will you feel like she is acting in the movie.
Vallée, with the help of Nick Hornby (who adapted Cheryl Strayed's memoir for the screen), constructs the plot in a non-linear way; jumping from past to present through effectively edited flashbacks. Vallée edits the scenes together with no apparent cue-jumping timelines by merely cutting from one shot to another while the score glues everything together seamlessly. He then punctuates the moments by attaching fittingly endearing road songs from the likes of Bruce Springsteen and Simon & Garfunkel. As a result, he manages to show how memories can be introduced fleetingly by seemingly meaningless things. Hello, heartbreak.
ADVERTISEMENT - CONTINUE READING BELOW
Near the end of the film, we are treated to a sequence that exemplifies Vallée and Witherspoon at the peak of their game. A simple song sung by a complete stranger brings back all the things that transpired in the entire movie. Cheryl never says a word, but only listens-and we shall join her in silent contemplation. The Oscar-winner overwhelms with a flash of acting brilliance that will make us weep in the same way she does. The film, anchored mostly on the Witherspoon's commandingly honest performance, tells us how both self-destruction and self-discovery start with a clear and contentious choice. Cheryl's remarkable journey into the infinite darkness of herself reveals how the fragmented paths that we take often separate us from the rest of the world. And yet the unfiltered emotions resonating from the memories elicited along the way will always reveal how we are all alike as human beings-fragile, alone, and, well...wild.
ADVERTISEMENT - CONTINUE READING BELOW
RATING: ••••• 5 out of 5 spots
Wild is currently showing in theaters.
Duane Lucas Pascua is the filmmaker behind Musa, Kontra: Alternative Film Project Best Film of 2013. He is an artist, MMA fighter, and excellent salsa dancer.

Load More Stories