8 Crazy Things You Probably Don't Know About Ariana Grande
She's not just a Mariah wannabe.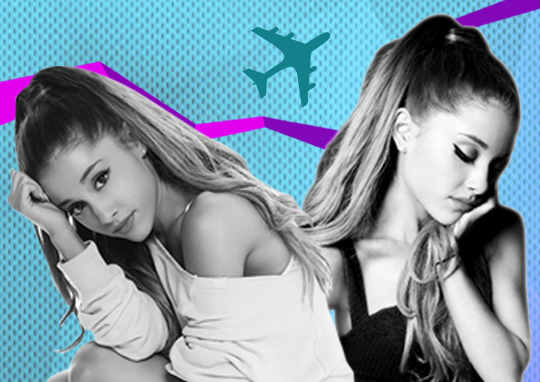 Would you want to meet Ariana Grande, hear her iconic whistle and see her thigh-high boots in the flesh for once in your life?
If, for some reason, you don't have a magical pair of ruby slippers that can take you anywhere, there's another way. One that's far easier and more realistic as to speak.
ADVERTISEMENT - CONTINUE READING BELOW
Spinnr, a popular Filipino music-streaming app, is giving you a chance to make this dream happen. The first ever unlimited music streaming service in the country is flying out three lucky Ariana Grande fans to Anaheim, Los Angeles, California for the Honeymoon Tour at the Honda Centern for a once-in-a-lifetime chance to meet and greet their idol. All expense paid = airline tickets, hotel accommodations, transportations, and concert tickets. Yep, it's totally okay to scream in excitement.
Knowing that you'll be as excited as we are, we rounded up these crazy and surprising facts about this highly talented singer-songwriter that would make you want to see her even more.
1. She's a geek at heart
Think her sci-fi-ish music videos for hit songs Break Free and One More Time are purely incidental? Nope, the girl's got it big for sci-fi and horror movies since she was a kid.
2. She's not just Ariana Grande
ADVERTISEMENT - CONTINUE READING BELOW
Her full name is actually Ariana Grande-Butera. Born in Boca Raton, Florida, the half Sicilian, half Abruzzese singer songwriter was apparently named after Princess Oriana from the cartoon show Felix The Cat.

3. Monopoly is her favorite game
Ariana says her favorite board game will always be Monopoly. In fact, she said she never gets sick of playing the long game. She also celebrated her 19th birthday playing Monopoly with her brother Frankie Grande, who is also a broadway actor and a TV personality.
4. The sea is her refuge
Aside from her fascination with the ocean and all types of sea creatures, Ariana also says one of her favorite things to do at night is going to the beach because she loves the peace and quiet it brings.
5. Had a close encounter with the Demon
In an interview with Complex.com in 2013, she revealed that she had a demon experience when they were in Kansas City a few weeks before the interview. She shared that at that time, she saw a black mass of something lying next to her in bed. Scared to death, she fell asleep and when she woke up, it was no longer there.
ADVERTISEMENT - CONTINUE READING BELOW
6.  She wrote an article about bullying
Devastated with the suicide of a fan due to bullying, she wrote a heartfelt article about bullying that was published on Huffingtonpost. She related that she was also bullied even as a performer and that it only made her happy being who she is, flaws and all.
7. Her favorite fashion icons include Marylin Monroe and Audrey Hepburn
Certainly one of contrasts: on one side there's the humanitarian and certainly modest Audrey Hepburn and on the other side, there's America's sex symbol Marilyn Monroe. Detractors might say otherwise, but she definitely has the appeal of Monroe and the charm of Hepburn.
8. She's Vegan
It was November 2013 when Ariana announced via Twitter that she's converting to a Vegan lifestyle. She explained in an interview with the Mirror that what prompted this radical shift is the fact that she "loves animals more than some people" and that she wants a healthy diet in order to live a longer and happier life.
ADVERTISEMENT - CONTINUE READING BELOW
If those facts aren't enough to excite you for a night in Cali filled with Ariana Grande hits, then check out her online music catalog on Spinnr! To get a chance to win, all you have to do is register and subscribe to Spinnr, like their Facebook page, and register your details on their Facebook app!
For more details about the #SpinnrArianaGrande promo, visit Spinnr's Facbeook page by clicking here.
Recommended Videos
Load More Stories