10 Best Opening Numbers From the Oscars
Aside from the actual Academy Awards, it's one of the things we look forward to the most...and Neil Patrick Harris didn't disappoint.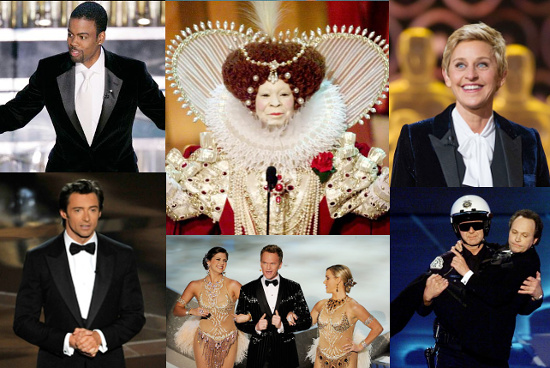 (SPOT.ph) A good Oscars opener is just as essential to the annual ceremony as the movies and A-list celebrities. Think of it as a first impression: It sets the tone to the rest of the show, usually done with rousing musical numbers and witty zingers at some of Hollywood's biggest names. Neil Patrick Harris sang an amazing tribute to "moving pictures" this year, and we've rounded up nine more of the best opening numbers.
ADVERTISEMENT - CONTINUE READING BELOW
This list is not ranked.
1. Hugh Jackman (2009)
Hugh Jackman's popular opening number kicked off with a reference to the state of the economy at the time. The Academy's "cutbacks" had the host singing a musical tribute, cleverly staged with props he supposedly constructed all night from his garage. No nominated film was spared, from The Dark Knight to Slumdog Millionaire to Frost/Nixon (with Anne Hathaway joining in).
2. Neil Patrick Harris (2010)
Even if Steve Martin and Alec Baldwin hosted the Oscars in 2010, it was Neil Patrick Harris who opened the show in the only way he knew how: It was a grand musical spectacle that came with an orchestra, plenty of costumed dancers, and a shiny tuxedo jacket.
3. Ellen DeGeneres (2014)
Unlike the first two, Ellen DeGeneres went on the more traditional monologue route. Her celebrity jokes weren't exactly pointed, taking playful jabs at how Jennifer Lawrence tripped on her way to claim her Oscar the year before and at how pretty Jared Leto looked. This was also the year she did her infamous selfie, although that came much later in the show.
ADVERTISEMENT - CONTINUE READING BELOW
4. Billy Crystal (1992)
Billy Crystal's opener in 1992 remains to be one of the most memorable. Before launching into his trademark singing, he first took the stage, masked and bound like the famous cannibal Hannibal Lecter in the nominated The Silence of the Lambs. He then walked to the film's star, Anthony Hopkins, and said, "I'm having some of the Academy over for dinner. Care to join me?"
5. Whoopi Goldberg (1999)
In 1994, Whoopi Goldberg was the first woman to host the Academy Awards solo. The year 1999 marked her third stint as host, when she entered the stage elaborately dressed as the "African Queen," inspired by Cate Blanchett's role in Elizabeth.
6. Chris Rock (2005)
Comedian Chris Rock breathed new and biting life to the Oscars with his opening monologue. It was more of a stand-up comedy routine rather than the usual musical number, but he wasn't afraid to ruffle the sensibilities of Academy voters. Post-show reviews were mixed, but we can appreciate a gutsy, hard-hitting joke or two.
ADVERTISEMENT - CONTINUE READING BELOW
7. Billy Crystal (2012)
Crystal's ninth stint as host began with a movie montage that paid tribute to the year's most memorable films, including Midnight in Paris, The Help, and The Descendants. To pull off the spoof, he enlisted the help of Justin Bieber, Tom Cruise, and George Clooney. He still, of course, had his signature singing performance after.
8. Jon Stewart (2006)
Satirical comedian Jon Stewart poked fun at his first time hosting the Academy Awards by showing previous (and prolific) hosts who were "too busy" to take the job. There's also a special appearance from Halle Berry and George Clooney (again). Stewart later helmed the award show in 2008.
9. Whoopi Goldberg (2002)
How's this for an opening? Four-time host Whoopi Goldberg descended from the ceiling, all dressed in full and flashy Moulin Rouge garb. Her monologue was noticeably sharper, taking jabs at Hollywood plastic surgery, negative campaigns, and the lengthy award show itself.
ADVERTISEMENT - CONTINUE READING BELOW
10. Neil Patrick Harris (2015)
NPH's opening number was so amazing, we already included it in our list. He started off by making a very pointed joke at the Oscars' diversity problem ("Tonight we honor Hollywood's best and whitest-sorry, brightest"). His musical number listed this year's nominees, and he was also joined onstage by Anna Kendrick (in her Into the Woods costume) and Jack Black.
Load More Stories