MOVIE REVIEW: Unfinished Business
It's Eurotrip with a lot of heart.
(SPOT.ph) Before Vince Vaughn can step into more serious roles like the second season of True Detective, he first dips his toes into familiar (perhaps too much so) territory: a raucous, male-bonding romp in the form of Unfinished Business.
Vaughn plays Dan, a down-on-his-luck family man who decides to quit working for his bullying boss, Chuck (Sienna Miller). He starts his own company with two less-than-promising associates: Tim (Tom Wilkinson), a former colleague who is past retirement age, and Mike (Dave Franco), a sweet but dim-witted kid. The unlikely trio travel to Europe to seal a lucrative deal, only to realize they must now thwart Chuck to do so.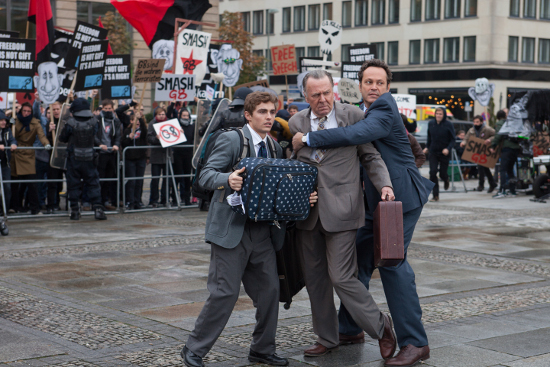 ADVERTISEMENT - CONTINUE READING BELOW
Needless to say, things go disastrously awry. We see the trio take on a string of outrageous situations that, well, only Europe can offer. Among them are a glimpse of the Berlin marathon, a unisex spa with the obligatory nudity jokes, and a professional negotiation hashed out in a gay fetish event.
In the middle of his business negotiations, Dan must also play the role of the dutiful dad, giving pep talks to his bullied, overweight son and unhappy, younger daughter. His struggle to connect with and provide for his kids is the steadily beating heart amid all the sex and drug-related shenanigans. Vaughn is often at his best when he is vulgar with a heart of gold, and he doesn't disappoint in that aspect.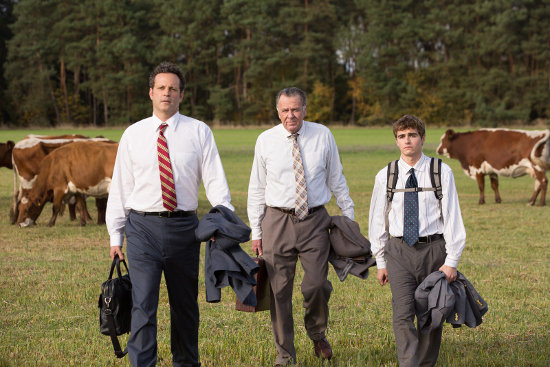 ADVERTISEMENT - CONTINUE READING BELOW
Franco stands out as he does his very best to shine with what little he's given. He busts out an infectious grin and plays up the lovable but ridiculously slow character, often with hilarious results. Wilkinson, on the other hand, seems disjointed as he tries to sell an elderly character on the hunt for some sex and excitement in his life.
Director Ken Scott and his team offer a rushed approach to capture the European backdrop, instead laying a heavy hand on the crude humor. The script by Steven Conrad doesn't freshen up well-worn gags and formulas from the series of buddy comedy films that have come before it. They seem perfectly comfortable with going through the motions, and it's up to the cast to successfully deliver something we've already seen before-and they do, to a certain extent.
Unfinished Business may not appeal to highbrow critics, with crass and unapologetic humor along the same vein of The Hangover and Eurotrip. If those films are right up your alley, you're about to have a lot of fun.
ADVERTISEMENT - CONTINUE READING BELOW
RATING: ••• 3 out of 5 spots
Unfinished Business opens in theaters today, March 5.
CONTINUE READING BELOW
Recommended Videos
Share this story with your friends!
---
Help us make Spot.ph better!
Take the short survey
Load More Stories