MOVIE REVIEW: Cinderella
A dose of fairy tale magic that caters to nostalgia
(SPOT.ph) Once upon a time, a film studio called Walt Disney turned a French folk tale by Charles Perrault called Cinderella into one of the best-loved animated films. The year was 1950, and Disney's authority as the maker of every girl's dream of becoming the perfect princess was cemented. As children, it may have been "A Dream is a Wish" and Cinderella's powder blue dress (or was it the evil stepmother?) that stuck in our minds, but the latest live-action depiction is set to take us all back to those warm fuzzy feelings of bedtime stories and cartoon classics we cherished as kids.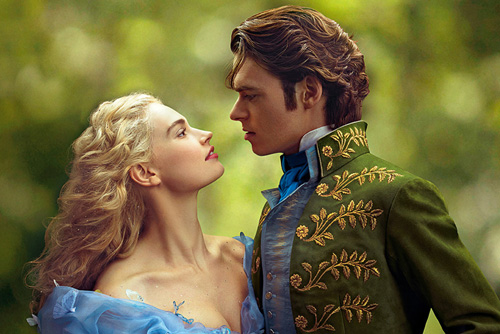 ADVERTISEMENT - CONTINUE READING BELOW
Unless you've been deprived of a proper childhood, you should know the story by heart: The version most of us have grown up with depicts Ella (played by Downton Abbey's Lily James) losing both parents over the course of her young, innocent life. Through her grief, she lives by her mother's reminder to "Have courage and be kind," but she breaks down in the face of her stepmother, Lady Tremaine (masterfully played by Cate Blanchett) and stepsisters Anastasia (Holliday Grainger) and Drizella (Sophie McShera). Then there's Prince Charming (or Robb Stark for all you Game of Thrones fans) played by Richard Madden, whose bright blue eyes and perfect head of hair are the stuff Disney princes are made of.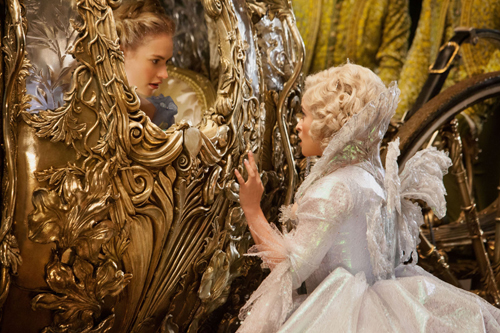 ADVERTISEMENT - CONTINUE READING BELOW
While James' portrayal of Cinderella is expectedly meek, at times injected with a quiet jolt of power, Blanchett plays the villain to perfection. There's a way that she delivers those penetrating stares and calculated commands that compel you to still sympathize with her, which is probably not how you remember the character. Perhaps the only memorable encounter between Ella and her stepsisters comes in the moment she is christened by Drizella as "Cinder-Ella." Other than that, the siblings provide nothing particularly exciting beyond brief portions of comic relief. A more noteworthy appearance comes from Helena Bonham Carter as the Fairy Godmother, rising up from an old beggar-slash-curious looking tree stump, who leaves an impression with every Bippity Boppity Boo, despite being onscreen only briefly. Then, of course, there's every colorful ball gown and majestic backdrop which evokes those long-forgotten feelings of old.
ADVERTISEMENT - CONTINUE READING BELOW
Perhaps it's the way that director Kenneth Branagh is able to give a straightforward (perhaps even worn out) story a bit more depth. The script penned by screenwriter Chris Weitz lets the characters highlight issues of identity (one's name, class, and appearances figure prominently throughout), such that you're curious if it's age or experience that has made you more sensitive to these elements of the tale. With grown-up eyes, you see that people and things are left behind (the glass slipper for one, Cinderella by her parents for another), but with a little bit of fairy dust, a little bit of magic, there's hope for our own dreams of happily ever after.
RATING: •••• 4 out of 5 spots
Cinderella opens in theaters on March 12 in IMAX and 2D. The animated short Frozen Fever will be shown before the film as an added attraction. Photos courtesy of Walt Disney Pictures.
ADVERTISEMENT - CONTINUE READING BELOW
CONTINUE READING BELOW
Recommended Videos
Share this story with your friends!
---
Help us make Spot.ph better!
Take the short survey
Load More Stories