10 Observations From Bridges of Love
Spoiler alert: There were a lot of bridges. No, really.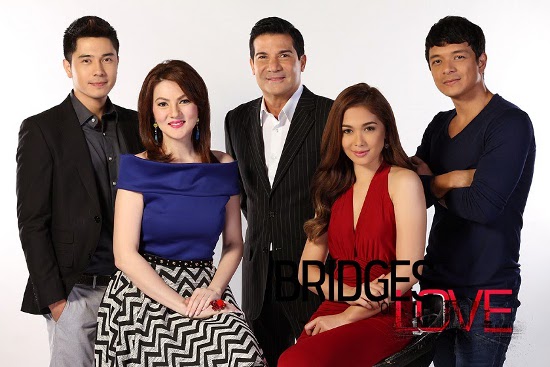 (SPOT.ph) For a while, it seemed all we saw on our TV screens were different permutations of infidelity, from Ang Dalawang Mrs. Real to The Legal Wife and My Husband's Lover. Now, we bid goodbye to the most recent tale of adultery, Two Wives, and say hello to a new teleserye that strays from the adultery trope but sticks to a formula that we all know and love...sibling separation.
Bridges of Love, touted as a "story like no other," revolves around two brothers, Gael (Jericho Rosales) and JR (Paulo Avelino). A tragedy rips them and their happy family apart but they will be, ahem, bridged together again because of their shared love for one woman (Maja Salvador).
Aside from the three leads, the show also features a powerhouse cast that includes Edu Manzano, Carmina Villaroel, and Antoinette Taus. We checked out the first episode, which premiered yesterday (March 16), and we're breaking down the 10 things we learned (or didn't) from the pilot.
ADVERTISEMENT - CONTINUE READING BELOW
1. It was an exciting first three minutes.
The people behind the show wasted no time grabbing the viewer's attention. In the first three minutes alone, someone is shot, Paulo Avelino is revealed as a rich and powerful ladies' man, and Jericho Rosales takes his shirt off and jumps off bridges.
2. We mean it when we say Paulo is rich and powerful.
We see glimpses of his character, JR in his element: non-stop drinking and sleeping with women. Oh, and he's so rich that he can easily give away P1 million to save his best friend from a beating (once again played by Janus del Prado).
3. He also has the best lines...so far.
Think quotes like "Lahat ng tao may katapat na pera" and "Kayang bilhin ng pera ang pagkatao ng kahit sino." Oh, and our personal favorite-which also happens to be an Al Pacino line-"First you get the money, then you get the power, then you get the woman." By the way, the woman in question hasn't even made an appearance yet.
ADVERTISEMENT - CONTINUE READING BELOW
4. There are a lot of flashbacks.
It's the kind of telenovela that demands your attention, because the flashbacks answer a lot of our burning questions. They do a pretty good job of it, too. How is JR so good at untying knots? Because their abusive father (Jason Abalos) used to tie them up. Why does Jericho's character have dreams of becoming an architect? Because he and his brother promised to build a house together, one to replace the makeshift room under the bridge that they lived under.
5. They used to have a happy family.
See, their father wasn't always a bad person. He just eventually turned evil because he felt like a failure as a father and husband for letting his wife (Desiree Del Valle) work in Hong Kong. She, on the other hand, never regretted loving him...until he lost their kids.
6. Their father "lost" them because they ran away from home.
ADVERTISEMENT - CONTINUE READING BELOW
The younger Gael and JR run away from their father, so that both resort to living under a bridge, begging, and working menial tasks for change.
7. The black market isn't so bad.
Apparently, when you're a kid up for possible adoption in the black market, it's not as bad as everyone makes it out to be. In fact, you're fed and given new clothes before you meet your new family...which isn't exactly a completely bad deal.
7. A young JR resorted to eating rocks out of hunger.
He also develops a fever from living under a bridge, which forces his older brother to have him adopted.
8. There's a decent attempt to tie it all together.
When JR realizes he's been put up for adoption, he runs after his brother, furious at the fact that he was supposedly sold. The bridge where they're standing collapses and JR falls, eventually going missing. He later wakes up, angry and determined to seek revenge. Gael returns home, while an older JR is later seen asking Lorenzo Antonio (Baron Geisler) to be his apprentice. He changes his name from JR to Carlos, the wealthy and womanizing character we were earlier shown.
ADVERTISEMENT - CONTINUE READING BELOW
9. The brothers grew up to be opposites.
As you should probably already expect by now, the poor guy is the nice one and the rich guy isn't. Good thing they're both really easy on the eyes.
10. There were a lot of bridge scenes in this pilot episode.
Our final tally? 8. It's symbolism, guys.
Bridges of Love airs after Forevermore on ABS-CBN.
CONTINUE READING BELOW
Recommended Videos
Share this story with your friends!
---
Help us make Spot.ph better!
Take the short survey
Load More Stories