10 Quotes that Explain the Melissa Mendez Airplane Incident
The he-said, she-said straight from the people involved.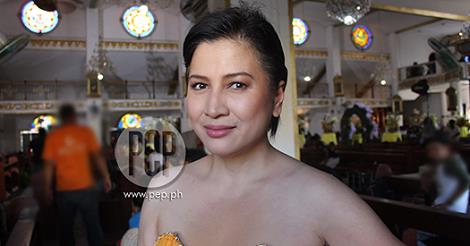 Photo via PEP.ph
(SPOT.ph) By now, you've probably already heard that a Cebu Pacific flight had to return to the Ninoy Aquino International Airport on Friday following the allegedly unruly behavior of actress Melissa Mendez. This led to a spirited debate over the weekend that led to more confusing information than what we started with. Here are 10 things we learned (or didn't) about the incident...all from the folks involved.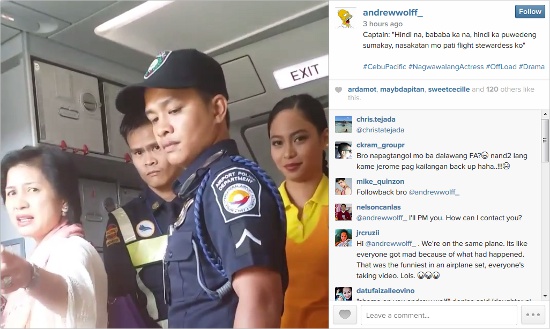 Caption: "Captain: Hindi na, bababa ka na, hindi ka puwedeng sumakay, nasaktan mo pati flight stewardess ko."
1. Melissa Mendez said: "It was true that I sat on the 1A seat, which wasn't reserved for me. This was only because I had wanted to take pictures of the clouds."
What we learned: This all happened because of clouds.
2. Melissa Mendez said: "When I asked Andrew's friend, he said, 'Hindi pwede. Binayaran ko 'yan.' I said I will not take long. Makikisuyo lang. It was when he told me, 'Pag 'di ka pa umalis d'yan hahampasin na kita ng bag ko sa mukha mo.'"
ADVERTISEMENT - CONTINUE READING BELOW
What we learned: Seat 1A is a very important seat.
3. Rey Pamaran said: "...Sabi niya, pwede bang kayo na lang umupo sa likod. Sinabi po namin sa kanya hindi po pwede binayaran po namin 'yung seat kasi kailangan namin ng leg room [...] Eh ayaw talaga niya umalis. Sabi niya magpi-picture daw siya ng clouds 'pag lumipad. Eh anong gagawin namin, tatayo lang kami sa harap?"
What we learned: The flight attendants seemed to be M.I.A. and unable to mediate. It was also unclear to both parties whether sitting in another row would be for the moment or for the whole flight.
CONTINUE READING BELOW
Recommended Videos
4. Rey Pamaran said: "Sabi ko, 'kapag 'di ka umalis diyan masampal ko mukha mo.' Nasabi ko talaga 'yun, [pero] wala akong ginawa."
What we learned: He actually said it.
5. Melissa Mendez said: "I told Andrew to ask his friend to stop. Andrew said, 'I don't know you!' This hurt me more because he used to be a friend of my daughter, Denisse [Oca]."

What we learned: Maybe they were fated to cross paths again.
She looked pretty calm here, though.
6. Andrew Wolff said: "...My fault for not knowing all showbiz stars here. I am not involved in showbiz na po kasi."
What we learned: We're guessing it wasn't exactly the closest of friendships.
7. Melissa Mendez said: "...I had wanted for things to be okay with him before we land. I sought the permission of a stewardess before approaching him. [...] I was calm when I went up to him. He covered his nose with a magazine and then said, 'Lumayo ka nga sa akin. Bad breath ka! Magsipilyo ka nga. Nakakadiri ka!' It was then when I slapped him."
ADVERTISEMENT - CONTINUE READING BELOW
What we learned: Rey Pamaran has a keen sense of smell.
8. Rey Pamaran said: "I told her to calm down, get some mouthwash then we can talk. It is here that she suddenly punched me in the face."
What we learned: Either way, she was very offended. We probably would be, too.
9. Andrew Wolff said: "She smelled like a beer brewery."
What we learned: Everyone on the plane could allegedly smell her, too.
10. Melissa Mendez said: "First of all, I was not drunk. I don't even drink alcohol. Second, I have been on a juice diet for several months now. It was possible that what they smelled on my breath was the juice that I drank before leaving the house that morning. It was a mixture of beetroot, papaya, pineapple and watermelon."
What we learned: Apparently, juice diets + actresses are a dangerous mix.
Share this story with your friends!
---
Help us make Spot.ph better!
Take the short survey
Load More Stories