10 Crazy Things We Learned from the First Week of Bridges of Love
From bones to stripteases and the black market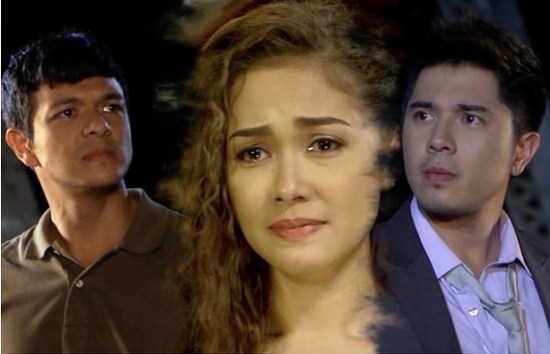 (SPOT.ph) It's been a wild first week for Bridges of Love, the new teleserye starring Jericho Rosales, Paulo Avelino, and Maja Salvador. We saw the young JR (who will later change his name to Carlos) and Gael experience some tough times that will eventually shape who they are as adults, and we've met the woman who will bring these two estranged brothers together. We also saw more than a handful of bridges, stripping, and...bones. Sound confusing? Read on.
Also read: 10 Observations From Bridges of Love
1. Carlos (Avelino) has a lot of money to burn.
Just how much, you ask? Well, he can throw away P1 million to save his friend. And he firmly believes he can buy anyone and anything, including people...which he has apparently done a lot. The one thing he can't buy? Mia (played by Maja Salvador).
2. You'll survive if you eat rocks and food that's already been eaten by rats.
ADVERTISEMENT - CONTINUE READING BELOW
Well, at least the young JR did. We don't recommend trying this out.
3. Apparently, JR has enviable survival skills because he also lives through a bridge collapse, a typhoon, and a flash flood...
...all at once.
4. In this show's fictional black market, children are given food and clothing before meeting their new families.
Kind of like cattle, but with a happier ending.
5. Lorenzo Antonio (Baron Geisler) is a rich contractor who offers JR a new life expecting nothing in return.
...sort of. It turns out he has some kind of still-unknown history with JR and Gael's mother (Desiree del Valle), whom he also creepily watches from outside her house. Because everyone in this teleserye is somehow connected. Like, ahem, bridges.
6. The older versions of Gael (Rosales) and his brother are opposites.
Gael is the poor brother who lives a decent life and is genuinely a good person, while Carlos is the exact opposite. He would be completely deplorable had we not seen why he turned out the way he did. (Spoiler alert: He's been through a lot.)
ADVERTISEMENT - CONTINUE READING BELOW
7. Mia works as a "star dancer" in a club that her adopted aunt owns.
Her aunt once paid for her dad's dialysis and she's been working to pay her back. She only has two rules: She won't let guys take her home, and she won't serve tables. Her day job still involves dancing-just a more wholesome version where she dances as a waitress in a Chinese restaurant.
8. She collects bones.
Not in a creepy way, though. Mia uses animal bones to make jewelry that she hopes to sell one day. (Her father used to work in a slaughterhouse.)
9. Mia is too ashamed of her job at the club so she insults Gael, then pushes him away.
Yes, even if he runs around doing one job after another just so he can spend time with her. In fact, it's almost unbelievable how patient he is with her, considering how she purposely makes things difficult for him.
ADVERTISEMENT - CONTINUE READING BELOW
10. Bridges are really, really important on this show.
It's where the two brothers live after they run away from home. It's also where they eventually get separated. It's where Mia and Gael share a romantic moment, and he admits to her that his brother "died" because of him. Oh, and it's also where the two brothers meet again...and they recognize each other! All this after just five episodes.
Also read: 10 Observations From Bridges of Love
CONTINUE READING BELOW
Recommended Videos
Share this story with your friends!
---
Help us make Spot.ph better!
Take the short survey
Load More Stories