MOVIE REVIEW: Home
In space nobody can hear you say 'Awwwwww.'
(SPOT.ph) Based on the book The True Meaning of Smekday, this CGI animated movie is a great, fun ride that solidifies lessons on friendship, family, and acceptance.
Unlike most movies tackling the ever popular alien takeover of planet earth, filled with gruesome creatures, terrifying deathrays, planetary destruction, tangled plots, and some authority figure giving quite a powerful yet all too familiar speech on winning, Home is filled with an overflowing visual feast of cuteness. Or, shall we say, "ultimate adorbs" (short for adorable, duh).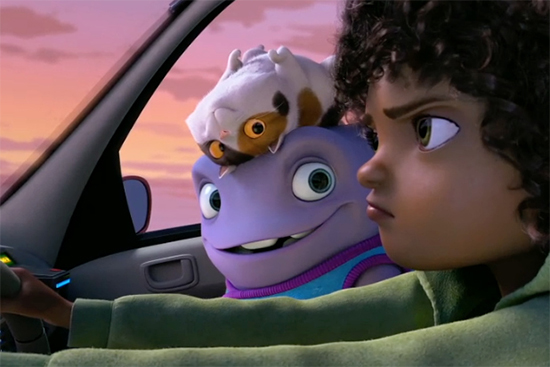 ADVERTISEMENT - CONTINUE READING BELOW
Sure there are definitely some tense moments and a couple of action scenes, but make no mistake, the main focus of this film is its feel-good-vibe and impeccable humor. It's a light movie. If you're starving for some dark, deep, emo plot twist debacle or a testosterone filled, bullet spraying, slugfest, then you're obviously not going to enjoy Home. Unless of course you're watching it with your kids, then Home is a great way to see some pretty cool animation, get a couple of laughs, and have an overload of  delight.
From the very start of the film, the so called "invaders" are too adorable to be really considered an alien threat. The Boov is a race of cowards. Since an encounter with another race called The Gorg, the Boov have always been on the run, transferring from planet to planet. On their recent transfer to Earth, the Boov have simply relocated all the humans to a remote place in Australia. Via some high tech vacuum tubes and flying bubble ships, the Boov have in the least violent and intrusive way, conquered our planet. The humans aren't even scared or don't even try to fight. It all just seems like a silly inconvenience.
ADVERTISEMENT - CONTINUE READING BELOW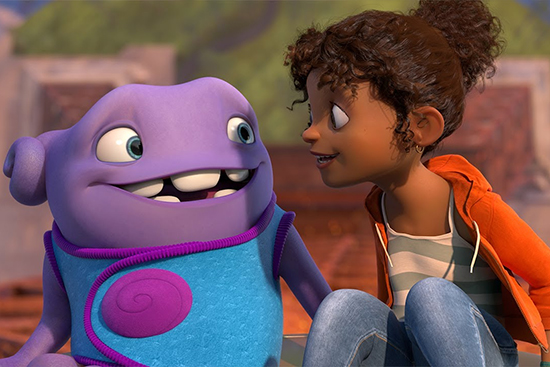 Here's where it gets interesting. A bumbling Boov named Oh (Jim Parsons) and the only human left out of Australia, Gratuity 'Tip' Tucci (Rihanna) form an unlikely alliance and decide to run from every other Boov on the planet. Tip is looking for her mom while Oh has accidentally sent an interstellar transmission that may give their lifelong enemies the Gorg their current location on Earth. Which makes these fun fugitives the two most wanted beings on the planet.
ADVERTISEMENT - CONTINUE READING BELOW
What happens is a cat-and-mouse chase between our two protagonists and the Boov leader, Captain Smek (Steve Martin). Will they get caught? Will Tip find her mom (voiced by Jennifer Lopez)? Will Oh be able to fix his mistake and still have his party? Will the Gorg reach Earth and destroy it? And why is the cat named "Pig"? It's awesome!
Home is a great movie to watch with kids. It has a lighthearted plot, a number of sweet moments, some great gags courtesy of Oh, and most of all, this movie has a ton of heart.
RATING: ••• 3 ½ out of 5 spots
Home opens in theaters March 26.
CONTINUE READING BELOW
Recommended Videos
Share this story with your friends!
---
Help us make Spot.ph better!
Take the short survey
Load More Stories