10 Classic Bible Movies That Were Actually Cool
We list some of the most memorable films inspired by the Bible.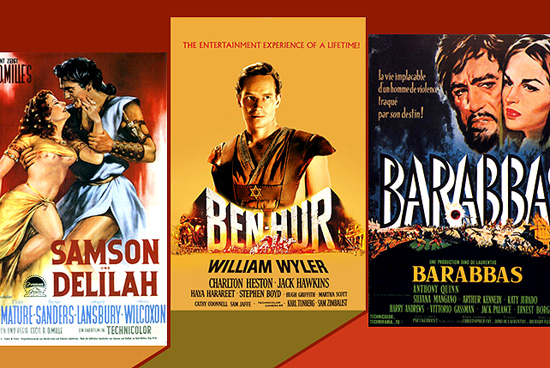 (SPOT.ph) The Passion of the Christ may be one of the most well-known biblical movies out there, but before Mel Gibson's 2004 take on the story of Lent, there were...a lot of other Bible films, actually. Surprisingly, most of the classic Bible movies took a bit more of a risk in terms of plot, zeroing in on lesser known (or perhaps less popular) figures, or using the historical backdrop for another story entirely. Switch things up and squeeze in these 10 movies between your usual Holy Week movie marathons.
1. Ben-Hur (1959)
Starring: Charlton Heston, Stephen Boyd, Jack Hawkins
This three-hour epic tells the story of Judah Ben-Hur (Charlton Heston), a wealthy merchant in Jerusalem who ends up in a rift with his childhood friend and now-Roman tribune Messala (Stephen Boyd). The spat leads to Ben-Hur being wrongfully convicted of murdering a Roman official, sending his family to prison and him into slavery. The film follows his search for revenge, ending in an iconic chariot race scene.
Why it's cool: Many have argued that Ben-Hur is a landmark biblical film in terms of storytelling, with a U.S. $15 million budget (the largest at the time) and 11 Academy Awards to its name. It's also not a direct biblical adaptation. Instead, the film uses the time period to tell the story, which involves Ben-Hur witnessing the crucifixion of Jesus.
2. Barabbas (1961)
Starring: Anthony Quinn, Silvana Mangano, Arthur Kennedy
This 1961 movie revolves around Barabbas (Anthony Quinn), the thief who was pardoned so that Jesus could be crucified. The guilt-ridden criminal spends the rest of his life trying to justify his existence and struggling with his spirituality, ultimately leading him to the gladiatorial arena. Along the way, he meets some familiar faces, including that of Pontius Pilate (Arthur Kennedy).
ADVERTISEMENT - CONTINUE READING BELOW
Why it's cool: This movie was clearly made to step out of the box, based on the tagline alone: "The motion picture that begins where the other big ones leave off."
3. Salome (1953)
Starring: Rita Hayworth, Stewart Granger, Charles Laughton
Salome is best known as the daughter of Herodias whose salacious dance for King Herod gave her mother the opportunity to behead John the Baptist. In this movie, Rita Hayworth plays the titular character who isn't coerced by Herodias (Judith Anderson). Instead, she is told that her dance will save John's life.
Why it's cool: It's not the most faithful of adaptations, but its visual opulence and the gorgeous Rita Hayworth more than make up for it. Plus, how many Bible films opt to focus on the woman who was (sort of) responsible for John the Baptist's death?
CONTINUE READING BELOW
Recommended Videos
4. Samson and Delilah (1949)
Starring: Hedy Lamarr, Victor Mature
Cecil B. DeMille retells the Old Testament story with Victor Mature as Samson, a super-strong Danite engaged to a Philistine noblewoman named Semadar (Angela Lansbury). When she is killed (indirectly) because of him, her younger sister Delilah (Hedy Lamarr) who has loved him from afar vows revenge. You already know what comes next.
Why it's cool: The action, costume design, and set pieces are a wonder to watch, but it's the eye-candy that will keep you glued to your seat.
5. Solomon and Sheba (1959)
Starring: Yul Brynner, Gina Lollobrigida, George Sanders
ADVERTISEMENT - CONTINUE READING BELOW
After King David's death, his son Solomon (Yul Brynner) is chosen to be next in line for the throne. The seductive Queen of Sheba (Ginna Lollobrigida) conspires with the Egyptians to topple his prosperous rule over Israel. They eventually fall in love, and Solomon's reckless decision to allow a pagan orgy in the city leads him to fall from the grace of God and the Israelites. Meanwhile, his jealous brother Adonijah (George Sanders) plans to attack Israel and it's now up to Solomon to save his people.
Why it's cool: Romance, treachery, intrigue, and massive battles in one biblical epic? Yes, please!
6. The Robe (1953)
Starring: Richard Burton, Jean Simmons, Victor Mature
Remember that Roman soldier who won Jesus' robe through a dice game? He has his very own movie. Richard Burton plays Marcellus Gallio who is assigned to supervise the crucifixion of Christ. After winning the dice game, the titular robe transforms the cynical Marcellus into a pious man whose faith ultimately sends him to his death.
Why it's cool: It's not often we get to see Biblical stories told from a different perspective.
7. David and Bathsheba (1951)
Starring: Gregory Peck, Susan Hayward
This lavish Hollywood production revolves around David (Gregory Peck), the tough, wealthy, and powerful king of Israel. His downfall starts when he sees Bathsheba (Susan Hayward) in the bath. What follows is a string of bad decisions, from a steamy affair to her eventual pregnancy and his plot to have her husband killed so she could be free to marry. This, of course, unleashes the wrath of God.
ADVERTISEMENT - CONTINUE READING BELOW
Why it's cool: We get to watch King David fall from grace...all because of a woman. Fun stuff.
8. The Greatest Story Ever Told (1965)
Starring: Max von Sydow, Michael Anderson Jr., Carroll Baker
Essentially, the film tells the story of the life, death, and resurrection of Jesus (Max von Sydow). When we describe this movie as epic, we really mean it. Its running time is a staggering four hours!
Why it's cool: It's a massive story of the life of Christ told with an even more massive ensemble cast. Watch out for Charlton Heston somewhere in there.
9. Sodom and Gomorrah (1962)
Starring: Stewart Granger, Pier Angeli
The people of the twin cities of Sodom and Gomorrah are immensely wealthy with riches...and sin. Lot (Stewart Granger) and the Hebrews find themselves in the crosshairs of a war for the two cities. His decision to live among the morally depraved citizens leads to impending destruction, and he must now save his people from God's anger.
Why it's cool: The colorful story of Sodom and Gomorrah is infamous enough to warrant at least one viewing, right?
10. The Ten Commandments (1956)
Starring: Charlton Heston, Yul Brynner
The Ten Commandments is probably Cecil B. DeMille's most spectacular biblical movie (and it also happens to be his last). The film tells the story of the Hebrew Moses (Charlton Heston) who liberates his people from the Egyptians, led by Pharaoh Ramesses II (Yul Brynner).
Why it's cool: It's one of the most beloved retellings of Exodus (other than The Prince of Egypt). It was both a critical and commercial success, and holds nothing back in terms of acting and special effects. Remember the parting of the Red Sea?
ADVERTISEMENT - CONTINUE READING BELOW
---
Help us make Spot.ph better!
Take the short survey
Load More Stories