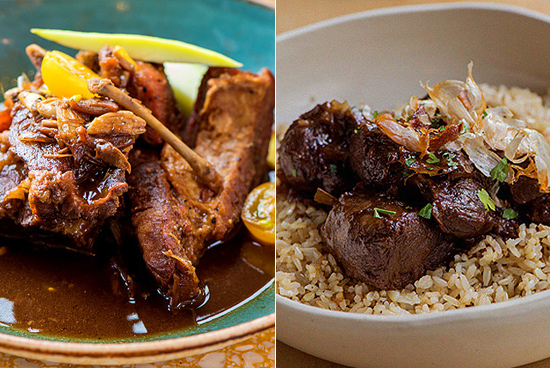 (SPOT.ph) We won't dare rank adobo because we know that mom—whether she's yours or ours—makes the best. Really, the most delicious version of this so-called national dish will always be the one that you enjoy in your pambahay, maybe with an extra helping of rice. Like pizzas, Cinderella, and all other classics, adobo has been the constant subject of reinvention. They're not comparable, of course, to your favorite, but when it comes to pure flavor these versions are definitely up there. Don't say it out loud, but they might even be better than the one at home.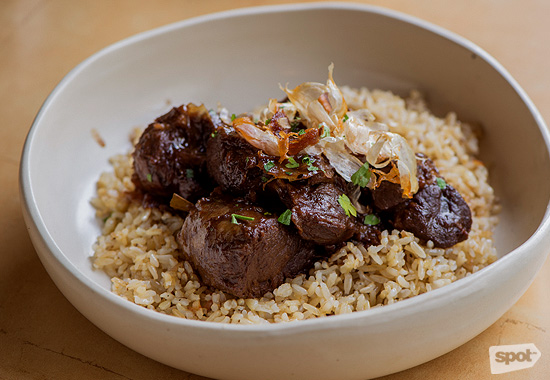 ADVERTISEMENT - CONTINUE READING BELOW
Grace Park's Lamb Adobo Rice (P620)
Leave it to this year's Best Female Chef in Asia to take adobo up several notches. Tender, flavorful, and generously topped with garlic, Chef Margarita Fores' Lamb Adobo Rice could c0nvert even non lamb-lovers. The sauce is the perfect combination of sweet and savory, and it goes perfectly with the organic brown rice underneath. If it feels a little indulgent, take comfort in knowing that Grace Park is a farm-to-table restaurant and they use only the freshest ingredients straight from their suppliers.
Grace Park is at G/F One Rockwell, Hidalgo Drive, Makati City. Read more about Grace Park.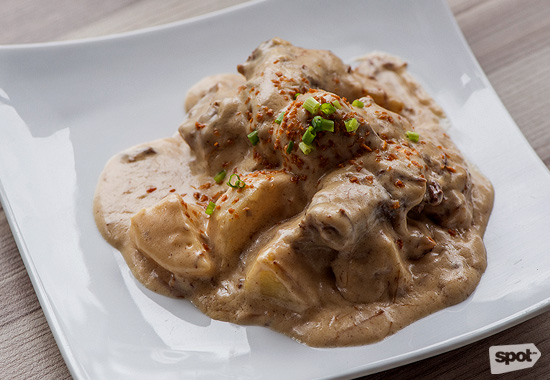 ADVERTISEMENT - CONTINUE READING BELOW
Recommended Videos
Luna J's Adobong Baka sa Gata (P310)
Similar to the versions from the Quezon and Bicol regions, Luna J's Adobong Baka sa Gata has the right amount of umami without feeling excessively rich. It's a revelation how a seemingly quick regional touch or a modern twist can add so much complexity to the taste. It's so different from what we're used to that it almost shouldn't be called an adobo, but it is and it's good.
Luna J is at Il Terrazzo, Tomas Morato Avenue, Quezon City.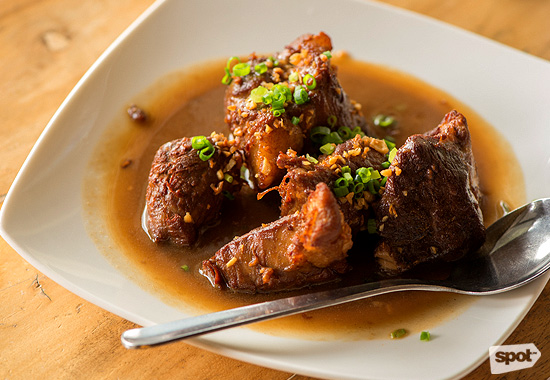 ADVERTISEMENT - CONTINUE READING BELOW
Wooden Spoon's Tostadong Adobo (P225)
We all like our adobo cooked a certain way, and Wooden Spoon chef and owner Sandy Daza likes his slightly toasted with a thick sauce. His followers seem to agree, because while adobo is easily overlooked at most Filipino restaurants, his Tostadong Adobo is one of his bestsellers. Maybe it's because this dish goes with almost anything on the menu, or maybe because Wooden Spoon is the type of restaurant where you want to order everything. Try it with with the Tinapa Fried Rice (P175) or the Stuffed Pechay (P195).
Wooden Spoon has branches at Katipunan Avenue, Quezon City; East Kapitolyo, Pasig City; and Power Plant Mall, Makati City.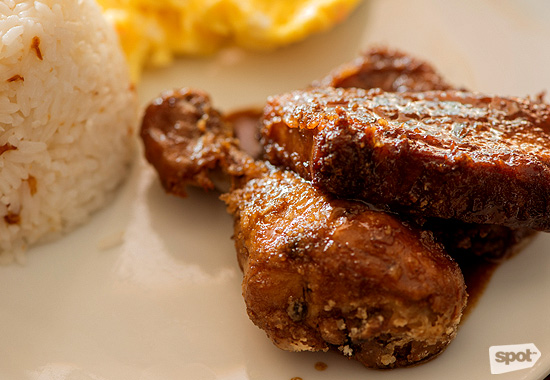 ADVERTISEMENT - CONTINUE READING BELOW
Via Mare's Chicken and Pork Adobo (P295)
Via Mare's adobo is probably the closest to the one you grew up eating: chicken and pork slowly cooked in soy sauce, vinegar, pepper, and bay leaves. You can't go wrong ordering this if you are craving comfort food, like mom's leftover adobo which always tastes better the next day. It's served with scrambled eggs and garlic fried rice, perfect for breakfast or any time of the day.
Click here for a list of Via Mare branches.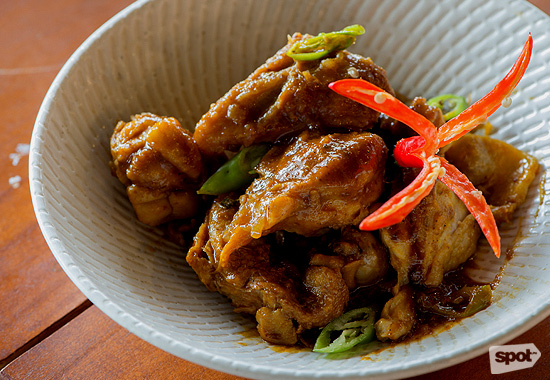 ADVERTISEMENT - CONTINUE READING BELOW
Alab's Adobong Pula (P280)
Alab's menu reads: "Hindi lahat ng adobo ay may toyo." It may not be usual, but we didn't miss the condiment one bit because of how well-seasoned it already is. Similar to old recipes which used vinegar and salt to preserve the meat, Chef Myke Sarthou adds chili peppers and annatto seeds to enrich its flavor and color. The simplicity of this number highlights good technique and lets its main ingredients, chicken and pork, stand out. We can see why Alab has become one of the most talked about establishments in the Tomas Morato area.
Alab is at 67 Scout Rallos Street, Quezon City. Read more about Alab.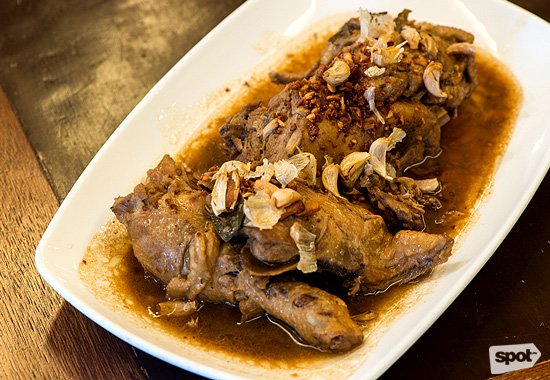 ADVERTISEMENT - CONTINUE READING BELOW
Chicken Adobo (P285) from Victorino's
There are several adobos to choose from at this Ilocano-Filipino specialty restaurant, including Adobong Kambing (goat), Adobo nga Daem Ken Baticuleng (liver and gizzard), Adobo nga Baby Pusit (squid—a bestseller), Adobong Kangkong (water spinach), and Adobo Rice. Consider it proof of how much Filipinos really love the national dish; the diversity is incredible. For those with more conservative tastes, we recommend the Chicken Adobo. The chicken falls off the bone, and the sauce is a mellow balance of sweetness and acidity, which we assume comes from using Sukang Iloko (Ilocos vinegar). Adding that extra kick are the pieces of fried Ilocos garlic on top. They're small but they pack a lot of flavor.
Victorino's is at 114 Scout Rallos Street corner 11th Jamboree Street, Quezon City.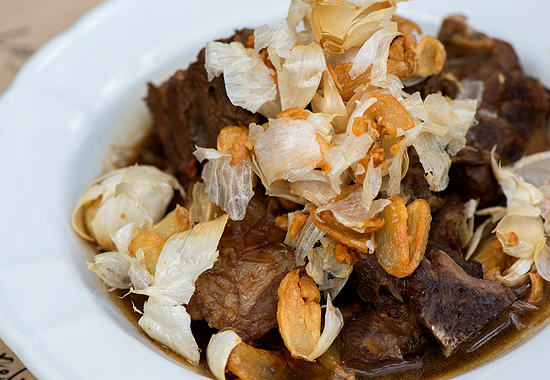 ADVERTISEMENT - CONTINUE READING BELOW
Abe's Lamb Adobo (P525)
Abe's lamb version has a following on its own. It's a favorite among many loyal patrons including, according to the menu, National Artist for Visual Arts Ben Cabrera. The lamb is succulent, and the dark sauce cuts through the gaminess which usually turns people off this meat. Each bite tingles on the taste buds, and you immediately look forward to the next big spoonful. Pair it with a vegetable dish (we love their Gising-Gising) for a filling and fulfilling Abe experience.
Click here for a list of Abe branches. Read more about Abe.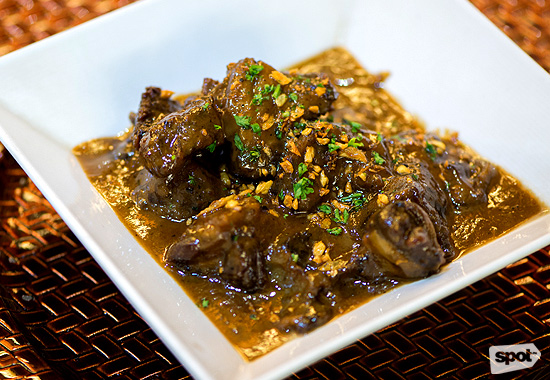 ADVERTISEMENT - CONTINUE READING BELOW
XO 46 Heritage Bistro's Adobong Baka sa Bawang (P495)
XO's version of adobo is beef marinated in garlic and cooked with aged vinegar. The description is enough to make mouths water in anticipation. The meat is tender and easily pulls apart with a fork and spoon. The gravy-like sauce is rich but does not drown out the flavor of the beef. Spooned over hot white rice, each bite is just the right mix of familiar tastes with different textures—a new spin on this comfort food that our taste buds can easily get used to.
Click here for a list of XO 46 Heritage Bistro branches.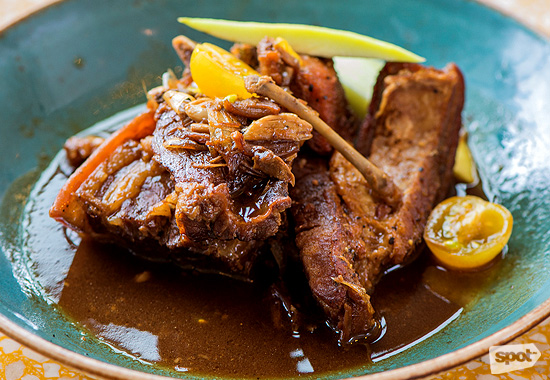 ADVERTISEMENT - CONTINUE READING BELOW
Sentro 1771's Chicken and Pork Adobo (P390)
Under the Iba't Ibang Adobo portion of Sentro's menu falls the classic Chicken and Pork Adobo, the most popular version served in most Filipino households. As plain as it may seem, Sentro somehow manages to turn the regular lutong bahay recipe into something worth ordering at a restaurant. Saucy, uncomplicated, and tasty, this adobo hits the spot for days when you want home cooking—without bugging your mom about it.
Click here for a list of Sentro 1771 branches.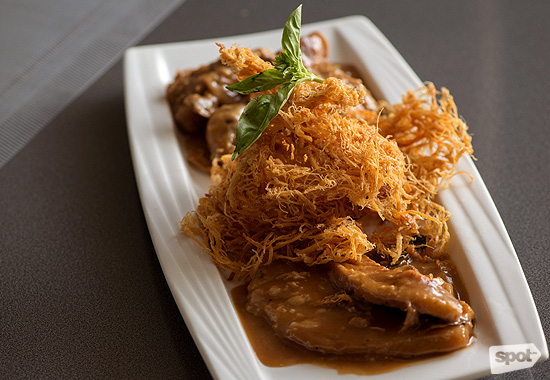 ADVERTISEMENT - CONTINUE READING BELOW
Pamana's Three Way Adobo ni Lola (P295)
If the people you're dining with have different preferences in this revered dish, everyone will be happy at Pamana. This platter has three kinds, from recipes that owner Happy Ongpauco learned from her lolas. It has Chicken Adobong Puti for those who like it tangy and without the vinegar; Adobo Flakes for those who like their adobo dry and crispy; and Native Adobo Spareribs for those who prefer the heartiness of pork. It's a win-win-win choice for all—or for someone with a really healthy appetite.
Click here for a list of Pamana restaurants. Read more about Pamana.
Photos by Hans Fausto
Share this story with your friends!
---
Help us make Spot.ph better!
Take the short survey
Load More Stories