Evidence of Pinoy musical talent can be found in almost every country in the world. Think about it. Recently, Charice Pempengco landed on the top 10 of the Billboard 200--the first Asian ever to accomplish that feat. Arnel Pineda is now front man of the world renowned American band Journey. Tony Award-winning Lea Salonga earned her reputation by stepping up that London stage, and giving it all she had. Freddie Aguilar's "Anak" was translated into 26 languages so the entire world could sing along. These are but some of the more popular Pinoys who have put us on the map in terms of music.
The Filipino music scene is dynamic. There is growth and a consistent influx of fresh talent. Today, people make the effort to get out there and see what the scene has to offer--no matter if the performer has already gained a specific level of popularity or not. Also, that we have a thriving independent scene allows us to choose from a wider range of genres, without any mainstream constraints, allowing for greater creativity for our musicians, and a more worldly outlook on music for the audience in general. We have become known for having one of--if not the most--productive music scenes in Asia.
ADVERTISEMENT - CONTINUE READING BELOW
We Pinoys are born with an almost innate love for entertainment, whether as a performers or spectators, and nothing beats live entertainment because it calls for the use of the senses and a greater connection between audience and performer. Numerous venues play live music in the city, (places like Music Museum or the CCP will deliver huge shows every so often), but what to do when you feel a spontaneous itch to go out and catch a live band without having to plan way ahead? Manila is crawling with bars that specialize in this particular brand of entertainment. And though we would like to list them all, that would probably necessitate a top 50 instead of a Top 10. Here, in no particular order, are some interesting bars located within the city limits, and feature live bands on an almost regular basis: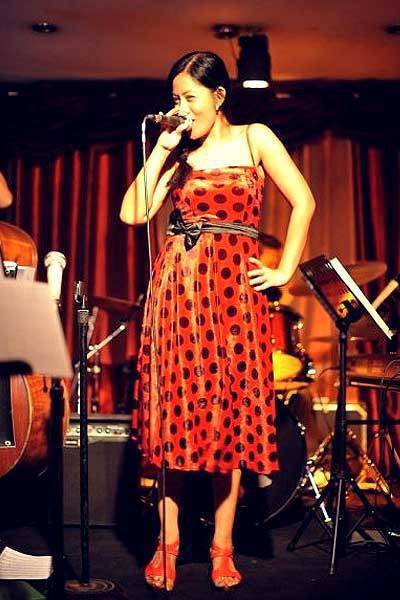 ADVERTISEMENT - CONTINUE READING BELOW
Recommended Videos
Skarlet at Ten 02.
1. TEN 02
43-B Scout Ybardaloza Street corner Timog Avenue, Quezon City
Tel. no. 412-7572 or 0916-3624596
Open 6 p.m. to 2 a.m. daily
Ten 02 opened in January of 2008, the brainchild of award-winning jazz sensation Skarlet (former front woman of Pu3ska and the Brownbeat Allstars). As Skarlet revealed, "We wanted a jazz joint like The Cotton Club a speakeasy concept where the jazz is hot, the blues are cool, the world beat is festive, and the rock is underground." Ten 02 features a wide range of live musical performances--everything from ska to punk to rock. Notable acts in Ten 02 include: The Edgar Avenir Trio, Tots Tolentino, The Blue Rats, Reggae Mistress, Badburn, Ricky Gonzales, Mel Villena, among others.
Ten 02 is best known for its jazz acts. Actually, it is probably one of the few remaining bars in Manila where you can catch a big band (a horn section, upright bass, you name it--the works); namely, the AMP Bigband every Monday at 8 p.m. It is well worth risking a pounding hangover the next day for. While you're at it, order their Quatro Formaggi Pizza (a combination of Mozzarella, Blue, Cream, and Parmesan cheeses) or their Ten 02 Pasta (with basil, olive oil, and pesto).
ADVERTISEMENT - CONTINUE READING BELOW
Celebrities like Jim Paredes, Ricky Davao, Quezon City mayor Herbert Bautista, Senator Chiz Escudero, Jun Lopito, Bituin Escalante, and Cooky Chua drop in from time to time.
Some advice: call ahead and make reservations (calls are entertained from 12 noon onwards) because more often than not, and as Skarlet puts it: "It's always SRO (Standing Room Only)."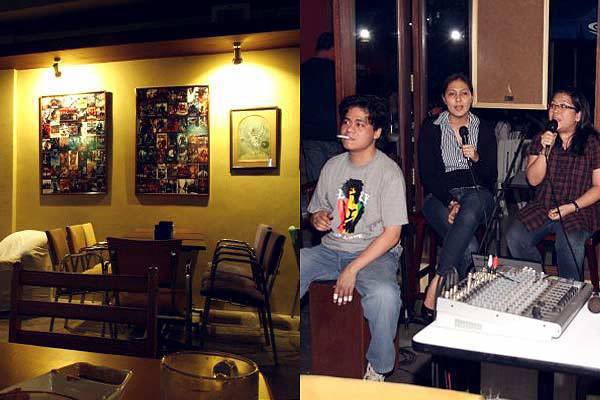 ADVERTISEMENT - CONTINUE READING BELOW
Kevin Roy, Jaycie and Honey, and Kessenth Cheng at Last Home.
2. LAST HOME RESTO BAR
Unit 06, Madison Square Pioneer, No. 04 Pioneer Street, Barangay Buwayang Bato, Mandaluyong City
Tel. no. 412-7572 or 0916-3624596
Open 5 p.m. to 4:30 a.m., Monday to Friday and 8:30 p.m. to 4:30 a.m., Saturday
Last Home Resto Bar opened its doors to revelers, weary of the sound of electric instruments and craving for some intimate downtime with good friends coupled with good old fashioned acoustic rock and roll, in August of 2008.
Regular acoustic acts that perform here include The Joniver Robles Trio, the dulcet-toned, all female duo Jaycie and Honey, The Bouncin' Bebe Boys, and The Johnnys. Patrons are treated to spontaneous jams of musicians who happen to swing by, such as guitar magus Noli Aurillo, Paolo Santiago (Hale), RJ Oca (Alakpa), Nathan Azarcon (Bamboo), Kevin Roy (Razorback, Loquy), David Aguirre (formerly of Razorback, 3 Headed Dog), Basti Artadi (Wolfgang), among many others. Last Home also pretty much launched GAP, Roy's first foray into the acoustic world.
ADVERTISEMENT - CONTINUE READING BELOW
The best time to go is either on a Tuesday or a Thursday for Last Home's "Rockoustic" sets, and their monthly Saturday gig "One Night Stand," which is composed of five acts--the only night where paying entrance applies--paying tribute to one artist.
Last Home also hosts "Geek Fight: Trivia Night," a quiz event for all the trivia addicts out there one Monday of each month, which is played up by the cozy interiors of the bar, and its touches of all things geek (think the Dragonlance trilogy--from where the name of the bar originated, Tolkien's Lord of the Rings, and all the Marvel and Image babes you can think of). Come early to get a table, or stay by the bar, which is just as relaxing, and don't forget to order the Taco Spring Rolls.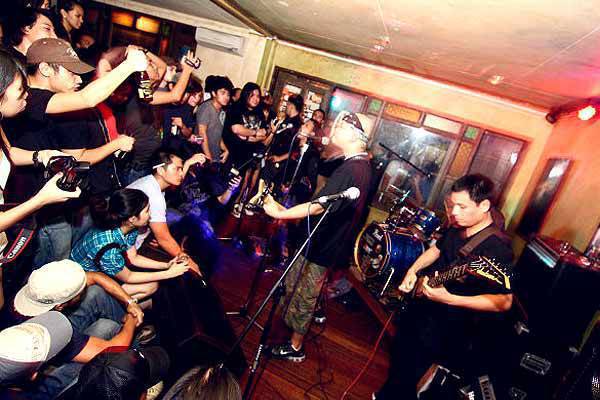 ADVERTISEMENT - CONTINUE READING BELOW
Sultans of Snap at Saguijo.
3. SAGUIJO
7612 Guijo Street, San Antonio Village, Makati City
Tel. no. 897-8629, www.saguijo.com
Open 6 p.m. to 3 a.m., Tuesday to Saturday (occasionally open on Mondays for special events)
Saguijo opened in 2004, a collaborative effort between three OPM fans to show some support for the local music industry. More than anything, the bar is known for its eclectic and vast array of featured acts. A music lover, regardless of preferred genre, is sure to find an act or two that will blow their mind one way or another.
Another important aspect is the bar's support for indie (independent) acts. Many well-known acts (and fledgling productions) today such as Pedicab, Up Dharma Down, and Taken by Cars have considered Saguijo their second home, their music and a loyal following growing within its walls. Signed or indie, big time acts or niche artists, members of the contemporary music scene have all played in Saguijo at one point.
ADVERTISEMENT - CONTINUE READING BELOW
The bar is known for its great food, ranging from pizza to pasta to sandwiches (try the Cheeseburger) to full meals you can really dig into with gusto. They also carry some imported beers like Stella Artois and Heineken, and are one of the few music bars that offer Bloody Mary on their menu.
Saguijo also houses a small art gallery (The Theo Gallery), which showcases the works of many upcoming young artists. It was also the first home of I Love You Store, which moved to Makati Avenue then Cubao X.
Call ahead to reserve a table because it can get packed. Celebs who have been spotted here include Jericho Rosales, Iza Calzado, and of course nearly every relatively young, big name in the music industry. There are also outdoor tables (with umbrellas in case it rains) for those who prefer to dine and drink al fresco. Check their website for gig schedules--there are bands every night (except for Sundays and Mondays), but if you would rather dine than watch, have dinner and then leave before the music starts at 10 p.m.
ADVERTISEMENT - CONTINUE READING BELOW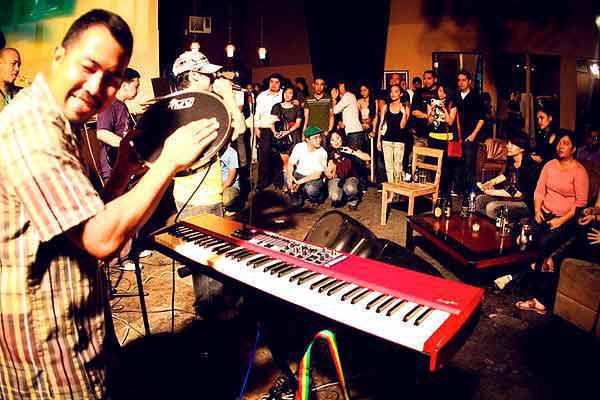 Out of Body Special at B-Side.
4. B-SIDE
The Collective, 7274 Malugay Street, San Antonio Village, Makati City
Tel. no. 986-3603
Open 9 p.m. to 4 a.m., Wednesday to Saturday
Situated smack dab in the middle of a place known as The Collective, a group of establishments designed to be a one-stop nighttime dining, shopping, and entertainment destination, B-Side is known for its live acts, ranging from rock to reggae to electronica to house.
ADVERTISEMENT - CONTINUE READING BELOW
Already quite a popular venue despite having just opened its doors earlier this year, the bar is the brainchild of Mulan Ong, Red-I and Jeff Ong. With a cool, easygoing yet unmistakable party vibe reminiscent of 90s establishments Abgs and Kemistry, a similar--though a somewhat sophisticated version--setup to hipster hangout Cubao X, and comfy interiors (manager Anna Ong likens it to a big living room), it's no surprise that the bar is usually packed. Chow is good too. Try the B-Side Burger and their Buffalo Wings. They also serve cocktails in white ceramic teapots--Mad Hatter-style.
B-Side has also brought in a couple of international DJs such as Keb Darge and DJ Nobody, and the Brand New Heavies were spotted partying here after their concert. As for local talent, B-Side has featured the likes of artists Kamikazee, Franco, Caliph 8 and Malek Lopez (both formerly of Drip), DJ Pasta Groove, just to name a few. Also, local bands paid tribute to Coheed and Cambria around the time of the international act's live performance in Manila. On a more regular basis you can catch two of B-Side's owners (also DJs): DJ Mulan and Red-I. Celebrity patrons include models Ornusa Cadness, Mia Ayesa, and Sanya Smith (who is also the bar's PR manager).
ADVERTISEMENT - CONTINUE READING BELOW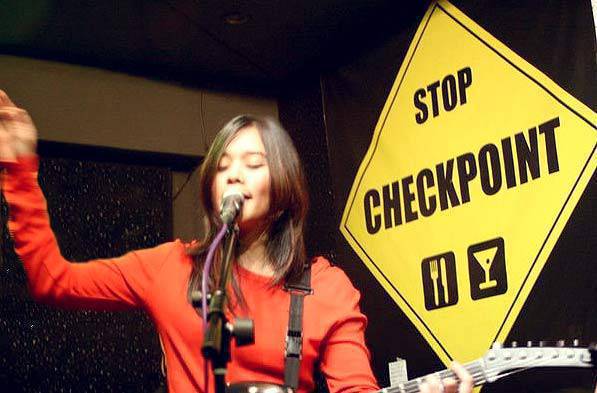 Kitchie Nadal at Checkpoint.
5. CHECKPOINT LOUIE'S BAR
208 Doña Soledad Extension, Better Living, Bicutan, Paranaque City
Tel. no. 0927-9075986
Open 8 p.m. onwards, Tuesday to Saturday
The bar, which opened in 2007, is named after one of its owner Luis, known as "Checkpoint Louie" to his poker-playing buddies. The nickname was coined due to the owner's numerous encounters with police checkpoints, while driving around the city--"Boss, checkpoint lang po." Someone once said: "If some guys are 'chick magnets,' Luis is a 'checkpoint magnet.'"
ADVERTISEMENT - CONTINUE READING BELOW
Checkpoint was established as a means to bring Rock and Roll to the South. Patterned after the original Club Dredd in Timog and Mayrics in Espana, Checkpoint started with a roster of then virtual unknowns. Today, Sugarfree, Urbandub, Stonefree, Barbie Amalbis, Delara, The Dawn, and Kitchie Nadal, and the house band, Trinidad, are some of the few who have rocked the joint.
The bar has recently undergone renovation, but the yellow "STOP CHECKPOINT" sign by the stage is still (and will hopefully remain) a fixture. The menu is also undergoing renovation but sure staples are Checkpoint Rice and Mixed Sausages. Drinks to be sampled (with caution) are Disgrasya and Total Wreck. Explanation unnecessary.
A good tip is to go early in order to get seating either in front or around the stage. The place can get pretty packed. Checkpoint has a laidback vibe, the people are friendly, and the music is unapologetically rock and roll.
ADVERTISEMENT - CONTINUE READING BELOW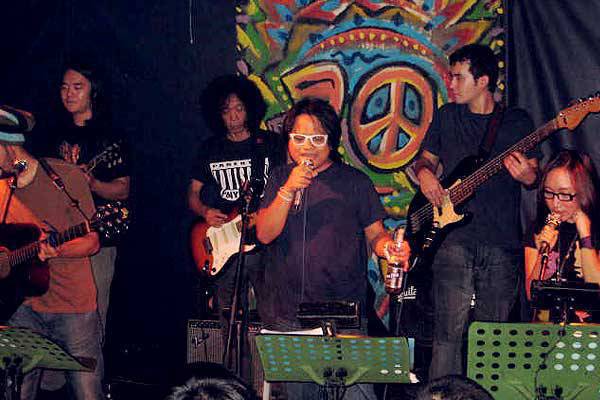 Vin Dancel, Sammy Asuncion and Kakoy Legaspi at 70s Bistro.
6. 70S BISTRO
46 Anonas Street, Project 2, Quezon City
Tel. no. 434-3597
Open 6 p.m. TO 2 a.m, Monday to Saturday
As (technically) the second longest-standing establishment on this list (70s Bistro opened in 1992), the bar has seated, fed, watered, and entertained many for two decades. Though the interiors have acquired an aged patina, the continuous patronage of its customers and performers have upheld its reputation as one of the most established venues for live performances in the city--that and its undeniable contribution to OPM history. The list of performers is a long one: Parokya Ni Edgar, The Jerks, Callalily, Itchyworms, Rivermaya, Noel Cabangon, Johnoy and Kakoy, P.O.T., and it goes on.
ADVERTISEMENT - CONTINUE READING BELOW
Customers can opt to drink by the bar, or better yet reserve a table in the main seating area (in front of the stage) beforehand (call Nestor Marayag or Elsi Gealone) though reservations are valid only until 9 p.m. (SRO is a common occurrence). For more privacy, get a table discreetly situated behind the wooden railings. Known for its food--try the Picha ng Parokya or the Tilapia Molotov-"70's Bistro also offers vegetarian fare.
70s Bistro is not without its share of famous clientele, including: Tuesday Vargas, Christine Reyes, Aiza Seguerra, Ronnie Lazaro, and Conrado de Quiros.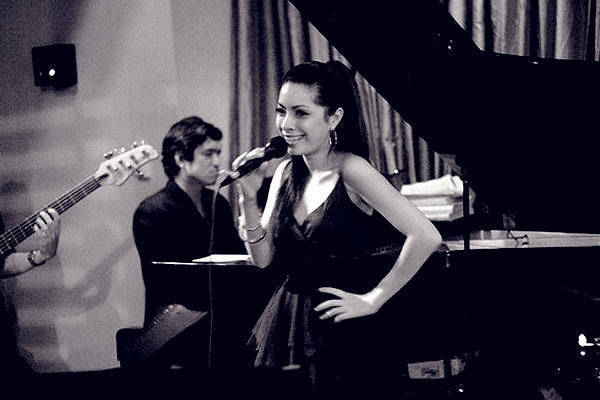 ADVERTISEMENT - CONTINUE READING BELOW
Sinosikat in a performance at Martinis. Photo by Erving Go.
7. MARTINIS
Mandarin Oriental Hotel, Mandarin Oriental Hotel,-¨Makati Avenue corner Paseo de Roxas Street,-¨Makati City
Tel. no. 750-8888 extension 2457
Open 5 p.m. to 4 a.m., Monday to Friday; 6 p.m. to 4 a.m., Saturday; Sunday, 6 p..m. to 2 a.m.
Though initially known for serving a wide and tasty variety of the drink it was named after, Martinis has also gained a reputation for featuring talented jazz acts. They have also expanded their musical menu by featuring DJs who specialize in everything from 80s music to house.
Local acts include Gafiera, DJs Cocoy Puyat and Kevin Ruiz, Kat Agarrado, Aya Yuson, Skarlet, among others. International artists such as Trio, Sakbe, Logic, and Amir Gwirtzman have also performed there.
Martinis entertains reservations. Call ahead to make sure you get a good table. A great day to go is on Saturday, during their Music and Wine night hosted by wine expert Ines Cabarrus and DJ Elian Habayeb. Cabarrus serves up a particular wine and Habayeb warms up the crowd with his music.
ADVERTISEMENT - CONTINUE READING BELOW
Martinis' tasteful art deco interiors draw a very elegant and affluent crowd. Though attire is casual, you're more likely to see people dressed to the nines than in flip-flops and jeans. Besides the formidable range of alcoholic beverages (try the Choco-Chilli Martini and the Sake Martini), Martinis also offers a great selection of cigars. Add the live music component, and that's pretty much a foolproof formula for a memorable night out.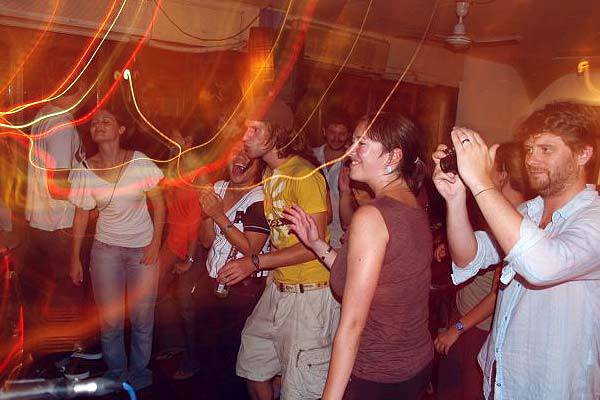 ADVERTISEMENT - CONTINUE READING BELOW
The dancey crowd at Penguin.
8. PENGUIN CAFE
9815 Kamagong Street, San Antonio Village, Makati City
Tel. no. 710-8056 or 0917-8583009
Open 8 p.m. to 2 a.m., Tuesday to Saturday
Originally located in Malate, Penguin Cafe was established in the early 80s and was situated at the corner of San Andres and Adriatico Streets. It moved to the corner of Remedios Circle and Bocobo Street some time after, where it remained for over two decades. Today, it has relocated to Makati. Despite all the moving, Penguin remains one of the longest-standing music and art bars in Metro Manila, losing none of that true Bohemian vibe it is so famous for; the 2009 Lonely Planet Philippines guidebook cited the bar as Editor's Choice for the Best Bar in Manila.
The new Penguin is a bit of a departure from its last location in terms of interiors. All white walls (versus bright red) accented by paintings/photography due to its art gallery aspect-"an essential element of the bar, considering the famous artists who have held their first exhibits within: BenCab, Santiago Bose, Roberto Villanueva, Nunelencio Alvarado, Kiko Escora, Cesare Syjuco, Rock Drilon, and Farley del Rosario. Though some of the chairs and tables come from the old bar, many of the knick-knacks and furniture pieces have been disposed of due to their age.
ADVERTISEMENT - CONTINUE READING BELOW
Penguin serves tasty and comforting fare, and is considerate of its vegetarian patrons. Their pizza sauce is homemade, made from real tomatoes, and their cocktails have an extra special kick (meaning they always add just a bit more). They serve a mean Mojito and Cuba Libre. And to serve you, the new Penguin has retained its well-trained staff, with the exception of their cook who passed away recently.
Many well-known artists, musicians, stage actors, and writers treat it like a second home though you're likely to run into the occasional celebrity (KC Concepcion, for instance).
Penguin, while known for showcasing diverse musical acts, is big on world music and jazz, featuring the likes of Kalayo (formerly Pinikpikan), Kadangyan, Brass Munkeys, and Johnny Alegre. There is something about the bar's vibe that whips the audience into a dancing frenzy. Some nights they also have poetry readings, film showings, or one-act plays. Many well-known artists, musicians, stage actors, and writers call it a second home.
ADVERTISEMENT - CONTINUE READING BELOW
Penguin does not have a sign and is recognizable by the orange walls flanking its entrance. Check out the map for directions as it can be quite tricky getting there due to all the one way streets in the area.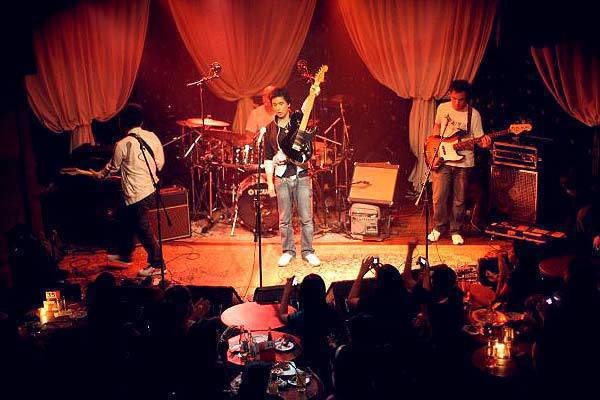 Pupil at 19 East.
9. 19 EAST
Kilometer 19, East Service Road, Sucat, Paranaque City
Tel. no. 837-6903 or 0928-5247584
Open 6 p.m. to 2 a.m., Tuesday to Saturday
ADVERTISEMENT - CONTINUE READING BELOW
Rarely do you find a music venue in Manila that lives up to the true talent of its featured performers. 19 East is one such place (In fact, you could say that 19 East allows them to live up to their true potential.). Their Music Hall has virtually the best sound system in the city and possibly one of the best in the country. According to the owner, the hall "has been acoustically treated to provide optimum appreciation of the amazing quality of the sound system." Hidden sound absorbing panels have been placed on the walls and ceilings.
It is a true pleasure to watch any of their featured acts from almost every conceivable genre due to the sound quality and spacious seating. Nyoy Volante, Nina, the late Francis M., True Faith, Bamboo, Hale, and Jun Lopito, just to name a few. Oran Coltrane, son of the legendary John Coltrane, has also performed here.
ADVERTISEMENT - CONTINUE READING BELOW
19 East consists of the Music Hall, the indoor venue for live performances, and the Garden Bar, which serves food and drinks for patrons who wish to dine al fresco (try their Tiger Prawns in Lemon Butter and the Halaan soup), with a spectacular view of Laguna de Bay. The Garden Bar opened before the Music Hall in 2003 while the latter was established in 2005. Customers wanting to go for the al fresco experience should bring light outerwear, as the weather can get quite cool, especially when it rains. Parking is, thankfully, not a problem at all.
Music fans, even if they call the North home, should take the trip to watch their preferred band. It's well worth the drive.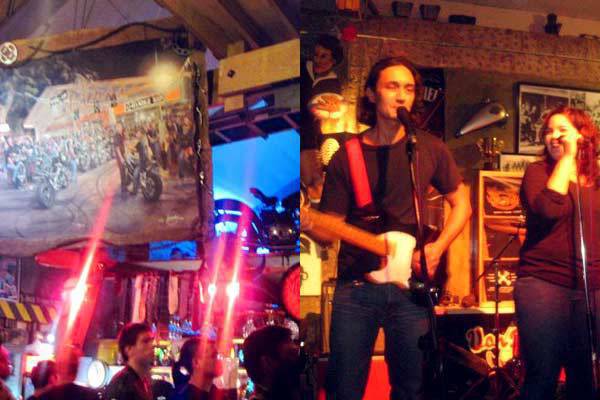 ADVERTISEMENT - CONTINUE READING BELOW
Tempestuous Jones at Handle Bar.
10. HANDLE BAR
31 Polaris Street, Bel-Air, Makati City
Tel. no. 898-2189
Open 11 a.m. to 2 a.m., Saturday to Wednesday and 11 a.m. to 3 a.m., Thursday to Saturday
Expatriate watering hole and headquarters of the Mad Dogs Motorcycle Club, Handle Bar, is best known for, in its manager's words: "Steaks, bikes, babes, and rock and roll!"
The bar opened in 2003 as a solution to the owner's dilemma about where he could entertain his biker friends. Soon, word spread and Handle Bar gained quite a cult following, especially when it introduced live rock and roll acts into the formula. The unpretentious vibe, cool clientele, and the outdoor grill, where customers can actually cook prime Aussie beef, fish, sausages, or lamb (with generous servings of your choice of sidings: beans, coleslaw, corn or baked potato), and the row of bad-ass bikes outside help complete the Handle Bar experience.
ADVERTISEMENT - CONTINUE READING BELOW
Handle Bar's rugged and masculine interiors appeal to the bar's biker regulars: comfy drum stools surround high wooden tables; biker memorabilia hang from the ceiling and walls; an elevated stage for a better listening experience; a huge widescreen so rabid sports fans can cheer for their respective teams, be it for World Cup, rugby, cricket, or boxing. It also opens earlier than most bars, in time for lunch, catering to bikers who just want to relax and hang out after a ride, or anyone hankering for a steak meal.
Live acts include Razorback, Tempestuous Jones, Joey "Pepe" Smith, The House Rockers, Sinosikat!, The Blue Rats, Wally Gonzalez, Spy, Cheeba, and General Luna. Interesting personalities besides the musicians and the occasional celebrity? Why the Mad Dogs, of course!
All photos courtesy of the respective establishments--except for Saguijo (Marc de Vera), 70's Bistro (Thony G), Handle Bar (JV Nakpil) and Martinis (Erving Go).

ADVERTISEMENT - CONTINUE READING BELOW
Share this story with your friends!
---
Help us make Spot.ph better!
Take the short survey
Load More Stories