10 Restaurants for People Watching
Who knew people-watching could be so delicious?
(SPOT.ph) What makes an establishment perfect for people-watching? The good-looking clientele it attracts, for one. All the pretty, young things who frequent the place; the celebrities and personalities who swing by; and well, if we're being honest, the owners, as well. Plus, we wonder: what are the chances that visiting one (or several) of these places would help one score a date for Valentine's Day?
We take Alicia Sy's cue and excerpt 10 of her 13 picks from the book Eat Out Now.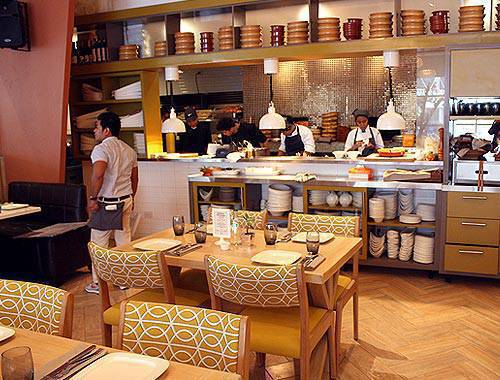 Stella
1. Stella. With its blazing wood-fired oven and open kitchen, diners watch as able cooks serve up comfortable and creative "New American" fare. The menu is dotted with some imaginative surprises, most of which are freshly roasted and drawn from the rustic oven. Here, hefty, portions are found at reasonable price points, so it's no surprise that the eatery is primarily patronized by large groups on evenings and weekends. The light and pleasant atmosphere and friendly service is echoed at its adjacent sister bar and longe, Rocket Room, a vibrant scene for drinks before or after dinner.
Keep your eye out for: Good-looking yuppies and business execs washing down the day with a drink at its adjacent sister bar Rocket Room.
ADVERTISEMENT - CONTINUE READING BELOW
2. 'Cue Modern Barbecue. Carnivores rejoice: It's all about the meat here. Drawing inspiration from the Dixie states, this joint marries Southern style fare with a few local twists. In the open kitchen, a veritable army of chefs prepare riffs on American classics, debunking the myth that American fare is solely about burgers, fries, and pizzas. With its distinct menu and personalized service, dining here reminds us of how gratifying restaurants can be when they are privately owned and managed. The hulking portions are generous and are easily shared.
Keep your eye out for:  Men having their meat!
3. Draft. Carlo Miguel says every restaurant of his is a tribute to a time in his life, and this one represents his school years in Australia-a place where you can wash away the dreadful parts of a stressful week with good beer and good food. It does away with unnecessary pretensions and instead serves food aimed to fill and satisfy. Take for instance its classic meat pie that comes with a hefty serving of mashed potatoes with a fork stuck in it, inviting you to dig right into the mouthwatering meat and mushy peas. And like all of the dishes served here, it pairs perfectly with one of the many beers on offer.
Keep your eye out for: Boys having their beer! 


CONTINUE READING BELOW
Recommended Videos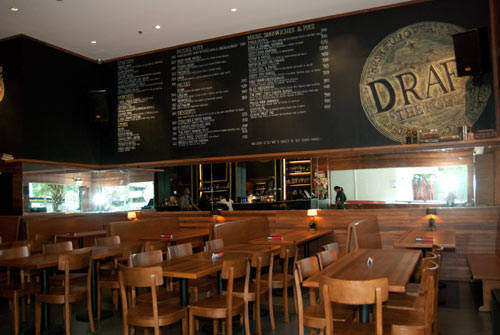 ADVERTISEMENT - CONTINUE READING BELOW
Draft


4. Las Flores. The new cool kid on the block has been enjoying a steady stream of patrons and publicity since it opened its doors. Doing just about everything needed these days to ensure an enjoyable epicurean experience, this latest local outpost of the Spain-based Andilana group is a pitch-perfect study in hip, modern dining. The interiors are cleverly designed-contemporary yet casual; the Catalan cuisine is classic with inventive finishes, and the bustling bar serves strong, original cocktails crafted by world-renowned mixologist, Giancarlo Mancino. It's no wonder that from early evening to late night, the room is filled with pretty people.
Keep an eye out for: The charming Spanish owners. If you're lucky, they'll be taking your orders, and serving them, too.

5. Lusso. Hip, sexy, and oh, so luxe, as its name implies, Margarita Fores hits the mark with grand gestures that leave lasting impressions. One does not come for a hurried meal but instead arrives available to linger at leisure and enjoy a menu that features decadent ingredients such as foie gras, lobster, truffles, and caviar. When the weather permits, guests can sip Champagne or afternoon tea, and dine on the terrace in the Greenbelt gardens, surrounded by lush greenery and signature floral arrangements from Fiori di M.
Keep an eye out for: Manila's classy and sassy crowd. You might want to stay in the al fresco area for the extra eye-candy that are the passers-by.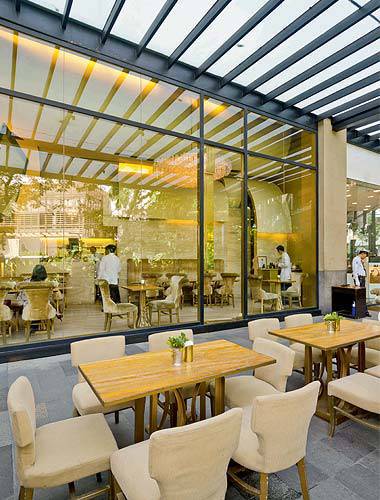 ADVERTISEMENT - CONTINUE READING BELOW
Lusso

6. Masseto. This restaurant has deliberately tried to maintain a low profile since it opened in 2009, but as with all good things, no secret can remain secret for long. Masseto has distinguished itself as one of the city's premier dining establishments, and has become a favorite of high-powered business executies and epicureans in the know. The kitchen, headed by executive chef Tippi Tambunting, focuses on simple and modern continental cuisine that combines traditional techniques with top-notch ingredients. In addition to the wonderful food, well-appointed dining room, and unparalleled wine list, the seamless and accommodating service is another major draw.
Keep an eye out for: Business executives and politicians. You could be in the middle of a million-peso signing deal!

7. Cerveseria. Dark, romantic, and impresively chic, this stunning space in the middle of the Greenbelt mall is probably one of the most stylish Spanish restaurants in town. One is immediately struck by its imposing dark walls, Gothic chandeliers made to resemble burning candelabras, and bookcases that separate the main room and the smaller private dining space. It's a great place to have cocktails and tapas, dinner with friends or even morning-after brunches.
Keep an eye out for: Expats, couples on morning-after breakfasts, etc.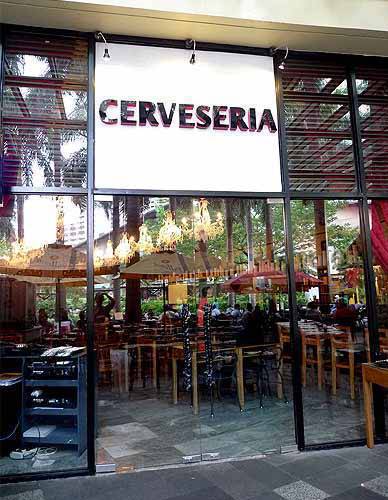 ADVERTISEMENT - CONTINUE READING BELOW
Cerveseria
8. Cav. The first establishment in Bonifacio High Street to combine a wine bar with fine dining, this hot spot continues to serve up some of the most inventive and contemporary European fare in the city. It has two distinct dining options - the cafe sits in the front of the restaurant and shares its space with the wine bar, while the dramatic dining room is separated by the walk-in wine cellar. The cafe menu offers simple and classic bistro fare, while the main dining room presents three- and four- course prix fixe menu options. Both are open all day for lunch and dinner.
Keep an eye out for: Dressed up yuppies out for wine.


9. Wild Flour Cafe + Bakery. A welcome addition to Manila's culinary scene, this simple, casual boulangerie and modern bistro serves unique, handcrafted dishes from breakfast through dinner. Drawing upon a wealth of culinary experiences and references, executive chef Walter Manzke and his wife Margarita, lead the kitchen offering a concise menu that is a broad blend of western and continental cuisines. The dishes feature an abundance of fresh produce and delicious house-made breads. Delightful home-style sweets beautifully displayed are ready for takeaway.
Keep an eye out for: Manila's goodlooking set, expats who live in BGC.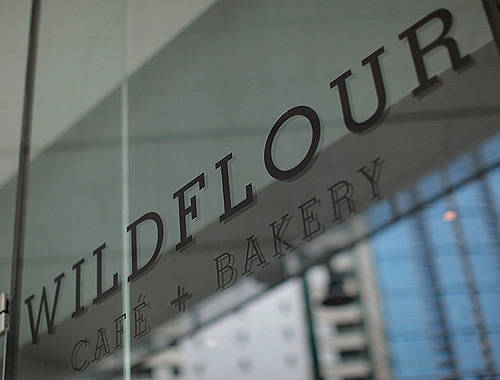 ADVERTISEMENT - CONTINUE READING BELOW
Wildflour
10. Cova. When the sun goes down, the hours for tapas and a pitcher of sangria begin to unfold. The menu here abounds with a bounty of innovative and tasty plates that reflect a deliberate concentration on creative cooking. There are flashes of brilliance in the food, and the thoughtful approach to flavor and textures keeps its young urban customers eager to return for more week after week. The cavernous wooden interiors, subdued lighting, and group-up music make this an ideal place for an adult evening out.
Keep at eye out for: The young and urban
For the rest of the list and more, check out Eat Out Now: 115 Manila Restaurants We Love, presented by Master Card.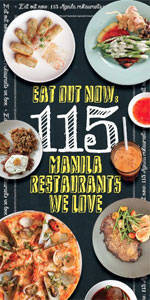 Share this story with your friends!
---
Help us make Spot.ph better!
Take the short survey
Load More Stories