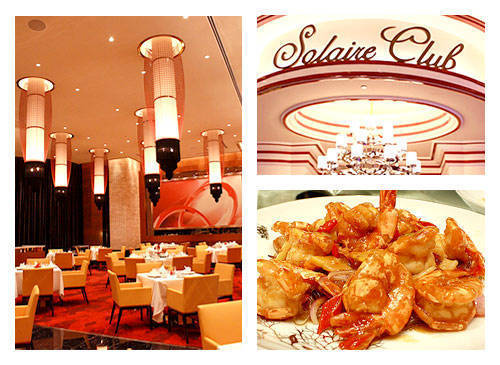 (SPOT.ph) Months after Solaire formally opened its doors to the public, it's still generating a buzz: the casinos, the decor, the restaurants. But talk is cheap and that has no place in an extravagant edifice that must be seen to be believed. A place that is set to impress, this world-class entertainment complex lives up to the hype-and it leaves first-time visitors spellbound by its magnificent presentation.
You might not feel like your lucky stars are shining bright enough to make the pilgrimage worthwhile but we have two words that might change your mind: Free. Wi-Fi.
Here's what else we found behind Solaire's unassuming facade.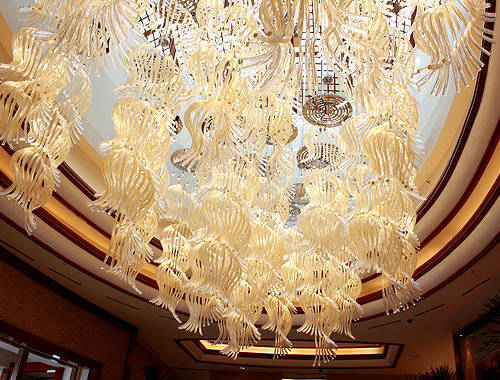 We dare you to count the number of chandeliers in Solaire.
1. Grand interiors
From afar, Solaire hardly looks imposing: a white, rectangular structure with the logo imposed on the upper corner. It's when you drive up close that the impressive and much-talked-about architecture-fountains, panels-starts to really impress. Inside, it's even more spectacular.
ADVERTISEMENT - CONTINUE READING BELOW
It's almost as if more than one pair of eyes is needed to take in the visual splendor of Solaire whose interiors seem intent on grandeur. World-renowned interior designer Paul Steelman merges together playful contrasts to create a look that is both familiar and awe-inspiring to Filipinos. A large-scale aesthetic is softened by minute details: giant Czech chandeliers feature tiny beads or intricate twists, floor-to-panel ceilings draw you in to the inlaid mother-of-pearl mosaic, luminous lighting balances out the tropical carpets, giant prehistoric leaves are lined side by side with dainty imported orchids. Everything is tied together with artwork personally selected by owner Enrique Razon and other aesthetic details handled by art consultant Teresa Herrera.
One of the highlights of the sprawling space is the grand staircase reminiscent of a similar structure in The Venetian Macau. It's cordoned off, however, as it leads to the VIP section.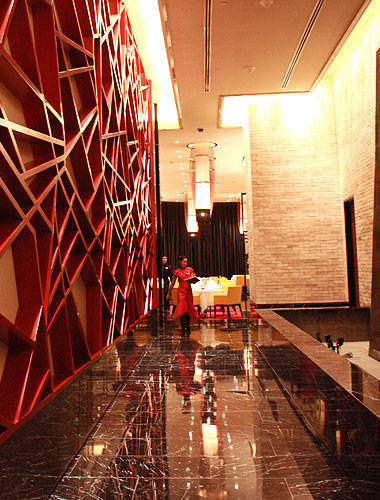 Red Lantern
CONTINUE READING BELOW
Recommended Videos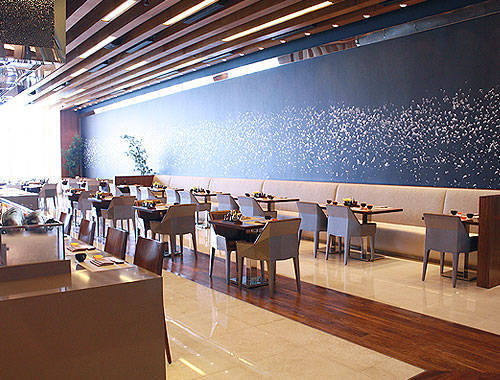 Yakumi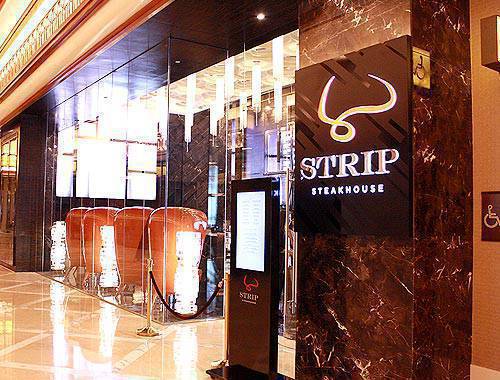 Strip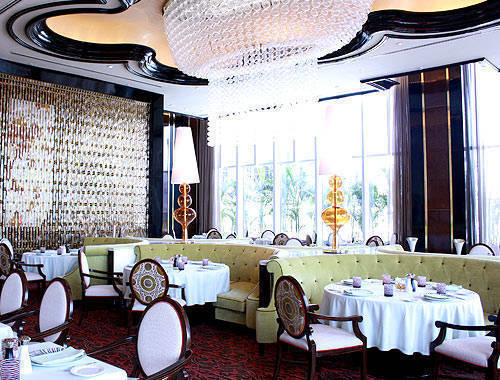 ADVERTISEMENT - CONTINUE READING BELOW
Finestra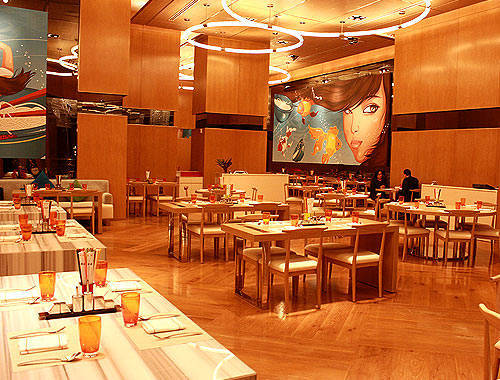 Lucky Noodles
2. Restaurants
The lap of luxurious interiors extends to the dining areas available in Solaire. Each flaunts an equally grandiose display complimenting the restaurant theme: wave-inspired ceiling for Fresh; crystal walls and baubles for Finestra; wooden furnishing for Yakumi; red leather for Strip (a must-see is the Strip carpet designed by owner Enrique Razon).
With ingredients that are so top-notch they have to be imported (try to ask for the rumored P50,000 caviar or P1,000 sashimi at Yakumi), Solaire nails all the restaurant requirements necessary in a commercial complex. Red Lantern offers fine Cantonese cuisine; Strip boasts of prime cut imported steaks, Fresh is a buffet, Yakumi is Japanese, Lucky Noodles sells high-end Chinese street food, the Dragon Bar serves as a lounge, and Eclipse is a bar. Solaire also has a more affordable Food Court for those who were unable to find their fortunes in the slots.
ADVERTISEMENT - CONTINUE READING BELOW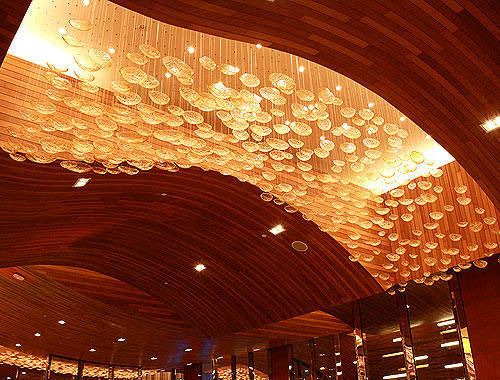 Wave-inspired ceiling of Fresh
3. Games
Baccarat, roulette, blackjack, and flashy slot machines? Casino aficionados won't be disappointed. After all, these are the main attractions and there's something for anyone of legal gambling age (which is 21). For small-time players who want to test their luck, feel free to indulge for a measly P100 with the Big Wheel. But if you really want to tempt fate, starting bets can go thrillingly high. We can imagine furrowed foreheads eagerly anticipating the next card from the deck, hoping for a win. We'll leave that to the high rollers though. We'll be where the food is.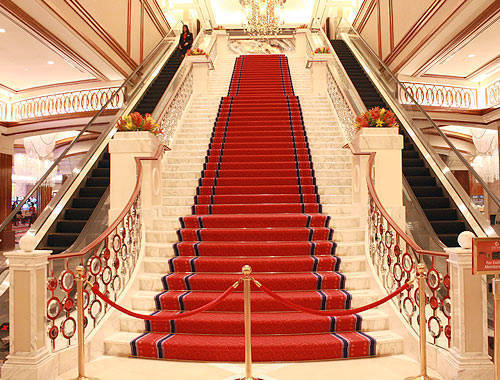 ADVERTISEMENT - CONTINUE READING BELOW
The grand staircase. Only a ball gown seems approriate for this set of stairs.
4. Shopping
On a good day when the odds are in your favor, you'll find yourself rich with Solaire dollars. From the main lobby, a quick turn to your right will lead you to the Solaire Boutique and Lucerne. We won't encourage squandering your winnings but when you hit the jackpot, getting something off the shelves is a great way to celebrate. There are so few instances in life when you can live large so live a little!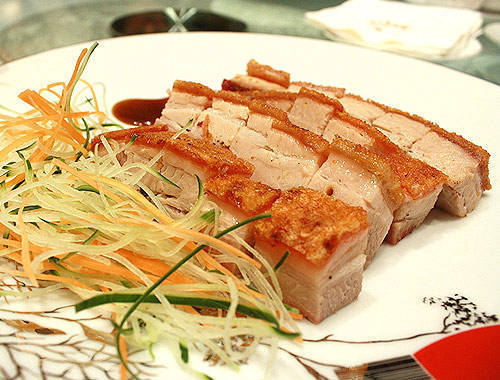 The hotels were so exclusive we weren't able to take a photo. Instead, here's a picture of Red Lantern's Lechon Macau.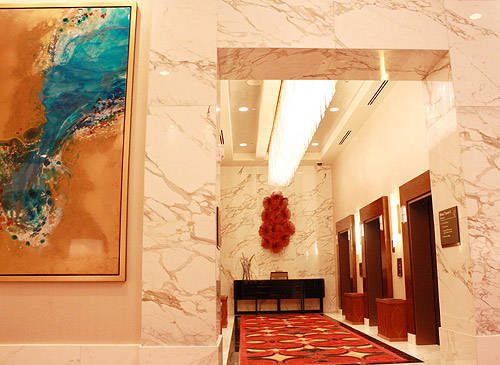 ADVERTISEMENT - CONTINUE READING BELOW
Elevators that lead to the guest rooms
5. Hotel
Of the 500 hotel rooms available in Solaire, only about 200 are operational for now. However, this mecca of high-class lifestyle, of course, offers the ultimate luxurious statement with P300,000-a-night villas that promise a view of the bay, its own game table, and a jacuzzi. The villas, which are good for six to eight people each, are available only for Solaire VIPs.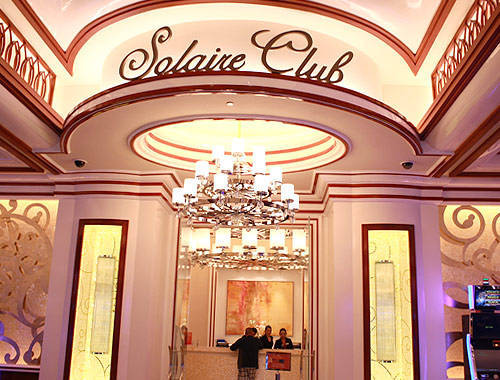 Elite (and above) clients have the perk of entering the very exclusive Solaire Club.
6. Rewards
The free membership already includes several perks like complimentary dining and Solaire offers even more if you upgrade; benefits listed below. Annual fees aside for membership on higher tiers, Solaire even offers a free upgrade if you present them your card from a different casino.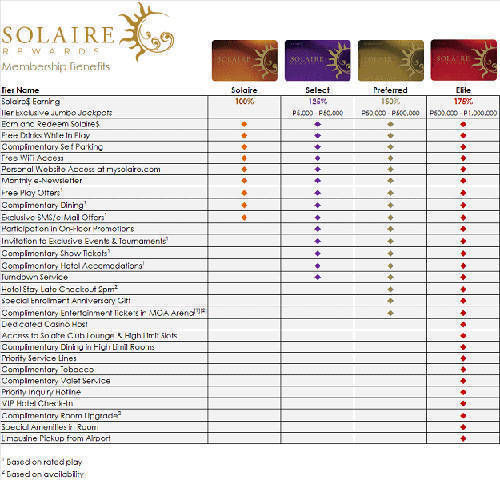 ADVERTISEMENT - CONTINUE READING BELOW
Who doesn't like benefits? Click on the image to enlarge!
7. Promos
This month, Solaire is doing the P19 Million Giveaway. Winning the Grand Prize of two Mercedes Benz is available only to habitual gamers but there are some cash prizes that you can win simply for being a member and being at the right place in the right time. Stay updated and check their blog to see how much further you can stretch your fortune.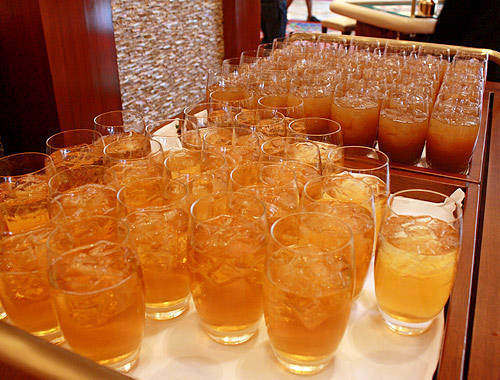 Free apple juice for everyone!
8. Free drinks, snacks, Wi-Fi, and membership
Walking around the gaming area entitles you to hassle-free access to the Internet and there are refreshments available for free. You might find yourself relaxed enough to sit down at a table with your tall glass of iced tea and pretty soon, you might be reaching for your wallet. Good luck!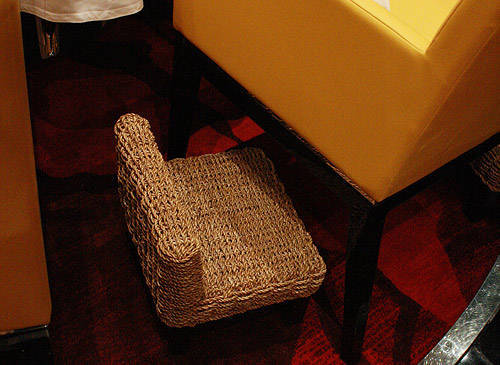 ADVERTISEMENT - CONTINUE READING BELOW
Even our purses had seats of their own.
9. The Rajo Laurel Fashion-and the accomodating staff
Internationally renowned designer Rajo Laurel had the honor of crafting the cheongsams that front-of-house employees are wearing. Deemed the Solaire Stunners, the modelesque staff are given the privilege of greeting the customers and being cocktail ambassadors.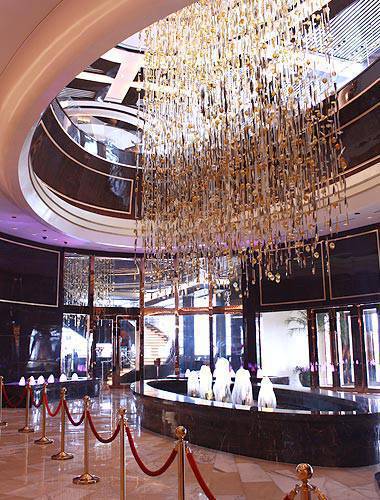 One can't help but wonder how the next phase will top this one.
10. This is only the beginning
The 8.5-hectare display is only a preview of what's to come. Solaire is set to expand to 16 hectares with more guest rooms, more gaming, and a theater. Dubbed Phase 1A, which will take up the remaining $450-M of the alloted $1B budget for Solaire, the expansion is set to open in the last quarter of 2014.
Share this story with your friends!
---
Help us make Spot.ph better!
Take the short survey
Load More Stories