10 Gigs and Parties to Go to This Week: July 27 to August 2
This week's must-see gigs, parties, events.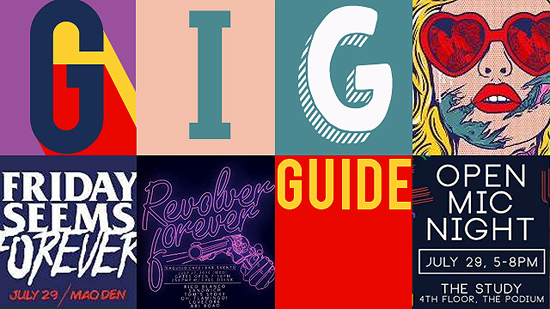 Wednesday, July 27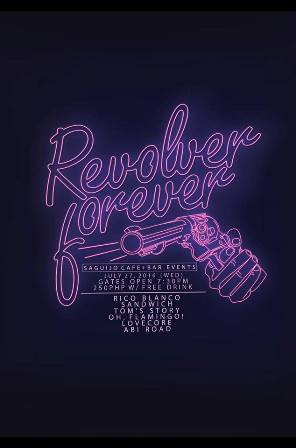 Why you should go: A healthy combination of well-known performers and indie acts headlines the night. Watch Rico Blanco, Sandwich, Tom's Story, Abi Road, Lovecore, and Oh, Flamingo!
Other details: Gates open 7:30 p.m. Get in for P250, inclusive of a drink.
Thursday, July 28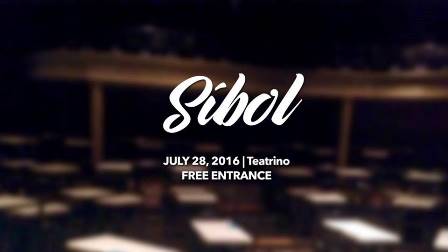 Why you should go: Sibol is an Organisasyon ng mga Pilipinong Mang-Aawit and ILUSTRADOS special in celebration of Linggo ng Musikang Pilipino 2016. Lineup of performers include Ang Bandang Shirley, Jensen and The Flips, BennyBunnyBand, Mellow Submarine, Ian Penn, and Banna Harbera.
Other details: Show starts 8 p.m. Free entrance!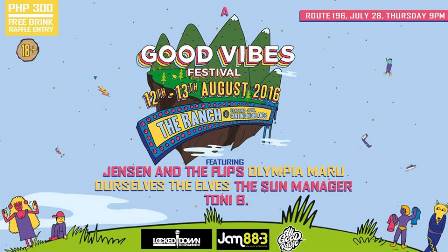 Why you should go: Good Vibes Festival is happening on Aug 12 and 13 in Malaysia but the pre-party is happening right here in Manila! Getting you amped up for the festival are Jensen and the Flips, Olympia Maru, Ourselves The Elves, The Sun Manager, and Toni B. During the event, two pairs of passes to the Good Vibes Festival with airfare and accommodation will also be given away!
Other details: Gig starts 9 p.m. P300 gets you in with a free drink and a raffle entry.
Friday, July 29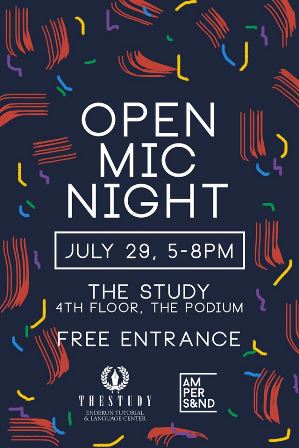 Why you should go: Ampersand presents an open mic and art sale, in collaboration with The Study at Enderun. Let loose of all your feels while appreciating art!
Other details: Event is from 5 p.m. to 8 p.m. Entrance is free!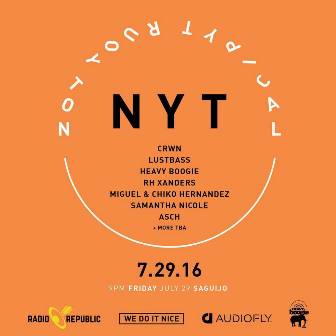 Why you should go: The good people of Radio Republic x We Do It Nice x Heavy Boogie x AudioflyHeadphones is proud to present the second edition of NYT. Catch groovy performances by crwn, LUSTBASS, Heavy Boogie, rhxanders, Miguel Cortez Hernandez & Chiko Hernandez (Primo Chiko), Samantha Nicole, Asch, and more!
Other details: Gig starts 9 p.m. Get in for P200.

Why you should go: Friday Seems Forever returns to Mao Den on July 29  to once again give you the chance to sing and dance to all your favorite pop punk and emo songs. As an added treat, they've got Miggy Chavez of Chicosci and American Idiot on deck this night, too!
ADVERTISEMENT - CONTINUE READING BELOW
Other details: Party starts at 10 p.m. No entrance, no dress code, just bring yourself and your feelings.
Saturday, July 30

Why you should go: Ampalaya Monologues and Words Anonymous come together for the biggest bitterfest this side of the Metro. Join them for another night of hugot and all the feels.
Other details: Event starts 8 p.m. Get in for only P250.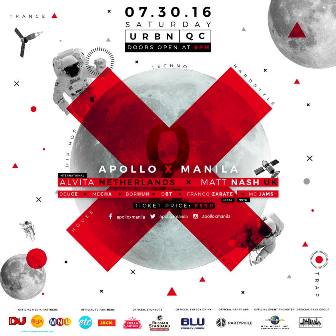 Why you should go: Apollo x Manila has landed! Experience electronic dance music like never before. International lineup includes Alvita and Matt Nash and local players include Deuce Manila, MECHA, DBT, Franco Zarate, and Borhuh Philippines.
Other details: Doors open 9 p.m. Tickets are available for P500 at smtickets.com or at any SM Ticket Outlets nationwide. For VIP tables and reservations, call 0995-107-6897 or 0917-713-3928.
Sunday, July 31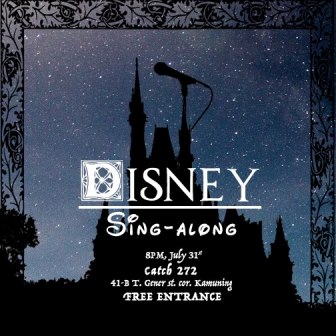 Why you should go: In the spirit of Rent the Musical sing-alongs, let's celebrate July with a sing-along to our favorite Disney tunes! Performances and costumes are very much encouraged!
Other details: Night starts 8 p.m. Entrance is free!
Tuesday, August 2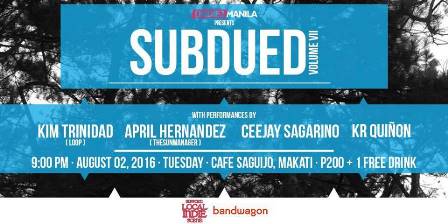 Why you should go: Another chill Tuesday coming your way, courtesy of Kim Trinidad (LOOP), Ceejay Sagarino, April Hernandez (TheSunManager / Moonwlk / Area 25 Music), and KR Quiñon.
Other details: Gig starts 9 p.m. P200 door fee, comes with one free drink.
Load More Stories