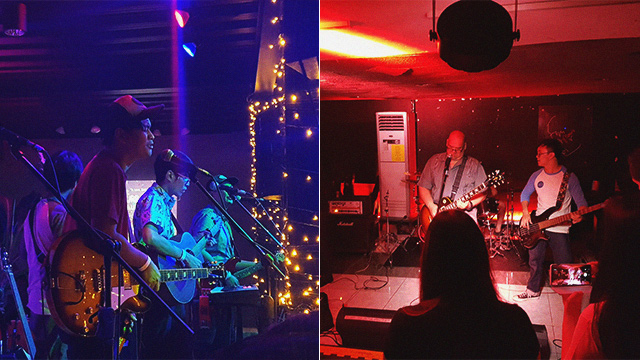 (SPOT.ph) Whether you're looking for indie rock music, club bangers, chill lo-fi beats, or some classics to reminisce to, there's always a gig in the Metro for you.
Nowadays, your favorite bands hop to different venues every weekend, and can converge on the same lineup on any given night. With so many prods vying for your attention, hunting down the right gig is challenging.
ADVERTISEMENT - CONTINUE READING BELOW
Looking for a new spot where you can tune out with some friends? Here are the gig venues in the Metro to cross off your list:
Route 196
If you've ever found yourself stuck in traffic on Katipunan, chances are you've seen Route's unmistakable billboard telling you which bands are rocking the house that night. Since 2007, that billboard has cycled many names—from the country's biggest acts to the virtually unknown, spanning every genre the local music scene has to offer.
As diverse as the music gets, however, the crowd inside will mosh to anything once the show gets going. Something about Route feels like home. It's the kind of place where people stay until the bar closes up, either catching the last songs from the lounge in the back, or chatting out front.
If you're looking to make the most out of your night out, don't forget to check Route's social media accounts for promos on drinks! On some Tuesdays, it's buy-one-take-one on all local beers. Pro tip: The deviled chicken is a great option for your late-night munchies.
Route 196 is at 196-A Katipunan Avenue Extension, Blue Ridge A, Quezon City.
123Block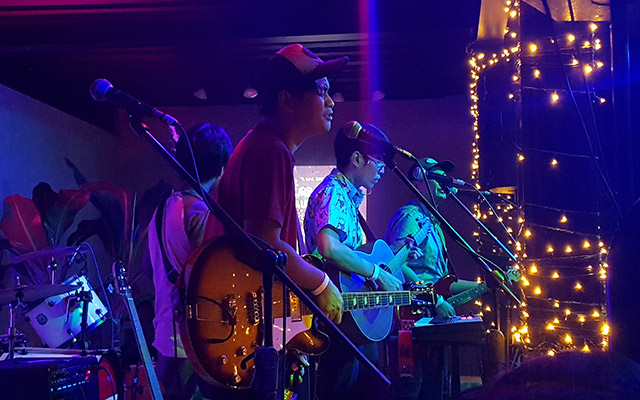 ADVERTISEMENT - CONTINUE READING BELOW
Versatility is 123Block's main advantage. Home to a café and fitness center in the daytime, it converts to an events hall when the sun goes down, capable of holding any gig, from exhibits, to birthday parties, to album launches. The two-storey warehouse is a space where people can gather, but also roam around. You can dance it out in front of the band on the ground floor, or enjoy the music from the privacy of the balcony. Some recent groups that have played here include Rusty Machines, She's Only Sixteen, The Strangeness, .bird, The Hernandez Brothers, Ciudad, and the Diegos.
123Block is at 123 Pioneer Street, Mandaluyong City. 
Jess & Pat's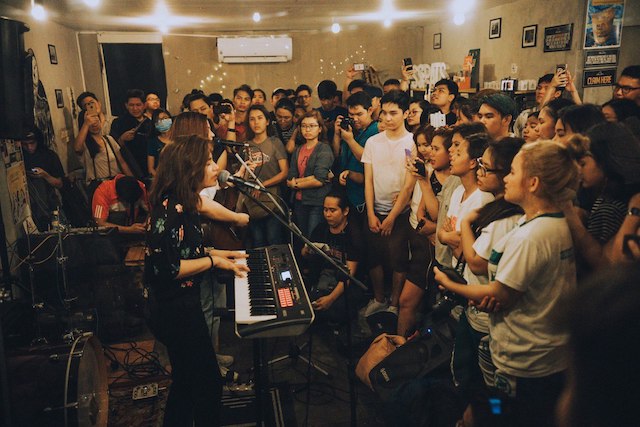 ADVERTISEMENT - CONTINUE READING BELOW
This quaint café in Maginhawa is becoming a favorite among students who want to show their support for the local indie scene. As their motto "We are Indies together" announces, Jess & Pat's is home to a community of young acts and students looking to support batchmates and friends. A lot of the bands that play here hail from nearby universities like Ateneo and UP, such as Munimuni, The Ransom Collective, Indayo, and The Ridleys. Aside from gigs and open mics at night, they also hold the monthly "Tanghalian Series," which has acoustic and folk acts playing from morning until noon. Plus, you won't find alcoholic beverages nor do they allow guests to bring their own, so if you want to discover new talents without the booze, this spot is perfect for you.
Jess & Pat's is at 2/F 63 Maginhawa Street, Teachers' Village, Quezon City.
Today x Future 
ADVERTISEMENT - CONTINUE READING BELOW
Located just a couple of meters away from Cubao Expo, Today x Future is a bar that invites everyone to the party. Its design is a quirky mishmash of a lot of things, but it works, grungy and flamboyant at the same time; the interior decorated with decrepit wooden furniture, striped wallpaper, old Christmas lights, and a disco ball smack in the center of the room. By the door, there is a booth where DJs play sets with genres ranging anywhere from techno and house to hip hop and pop. As for food, make sure to get the beef pepperoni pizza!
Today x Future is at 7-T General Malvar Avenue, Araneta Center, Cubao, Quezon City.

19 East
ADVERTISEMENT - CONTINUE READING BELOW
Home to one of the best sound systems in the country, 19 East is a bar that will do your favorite tracks justice. More than a bar, it is a space for productions. Glass chandeliers hang from the ceiling, candlelit tables surround the stage, massive LED lights dance behind the performers, and a curtain separates the audience from the band while they set up. If you want to listen to your local heroes at full force, then it's worth heading out to East Service Road to seek them out here. Recent gigs have consisted mostly of acoustic and RnB performers—Side A, South Border, Freestyle, and MYMP, but acts such as One Click Straight, Ena Mori, Oh! Flamingo, Lola Amour, and Autotelic have played here as well.
19 East is at 19 East Service Road, Sucat, Muntinlupa City.
Dulo MNL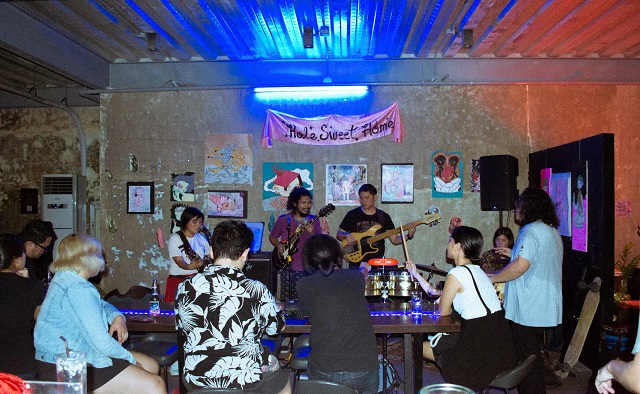 ADVERTISEMENT - CONTINUE READING BELOW
Poblacion has gained a reputation for its diversity, where each restaurant and bar carries its own distinct vibe. Compared to many of its neighboring bars, Dulo MNL is an understated hole in the wall. It is an industrial space stripped down to faded concrete walls, potted plants, and robust wooden furniture, with open windows facing the street. The openness of the venue creates a free space for creatives to perform and to collaborate. If you're lucky, you might even catch an open jam between members of different well-known bands. Don't forget to order a drink while you're at it. Pro tip: The sake sour is a must-try!
Dulo MNL is at 4992 P. Guanzon Street, Poblacion, Makati City.
Mow's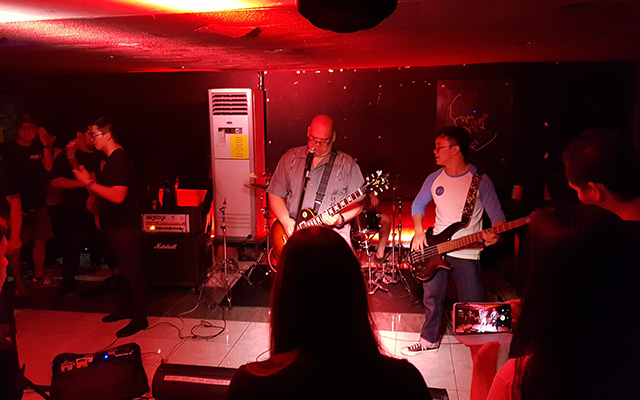 ADVERTISEMENT - CONTINUE READING BELOW
Mow's is a no-frills, low-key bar in Quezon City. Since it opened in 2015, Mow's has served as a gathering spot for both musicians and comedians. At times, the guys from Comedy Manila will even run through some of their punchlines as people start to pour in. Recent bands that have played include The Buildings, Ourselves the Elves, and Pinkmen. You can also catch sets from alternative groups, indie rock acts, and the occasional jazz band here. There's plenty of music to enjoy. On top this, there's always ice cold beer and the Kowloon House menu at your disposal!
Mow's is at Kowloon House Basement, 20 Matalino Street, Quezon City.
Limbo
ADVERTISEMENT - CONTINUE READING BELOW
Limbo might be the most offbeat stop you'll make on your pub crawl around Poblacion. It is a bar and art gallery that features installations from underrated local artists. Limbo features music that ranges anywhere from ambient DJ sets to live bands performing world and oriental sax, while blending in neon mood lights and surreal wall projections to complete the audiovisual experience. Open since late 2018, this bar is still in its infancy, but is worth a try for those looking for something different.  
Limbo is at 5374 General Luna, Poblacion, Makati City
20:20 
ADVERTISEMENT - CONTINUE READING BELOW
20:20 is an unassuming alternative to some of the flashy bars and high-energy clubs that you'll find in the Chino Roces area. The interior is elegant but edgy: high ceilings, tall glass panels, and cryptic graffiti symbols etched on the concrete wall behind the stage. Having just turned three years old in July, 20:20 has already established itself by holding several notable productions, most notably, its monthly "Circus" events, where the city's best indie acts grace the stage at 20:20, and the freshest DJs take over XX:XX, the club next door.
20:20 is at 20A La Fuerza Plaza 1, 2241 Don Chino Roces Avenue, Makati City.
saGuijo Café + Bar
ADVERTISEMENT - CONTINUE READING BELOW
For the past 15 years, saGuijo has been a mainstay for the productions in the Makati area. It has built a reputation for housing the biggest names, but also for giving new artists a chance to share original material. Playing at saGuijo is a badge of honor for new bands, and a return to familiar ground for the more established ones. Name anyone who's anyone: they've played there. When it gets packed, the bar's audiences are cramped in a musical sauna that can last the whole night. But even with sweat dripping down your face, it's guaranteed to be a lot of fun. Here's a tip: when it gets too hot inside, help yourself to some street food right across the street. Another tip: you can always watch through the window near the entrance.
saGuijo Café + Bar is at 7612 Guijo Street, San Antonio Village, Makati City.
ADVERTISEMENT - CONTINUE READING BELOW
Share this story with your friends!
---
Help us make Spot.ph better!
Take the short survey
More Videos You Can Watch
Load More Stories