Top 10 Never-Say-Die Nanays
SPOT.ph rounds up 10 famous moms who would do anything for their kids, right or wrong.
They say a mother's love is the purest love of all. Admittedly, there are moms who express their love in the most over-the-top ways-they won't hesitate to go against the establishment, break the law, or inadvertently make fools of themselves, all the name of maternal protection. Their children, on the other hand, just laugh off their antics or cringe in shame. Some may even enjoy the motherly attention and indulge the crazy mommy antics.
Whether or not we approve of these women's mothering techniques is beside the point. Right or wrong, perhaps they just really love their kids. SPOT.ph lists 10 of the most devoted-and baffling-moms in recent memory:
MARLENE AGUILAR-POLLARD

Claim to motherly fame: Mother of road rage murder suspect Jason Ivler
ADVERTISEMENT - CONTINUE READING BELOW
Motherhood statement: "I want everyone to know that no matter what my son did, I love him with all my heart and soul," cried Aguilar-Pollard to the media after son Jason was hurt in a shootout, arrested, and brought to the hospital on January 18, 2010.
Mommy logic: An artist-author and self-proclaimed free spirit, Aguilar-Pollard reveals in one of the essays on her website that she had a very difficult childhood. Her father reportedly applied liberal corporal punishment to her and her siblings (one of which included pop icon Freddie Aguilar). She asked, "What happens to a child who is betrayed by a parent at a young age?" This is probably why Aguilar-Pollard chose to stand by her man-child even when he's alleged to be responsible for the death of two people.
Stage mama moments: After son Jason was declared a fugitive, Aguilar-Pollard tried her best to mislead the authorities, saying that he was already in Hawaii. All the while, Jason was hidden in a specially-built storeroom in the basement of their home in Blue Ridge, Quezon City. In the aftermath, Aguilar-Pollard presented Jason's unreleased rap album, JSin in the Philippines.
ADVERTISEMENT - CONTINUE READING BELOW
Nanay verdict: Aguilar-Pollard seems to have some serious issues that can only be resolved by time and professional help. The hand that rocks the cradle may rule the world, but that hand has to know when to put a stop to a child's descent into a life of crime.
Marlene Pollard professes her undying love for son Jason
ANNABELLE RAMA

Claim to motherly fame: Mother of Ruffa, Richard, Raymond, Elvis, Ritchie Paul, and Rocky Gutierrez, as well as stepmother to Tonton and Ramon Christopher Gutierrez
ADVERTISEMENT - CONTINUE READING BELOW
Motherhood statement: In an interview about her tiff with GMA Network's senior vice president for entertainment Wilma Galvante, Rama, who is also a talent manager, fearlessly defended her wards and her son, "Papasikatin niya (Galvante) mga trying hard niyang hawak na mga artista, wala namang talent! Puro mga bobo namang umarte! Gusto niyang pumalit sa puwesto ni Richard. Puwes, pasikatin niyang mga alaga niya. Bruha siya!"
Mommy logic: As one of the lesser-known bomba starlets in the early 1970s, Rama knows just how cutthroat the movie industry can be. This is why she's fiercer than a Tyrannosaurus Rex when it comes to protecting her children's interests. When she fires off barbs in her thick Bisaya accent-you know she means business.
Stage mama moments: Rama does not hesitate to make a scene when she wants to protect her offspring. In the 1990s, when teenage Ruffa wanted to run away with then-boyfriend Dennis da Silva, Rama called the police and threatened to file kidnapping charges against her daughter's beloved. Then, when she felt that son Richard didn't get his fair share of star treatment at the 2008 Bench Blackout event, Rama lambasted Bench. The following year, Rama engaged in a verbal catfight with GMA Network's Wilma Galvante.
ADVERTISEMENT - CONTINUE READING BELOW
Nanay verdict: Though Rama may be mostly bark, one should get out of her way when she's on the warpath. Sticks and stones may break bones, but mama Rama's words can be painful enough to kill you with shame. To be fair, Rama's tenacious devotion to her children seems to have, for the most part, paid off. Her children are clearly grateful to have her on their side-but they're understandably out of the picture when she's on yet another warpath.
Annabelle Rama urges daughter Ruffa's alleged boyfriend John Lloyd Cruz to be a man
IRENE KHO

Claim to motherly fame: Mother of sex scandal doctor/"filmmaker" Hayden Kho Jr.
ADVERTISEMENT - CONTINUE READING BELOW
Motherhood statement: In an exclusive interview with TV Patrol World in May last year, Kho had strong words for actress Katrina Halili, who accused son Hayden of being a pervert: "Ang anak ko, katino-tino hanggang matapos siya sa medisina, mabait na bata. Anong ginawa mo? Nilulon mo sa droga. Anong klase kang babae na tatawagin mo ang mga Gabriela, lahat." At one point during the said interview, Kho held up a crucifix.
Mommy logic: Kho seems to have led a sheltered life where all things are true, good, and beautiful. Therefore, she simply refuses to believe that son Hayden can do any harm.
Stage mama moments: Kho's overzealous defense of son Hayden lead to more troubles for him, as he was called in by the Philippine Drug Enforcement Agency to submit to a drug test. Halili also sued Kho for libel.
Nanay verdict: Kho's mothering is fueled by her powerful denial of negative things. If only she just said, "No comment." Sometimes, yes, words just get in the way.
ADVERTISEMENT - CONTINUE READING BELOW
Irene Kho: "Ayaw ko ng magsalita!"
AMALIA FUENTES

Claim to motherly fame: Mother of Liezl Martinez
Motherhood statement: At the end of 2009, Fuentes was exasperated by her daughter Liezl's post-cancer scare testimonial, where she told TV host Kris Aquino that it was Pops Fernandez who saved her life. Shortly thereafter, Fuentes told the press, "She talked about how she owes Pops Fernandez her life. Grabe naman yata 'yun. She owes Pops Fernandez her life? Ano na lang ako sa buhay niya? I raised her like a princess, alone, by my lonesome fat self. Ang tatay niya [former matinee idol Romeo Vasquez], nawala sa buhay niya when she was two and a half years old."
ADVERTISEMENT - CONTINUE READING BELOW
Mommy logic: Formerly a big star, Fuentes continues to be a larger-than-life character who does not tolerate BS from anyone-not even her beloved only child. Despite Liezl's precarious health, Fuentes let it rip.
Stage mama moments: Nobody can blame Fuentes for hovering over her only child for most of the latter's life. She was, of course, disappointed when, decades ago, Liezl eloped with actor Albert Martinez. Fuentes' and her daughter's love-hate relationship has long been fodder for tabloid news.
Nanay verdict: Hell hath no fury like Amalia scorned! Fuentes as a mom is, to say the least, an acquired taste. She talks tough and she can back it up, too.
Amalia Fuentes lets it rip
LOLIT SOLIS

Claim to motherly fame: Talent manager who functions as a surrogate mom for many local talents
ADVERTISEMENT - CONTINUE READING BELOW
Motherhood statement: "Gusto ko linawin, na kaya ko ipinagtatanggol si Lani, dahil manager ako ni Lani. Parang pangalawang nanay na niya ako.," Solis stated when she was asked to explain why she took Lani Mercado's side in the Ruffa Gutierrez snubbing incident.
Mommy logic: Solis takes her job as "second mother" to her wards very seriously. She's probably willing to beg, cheat, or steal for them.
Stage mama moments: In 1994, Solis allegedly engineered the infamous Manila Film Festival Scam to secure the Best Actor honors for her then-ward Gabby Concepcion. She has gotten embroiled in many smackdowns in the name of her talents since then, but the scam remains the most fascinating evidence of how far she will go to show her motherly love.
Nanay verdict: Solis makes things happen for her so-called adopted children. She's not called "Nanay Lolit" for nothing. It's great to have her on your side. But you better run for cover when she isn't.
ADVERTISEMENT - CONTINUE READING BELOW
"Nanay Lolit" comes to her talent Hayden Kho's defense
ROSANNA ROCES

Claim to motherly fame: Mother of Onyok and Grace
Motherhood statement: In an interview, Roces expressed her devotion to her children: "Alam ninyo naman ako kapag alam kong masaya ang anak ko, susuporta ako pero pag alam kong agrabyado ay ibang usapan iyan, aalma ang lola mo, Neng."
ADVERTISEMENT - CONTINUE READING BELOW
Mommy logic: A high school dropout who went on to become a teenage mom and, later, a sex symbol, Roces believes in living life on her own terms. She didn't condemn her own children for becoming teenage parents. To date, both Grace and Onyok are in the process of settling down with their own families.
Stage mama moments: Though daughter Grace didn't exactly get into showbiz, her untimely and controversial entanglement with Jolo Revilla ensured that Roces would be making more of her trademark tactless pronouncements. In fact, Roces expressed her feelings for the Revilla family quite frankly on several occasions.
Nanay verdict: Looks like Roces is clearly not a fan of discipline. "Normal" doesn't seem to be in her personal dictionary. She's one hotheaded mama you don't want to mess with.
Rosanna Roces threatens to sue Revillas for not letting her daughter Grace see her child
ADVERTISEMENT - CONTINUE READING BELOW
BETH JONES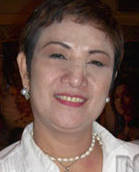 Claim to motherly fame: Mother of starlet Angelica "I'm not GR" Jones
Motherhood statement: "Ang masasabi lang namin, cheap siya at siya mismo ang nagpapababa ng dignidad niya!" was what Mama Jones said about TV host Paolo Bediones when it seemed that he was not keen on admitting that he had a relationship with Angelica. Prior to the said incident, TV host Bobby Yan was also involved in a tumultuous relationship with Angelica.
ADVERTISEMENT - CONTINUE READING BELOW
Mommy logic: Being with daughter Angelica seems to be Jones' main preoccupation, but it appears that she is not content to live the showbiz life vicariously. Thus, there's no issue that's above or beneath her, she takes on all of them for the sake of her daughter.
Stage mama moments: Always ready to give statements about Angelica's controversial love life, Jones has also reportedly stirred up controversy involving her daughter's colleagues. When Angelica lost in Shall We Dance?, Jones was ready to rumble.
Nanay verdict: Jones may mean well-but she just comes off as mean to other people. Meanwhile, Angelica seems to be enjoying her protectiveness. Jones is a mom who puts bodyguards to shame.
EVA CARI?'O

Claim to motherly fame: Mother of Robin, Rustom (a.k.a. Bebe Gandanghari), Rommel and Royette Padilla
ADVERTISEMENT - CONTINUE READING BELOW
Motherhood statement: When asked why she is able to give full support to her children despite their extraordinary troubles, Cariño said, "Ganyan naman ang isang ina, di ba? Kung ano ang kaligayahan ng iyong mga anak, susuportahan mo. Wala ka namang ibang choice, di ba? Diyan mo maipapakita na tanggap mo ang anumang pasukin at gawin ng iyong anak.
Mommy logic: A former bit player, Cariño hooked up with politician Roy Padilla Sr. (a Camarines Norte governor who was assassinated in 1988) and had to put up with the fact that he already had a family. For the most part, Cariño had to be a single parent to her eight kids.
Stage mama moments: Cariño has stood by her sons through their numerous scrapes with the law and other baffling antics. Though she didn't really get to say much when son Royette was part of a paramilitary cult, she was vocal when son Rustom metamorphosed into Bebe Gandanghari. She adamantly declared, "Para sa akin si Rustom pa rin siya, 'yun lang."
ADVERTISEMENT - CONTINUE READING BELOW
Nanay verdict: The fact that it's just her sons who caused her much grief is a testimony to the fact that Cariño is a sucker for bad boys. She fell in love with one and gave birth to four of them, one of which who now prefers to be called a daughter.
Eva Cariño on former son Rustom's "Bebe-fication"
�
DIONISIA PACQUIAO

Claim to motherly fame: Mother of world-famous boxer Manny "Pacman" Pacquiao
ADVERTISEMENT - CONTINUE READING BELOW
Motherhood statement: When asked about her son's alleged womanizing, Pacquiao proved that she was in his corner all the way when she said, "Hayaan mo lang ang mga intriga kasi [nandiyan na 'yan] lalo na noong unang sumisikat ang anak ko. Kasi andyan ang kagalingan niya. Ang daming humahanga sa kanya, lalo na sa mga babae. Ang daming mag-intrigang salita, hindi ginagawa sa anak ko 'yan."
Mommy logic: A graduate from the school of hard knocks, Pacquiao single-handedly raised her brood of six after she was abandoned by her two husbands. Nothing fazes Pacquiao, who spent years as a laborer at the General Santos City public market.
Stage mama moments: A devout Catholic, Pacquiao, draped in jewels, is often caught on camera praying for Pacman's victory during his matches. Perhaps hoping to recapture her lost youth, Pacquiao's 60th birthday party had a curious debut theme. Pacquiao has also become a showbiz personality-appearing in a movie, an ad, and various TV shows.
ADVERTISEMENT - CONTINUE READING BELOW
Nanay verdict: Pacquiao proves that life can get better as you grow older. It doesn't hurt if you have a devoted son who's one of the world's richest athletes who's ready to buy you a mansion and everything else you can wish for. Pacquiao's story should convince all mothers to be kind to their kids.
PacMom Pacquiao: Forever Young
DAISY ROMUALDEZ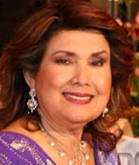 Claim to motherly fame: Adoptive mother of '80s teen star Kristina Paner and singer Danita Paner
ADVERTISEMENT - CONTINUE READING BELOW
Motherhood statement: In 2007, when daughter Danita ran away from home (which she referred to as "hell") and accused her of being a control freak, Romualdez appeared on The Buzz and gave this response: "Ako yata ang nasa impyerno dahil napakasama nang ugali mo. Alangan namang anak ang masusunod. S'yempre nanay."
Mommy logic: A former actress who started out in wholesome flicks in the 1950s, Romualdez's overprotective nature stems from her firsthand brush with the movie industry.
Stage mama moments: Daughters Kristina and Danita have both rebelled against Romualdez's iron hand by running away from home. In both instances, Romualdez came out to defend herself and to put her daughters in their place. Her tiff with Kristina is not documented online, but her spat with Danita is. To date, Romualdez has reconciled with Kristina. As for Danita, the tweets on her Twitter page reveal that she's happy and still singing in gigs.
ADVERTISEMENT - CONTINUE READING BELOW
Nanay verdict: Romualdez seems to be only doing what she thinks is best for her kids. But sometimes, it appears that she overdoes it. The ties that bind can easily choke, too.
Daisy Romualdez berates daughter Danita's supposed reason for running away from home
Photographs from Noel Orsal of PEP.Ph (Amalia Fuentes, Annabelle Rama, Lolit Solis, Eva Carino, Dionisia Pacquiao, Rosanna Roces), Mark Pimentel of PEP.ph (Marlene Aguilar-Pollard), Ruel Mendoza for PEP.ph (Beth Jones), Yes! Magazine (Daisy Romualdez), screengrab from ABS-CBNnews.com (Irene Kho).
CONTINUE READING BELOW
Recommended Videos
Share this story with your friends!
---
Help us make Spot.ph better!
Take the short survey
Load More Stories