Top 10 celebrity couples who never should have been
Some love stories are just not meant to be. SPOT.ph lists 10 celebrity hookups gone bad.
Some couples look just plain wrong at first sight.
Chalk it up to bad chemistry or a mutual need for self-destruction. They bring out the worst in each other or cause chaos around them. Some start out sweet, but then later on can't even stand to be in the same country or mention each other's name. Many of them never should have gotten together in the first place. But, like misguided moths flying towards fatal flames, they still get together with unsuitable partners. Some of them willingly go through romantic hell over and over again.
Say what you will but it's still romance-no matter how bad it gets. In the spirit of post-VD fever and love's ability to render us all stupid, SPOT.ph rounds up ten controversial couplings: Read and weep. And, hey, maybe you can learn a logical thing or two from these tabloid-worthy hookups.
SHARON CUNETA & GABBY CONCEPCION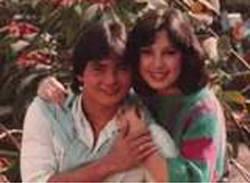 Coupling: The Girl Who Would Be Megastar allegedly met the Square-Jawed Matinee Idol when she was 15 and he was 18 on the set of the romantic drama Dear Heart (1981). They made a few more movies and, by 1984, they were married. Unfortunately, they called it quits in 1987.
ADVERTISEMENT - CONTINUE READING BELOW
Match up: She was the wholesome girl-next-door and he was her handsome burgis match. Everyone wanted them to be together-so much so that everyone forgot the classic pitfalls of young love.
Breaking points: The couple had irreconcilable differences. It was also discovered that, prior to getting hitched to Sharon, Gabby was already married in the US to a woman named Jennifer Martin. Thus, the Sharon-Gabby marriage was annulled and Gabby was charged with bigamy. Gabby also had to leave the country because his talent manager, Lolit Solis, got involved in the 1994 Manila Film Festival scandal.
A video compilation of the happy moments of the Gabby Concepcion-Sharon Cuneta love team.
CONTINUE READING BELOW
Recommended Videos
Famous words: Asked to comment on her failed marriage to Gabby, Sharon said, "It broke a lot of hearts when we broke up, mine got broken the most. You know, iba ang team up onscreen at iba sa tunay na buhay."
Current status: Sharon is now married to Senator Francis Pangilinan, with whom she has two children. Gabby is now married to Genevieve Yatco Gonzales, with whom he has a daughter. He also has kids with exes Grace Ibuna and Jenny Syquia. The bigamy case seems to have gone away. After years of living in the US, Gabby is now back in the Philippines and has jumpstarted his showbiz career. He even appeared in a cameo role in Sharon's 2009 comedy, Best Friends Forever (BFF). Sharon and Gabby's daughter KC is now in showbiz, too.
Madam Auring talks about her new boyfriend after Archie Mendoza.
ADVERTISEMENT - CONTINUE READING BELOW
AUREA "MADAME AURING" SABALBORO & ARCHIE MENDOZA
Coupling: In 2004, the senior citizen fortuneteller, then in her 60s, and her twenty-something boy toy became the talk of the town. They professed their love on talk shows and joined celebrity game shows as a coosome twosome. The two gave up on having a future together sometime around 2006.
Match up: Though Madame Auring and Archie claimed it was true love, everyone thought that their hookup was a cheap publicity stunt. They were a bizarre pair. People didn't know whether to laugh at them or simply pretend not to see their mushy antics on camera.
Breaking points: Archie's parents and Madame Auring's kids were against the match. To make matters worse, there was some confusion about Archie's real age. He was allegedly only 15 or 16, a detail Madame Auring failed to see in her crystal ball.
Famous words: After their supposed split, Archie was interviewed on DZXL where he admitted that his relationship with Madame Auring was a hoax. He stated: "Binabawasan po niya ng komisyon ang bawat perang kinikita ko sa mga guesting [namin noon]!"
Current status: Much to everyone's relief, Madame Auring and Archie are no longer an item.
Love lesson learned: When they admit to losing their appetites each time they see you and your partner, then it's time for you to seek professional help.
SNOOKY SERNA & NI?'O MENDOZA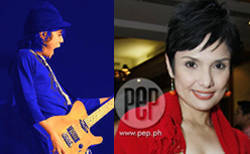 Coupling: Snooky split from first husband Ricardo Cepeda in 2005. Ecstatic in her emancipation, she ran into Niño, who was the vocalist of the band Blue Jean Junkies. The two immediately decided to tie the knot on April 2006. By 2007, the two were done.
ADVERTISEMENT - CONTINUE READING BELOW
Match up: The kooky former child star and the hyper rocker seemed to be high on each other. Wearing matching outfits as they did the showbiz talk show rounds, they made ditzy declarations of love. "She is my morphine," said Niño of Snooky. While Snooky, when asked about their too-fast hookup, stated, "This was not an overnight sensation."
Breaking points: The couple seemed to be chased down by bad luck. There were rumors that they had financial problems and other differences. Later, Snooky, who turned religious, declared that she had to set things right with God. Since her first marriage was only annulled in court and not in church, she figured that the best thing to do was to ditch it and have it annulled as well. Niño seemed to agree with her. Oddly enough, Snooky later revealed that she had been a "battered wife" when she was with him.

For the latest Philippine news stories and videos, visit GMANews.TV
Snooky Serna talks about her annulment involving ex-husband Ricardo Cepeda on Startalk.

Famous words: "Ayoko na lang sanang sabihin ito, pero nightmare ang pagpapakasal ko kay Niño," Snooky stated in an interview.
Current status: Snooky and Niño are finished. She's making an effort to revive her showbiz career, while he has been lying low since their split.
Love lesson learned: Fools rush in where sane people wouldn't even think of going.
RUFFA GUTIERREZ & YILMAZ BEKTAS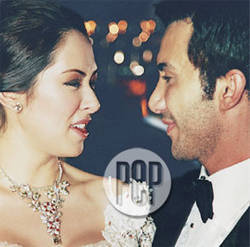 Coupling: Ruffa and Yilmaz ran into each other in France during the Cannes Film Festival in 2000. Ruffa was doing hosting duties for TVB Pearl while the Turkish businessman was presumably there for work and play. They finally got hitched on March 25, 2003. The lavish ceremony at the NBC Tent in Taguig featured a 10-foot apple fondant wedding cake decorated with Swarovski crystals. That same day, the couple announced that they were already expecting a baby.
ADVERTISEMENT - CONTINUE READING BELOW
Match up: Ruffa and Yilmaz, both strong-willed and beautiful people, seemed like they were made for each other. The only daughter from a family of celebrities, she was raised like a princess. He, on other hand, lived like a prince in Istanbul with servants and mansions at his disposal. Ruffa put her showbiz career on hold and converted to Islam for Yilmaz.
Breaking points: Ruffa accused Yilmaz of physically abusing her. She told everyone how he had-among other things-electrocuted her while she was in a bathtub full of water. Yilmaz went berserk when he found out that Ruffa was still married to a certain Richard Daloia. Cultural differences also contributed to their friction. Famous words: In one interview Yilmaz, in his broken English, said, "And after that I think [her] name [has] to be traitor and I'm calling her name now Brutus." Current status: Yilmaz lives in Istanbul and has reportedly moved on. In 2008, he hooked up with 2006 Miss Universe winner Zuleyka Rivera Mendoza. Ruffa and their two daughters Lorin and Venice live in the Philippines. Ruffa, with her showbiz career in full swing once more, has gone back to being Christian. She has been rumored to be seeing matinee idol John Lloyd Cruz.
Ruffa Gutierrez claims torture by Yilmaz Bektas.
Love lesson learned: Money and looks alone can't buy you stable love.
ETHEL BOOBA & ALEX CRISANO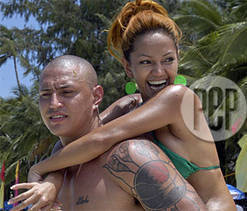 Coupling: The two met in 2004, when basketball player Alex appeared in the reality show Extra Challenge. Ethel was the show's resident comic relief. That same year, Ethel publicly declared her love for her tattooed giant when the Department of Justice suspected that he had faked his Filipino citizenship claim. Ethel reportedly declared, "No man has loved me the way he does."
ADVERTISEMENT - CONTINUE READING BELOW
Match up: The Fil-Am athlete and the probinsyana with a penchant for plastic surgery and kinulang-sa-tela fashion were an odd couple right from the get-go. When they met, Alex was still trying to get out of his turbulent marriage while Ethel was building a reputation as a scandal magnet. They were bad for each other and everyone knew it-except them.
Breaking points: The on-off couple was notorious for their public meltdowns, as well as their leaked sex video. In one of their splits, Ethel accused Alex of being a junkie and Alex stated that he'd had enough of Ethel's bad English. In 2006, while on vacation in Boracay, Ethel and Alex's fight led them to the police station. The curtain fell on the Ethel and Alex Show the following year.

For the latest Philippine news stories and videos, visit GMANews.TV
Ethel Booba and Alex Crisano on moving on after their break-up.
Famous words: In a 2007 interview with the Philippine Entertainment Portal, Ethel revealed, "Sa aming pagtulog ay hindi na kami magkadikit. May distansiya na kami at halos nalalaglag na nga kami sa kama."
Current status: Ethel and Alex's notoriety died down when they parted ways. Ethel, who was a housemate in Pinoy Big Brother's second celebrity edition in 2007, is still hot in the comedy club circuit. Alex is still playing basketball for the Barako Bull Energy Boosters. In an interview, he waxed poetic about his controversial past. "I made mistakes but, hey, who here does not make mistakes? I've learned from those mistakes. That's how it is in life. You make mistakes and you learn from those mistakes in order to come out as a better person," he said.
ADVERTISEMENT - CONTINUE READING BELOW
Love lesson learned: Sometimes hell is the person you love.
RACHEL "CHE" TIONGSON & LUIS "CHAVIT" SINGSON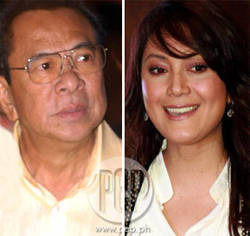 Coupling: Che hooked up with Chavit when she was 18. He was a little more than 30 years older than her. The two had a common-law marriage for 17 years, during which they had five children.
Match up: The comely Che is a stay-at-home mom while Chavit is the country's Deputy National Security Adviser. Che admitted that she depended on Chavit for everything.
Breaking points: In an interview with ABS-CBN, Che disclosed that she was fed up with Chavit's womanizing. "Akala ko talaga na ako lang ang babae sa buhay niya," she said. "'Yung mga ilang years na nagsasama kami, may mga lumabas na kasing edad ng anak ko na may anak rin. Naitago niya ng hindi ko alam." Despite this, Chavit acted like a wronged man when Che found a new boyfriend. On August 22, 2009, Chavit caused scandal when he barged in on Che and her new love and allegedly proceeded to physically harm them. Che said that Chavit, with his bodyguards in tow, had a latigo for his pet tiger, which he reportedly used on her.
ADVERTISEMENT - CONTINUE READING BELOW

For the latest Philippine news stories and videos, visit GMANews.TV
Che Tiongson on Chavit Singson allegedly torturing her.
Famous words: When asked if he would give Che child support, Chavit posed this rhetorical question: "Hindi ko susuportahan. Ano 'yan, susuportahan ko para ipanlalaki lang niya?"
Current status: Che and Chavit have since settled amicably for the sake of their kids. In another interview, Chavit said that he would be willing to shell out cash to pay for Che's wedding to anyone she may fancy.
Love lesson learned: Having rhyming last names doesn't guarantee happily-ever-after.
VICKI BELO & HAYDEN KHO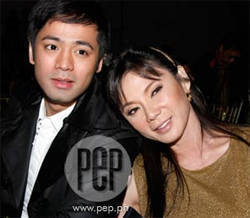 Coupling: In his March 22, 2007 column, showbiz writer Ricky Lo wrote, "If you believe Dra. Vicki Belo, 50, her new boyfriend Dr. Hayden Kho, 24 years her junior, is a dream come true." Meanwhile, in an interview with Lifestyle Asia, Vicki gushed, "I feel so lucky, I don't feel the age gap. I'm young. He's mature. He makes me laugh." For his part, Hayden said, "I get to be her hero and she gets to be my princess."
ADVERTISEMENT - CONTINUE READING BELOW
Match up: The age difference didn't seem to matter, as Vicki and Hayden were both doctors and seemed to want the same things. Though there was some rumored tension between Hayden and Vicki's children, the pair rallied on. Perhaps, Vicki's vision was to fire up Hayden's popularity so he could bring in more clients for the Belo Medical Group. As such, Hayden joined Celebrity Duets in late 2007.
Breaking points: After his Celebrity Duets stint, Hayden was linked to actress Katrina Halili, whom he met on the show. All throughout 2008, there were rumors that the two had a sex video. They denied it-but Hayden's suicide attempt indicated that something was amiss. Then, in May 2009, Hayden's infamous sex videos were leaked on the Net. The first installment featured him and Katrina practicing their Celebrity Duets number, "Careless Whisper." They were "dressed" for the part. More videos leaked after that and all hell broke loose.

For the latest Philippine news stories and videos, visit GMANews.TV
Hayden Kho apologizes for the sex video scandal.
Famous words: "Inaamin ko na ang ako ang may pagkakamali," said Hayden in an interview with showbiz reporter Lhar Santiago. This, of course, was an understatement.
Current status: Hayden is exploring other pursuits since he was stripped of his medical license by the Professional Regulation Commission for his on-camera antics. Making a guest appearance on Startalk, Vicki told host Butch Francisco that she and Hayden were through. "No texting, no calling, no seeing, zero anything," she explained.
ADVERTISEMENT - CONTINUE READING BELOW
Love lesson learned: If a guy seems too good to be true, he probably is.
ASSUNTA DE ROSSI & JULIO "JULES" LEDESMA IV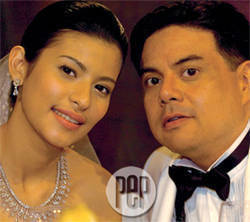 Coupling: The two met in 2002 and their romance became fodder for tabloid news. They got married in civil rites that same year. Assunta was only 21 then, while Jules was 41. They had a lavish church wedding in 2004.
Match up: She was a sexy ingénue who came from a middle class background. He was a quirky-looking widower with two kids who descended from one of the country's landed families. Their height disparity alone made tongues wag. Breaking points: Assunta's family-as well as her fans-were not into Jules. There were also those who said that Assunta was only after Jules' money. On top of this, the couple also had to deal with the kidnapping of Jules' children.

For the latest Philippine news stories and videos, visit GMANews.TV
ADVERTISEMENT - CONTINUE READING BELOW
Assunta de Rossi denies persistent rumors about breakup with Rep. Ledesma.
Famous words: "I did not commit a sin when I married Jules. I did not commit adultery. I did not sell myself. I did not become a prostitute. I did not grab him from anybody. My only fault is I fell in love," said Assunta, who was seemingly surprised why the rest of the world could not see what she saw in Jules.
Current status: Assunta and Jules are still going strong. Theirs may seem like a bad romance to the rest of us, but they're making it work. Go figure. Love, after all, defies logic. In any case, Assunta has not gone back to her frenetic showbiz schedule. Jules, on the other hand, has been cited for his absenteeism in Congress.
Love lesson learned: Fighting for your love is easier when your combination of looks (hers) and land (his) can make everyone shut the hell up.
KRIS AQUINO & PHILLIP SALVADOR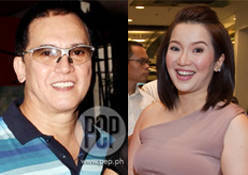 Coupling: Kris and Phillip hooked up on the set of their movie, Nandito Ako, in 1994. Back then, Phillip was still married to first wife Asuncion "Sony" Dabao. Thus, he and Kris couldn't get hitched. So, they lived together. Kris had their son, Joshua, in 1995. The Kris-Phillip hookup was big news practically all over the world. In fact, even The New York Times wrote about how Kris' famous mom wasn't able to attend baby Joshua's christening. Kris and Phillip called it quits in 1999.
ADVERTISEMENT - CONTINUE READING BELOW
Match up: She was the smart and sweet youngest child of former president Cory Aquino and the late revered senator Ninoy Aquino, which was why nobody ever thought she would fall for Phillip, 18 years her senior and known as a "serial womanizer." She was an up-and-coming showbiz darling and he was a past-his-prime star.
Phillip Salvador guests on Today with Kris.
Breaking points: It didn't help that Phillip's then-wife wasn't keen on an annulment and that Kris' family was perpetually lamenting her bad decision. Perhaps, Kris and Phillip's many differences began to take its toll on their relationship. In an interview with the Philippine Daily Inquirer in 2000, Kris even admitted to correcting Phillip's English grammar in front of other people.
Famous words: "It's the right time and the right chance to redeem myself as a daughter. [I don't want to be] left for life carrying a load on my conscience," Kris said right after she decided to call it quits with Phillip in 1999. She was 23 when she chose to run off with him and 28 when she, perhaps, realized that she was meant for greater things. Current status: Kris and Phillip remain friends. Kris is now married to basketball player James Yap, 11 years her junior. Phillip, on the other hand, after splitting from Sony, got involved in a messy relationship with businesswoman Cristina Decena before he got hitched to Emma Ledesma. Phillip even regained some of his luster when he won as Best Supporting Actor for his role in the movie Baler.
ADVERTISEMENT - CONTINUE READING BELOW
Love lesson learned: Reel love often can't withstand reality.
KRIS AQUINO & JOEY MARQUEZ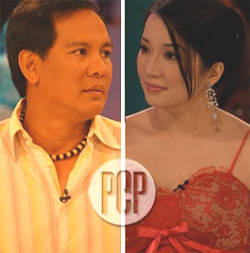 Coupling: Fresh from his breakup with Alma Moreno in 2002, Joey Marquez was interviewed by Kris Aquino on The Buzz. They became an item sometime afterwards. They lived together. Kris became an added mother figure-albeit a very glamorous one-to Joey's children from his past partners. But, by 2003, the two had called it quits.
Match up: Kris had already recovered from her failed relationship with Phillip Salvador when she met actor-politician Joey, who, admittedly, had weakness for women. He was 14 years older than Kris.
Breaking points: Joey's womanizing-as well as his infecting her with sexually transmitted disease-reportedly drove Kris to the edge. It was the perfect brew for the Mother of All Bad Breakups. There was a cocked gun, and a dramatic flight from the love nest.
Famous words: In an exclusive interview with Korina Sanchez about her split with Joey, Kris admitted, "Sinasabi nila that I grabbed at his genitals. I did. I wanted to crush it. Then, sinabi ko, 'Ano pa ba ang kulang sa akin?' Ilang beses mo ba akong kailangang gaguhin?'" Nevertheless, the two appeared to have forgiven each other.
ADVERTISEMENT - CONTINUE READING BELOW
Kris Aquino and Joey Marquez' relationship featured in one of episode of QTV's show, Ang Pinaka.
Current status: Kris has chucked the Joey episode as part of her reckless past. Joey went one step further and joked about not knowing who Kris was. "Sino 'yun?" he asked when a reporter asked him about Kris.
Love lesson learned: If you're drawn to people who might ruin your life, run the other way as fast as you can. (And don't mess with a woman who isn't afraid of, or even perhaps revels in spilling the bitter truth on national TV.)
Photographs from ladyclip.com (Sharon Cuneta and Gabby Concepcion), Erick Lirios for PEP.ph (Ruffa Gutierrez and Yilmaz Bektas), Noel Orsal of PEP.ph (Ethel Booba and Alex Crisano, Vicki Belo and Hayden Kho, Chavit Singson, Joey Marquez and Kris Aquino, Snooky Serna), Elyas Salanga for PEP.ph (Che Tiongson), Emerson Sy for PEP.ph (Assunta de Rossi and Jules Ledesma IV, Phillip Salvador), www.myspace.com/bluejeanjunkiesrock (Nino Mendoza).
Share this story with your friends!
---
Help us make Spot.ph better!
Take the short survey
Load More Stories