On the Spot: Sinosikat's Kat Agarrado
The sultry singer talks to us about Pinoy Soul, stalkers, and the best place to get prawns in Manila.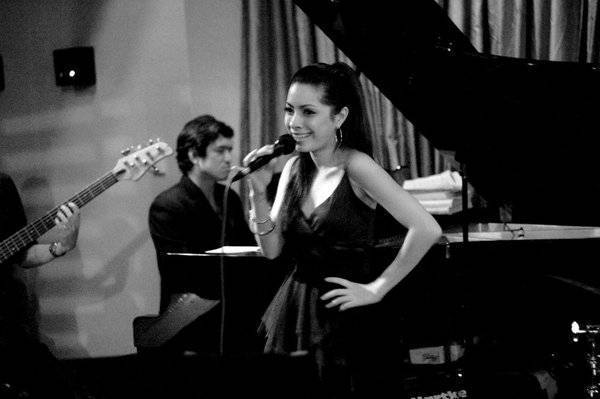 Sinosikat performs at Martini's. Photo by Erving Go
Big surprises do come in dainty packages. Standing at a modest 5"3, Kat Agarrado, the brainchild behind Sinosikat, proves she is more than just easy on the eyes once she unleashes her incredibly soulful vocal chops-the main reason behind her being named Vocalist of the Year at the 2007 NU Rock Awards. Juggling the roles of band manager, image model, and front woman is a tricky deal especially in an industry muddled with so many acts offering different flavors of music.
Many may remember her as that 16-year-old singer of '90s band Passage. But her career actually started a year earlier after she won Ad Faces, a competition which eventually landed Kat her first gig as the female vocalist of Kindred Garden. "I performed with them for six months," Kat recalls, "One night I jammed with Side A at News Bar Café (now Strumms). It was there that [manager] Wyngard Tracy discovered me before signing me up with Passage."
ADVERTISEMENT - CONTINUE READING BELOW
Leading her own band since 2004, Kat is exhilarated. "With Sinosikat I get to write my own songs and music. I have full creative control and freedom. I get to choose the musicians I like and want to work with. There's more love and friendship now compared to just working for the money. But I'm still very grateful to [have been a part of] Kindred Garden and Passage because I have learned a lot from those experiences, and experience, indeed, is the best teacher."
Kat Agarrado opens up about her music, home life, guilty obsessions, and shares some of her favorite Manila hotspots in our exclusive SPOT.ph interview.
CONTINUE READING BELOW
Recommended Videos
Who is Kat Agarrado on a normal day?
Right now, we don't have a manager, so I'm on manager mode. On a normal day, I promote the band online, researching for marketing plans, and thinking, "What's next?" I'm also a dreamer. I love to daydream. I just let my mind wander. Doon nagsisimula yun, sa imagination mo. When you dream, anything is possible, there's no limit. My creativity comes from there.
If you weren't a musician, what would you be?
Ever since I was a kid, alam kong destiny ko na ang kumanta. I went to college but I decided to pursue recording an album. I took Film at the UPFI (University of the Philippines Film Institute). Gusto ko talaga ang cinematography.
Would you ever consider finishing your degree?
Gusto ko pa rin. In life, you never stop learning. Pero ngayon, I have music videos. I get to choose the directors I want to work with. I get to choose the concepts. So it's like I'm still studying film. I'm very hands-on. From concept to editing, I know what's okay and not okay. Ganoon ako kaseryoso sa craft ko, sa trabaho ko. I want to come up with something I can be proud of and show to my kids and my friends.
ADVERTISEMENT - CONTINUE READING BELOW
 �"So Blue" by Sinosikat
You seem like a wild person.
[Laughs] Conservative ako, mukha lang hindi. Sobrang love ko si God. Mukha kasi akong Rock and Roll chick. Pero hindi nila alam na, deep inside, close kami.
Do you have any vices?
Every time I start drinking I'm forced to smoke. I have to stop. That's my goal right now. I'm not getting any younger and I need to get healthy. You have to learn from your friends. I know a lot of people who are in their early thirties who get sick. Kailangan talaga healthy living.
What's your guilty obsession?
Internet! I need to set an alarm. Kapag naka tatlong oras na ako, tama na muna. Imbis na mag-exercise ako, napapa�Facebook ako bigla. It's addicting. I also love to watch movies. I love "Eternal Sunshine of the Spotless Mind" and Tim Burton films like "Big Fish." But the best that I've seen lately is "Avatar."
While on the internet, have you ever read the comments about you being a sexual fantasy?
What the hell? Talaga? Sometimes I just don't want to read [the comments]. But if it's their fantasy, it's their fantasy. They have a right to fantasize. [Laughs]
Have you ever been stalked?
Yes. May mga tumatawag sa akin dati na sasabihin nila lahat ng mga ginawa ko during the day na sobrang detalyado. The worst experience I had happened back in the day when I was still living in alone. Pagpasok ko sa kuwarto, may bulaklak na sa kama ko. I was thinking, "Paano ka nakapasok dito?" Now I live in a big building with guards kaya okay na.
ADVERTISEMENT - CONTINUE READING BELOW
Where do you usually go to escape?
In my room. Ngayon kasi, hindi na ako masyadong mahilig lumabas. I like quiet places. I usually go to the 37th floor of my building tapos doon kami nag-iinuman with friends.
But how about when you do go out?
My favorite spot right now is B-Side or Future in Cubao X. Nandiyan palagi ang mga kaibigan ko. I only go out to see my friends or do gigs. I usually don't go out to party.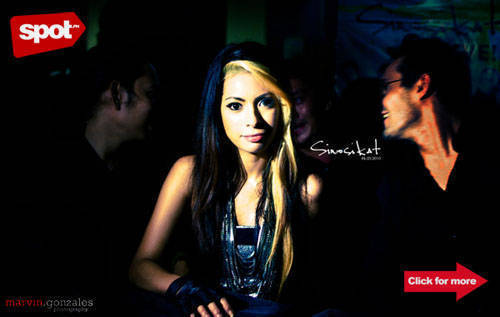 The Kat Agarrado Photo Gallery. Click for more photos.
What's your favorite restaurant in Manila?
The first thing that comes to mind is Adriatico Arms Cafe. It's on Nakpil Street in Malate. Para siyang hotel, pero sa baba niya 'yung restaurant. I always get the Prawns a la Plancha (P550++). It's three beautiful and big prawns drizzled with garlic butter. Wala akong natikmang ganoong kasarap na garlic buttered prawns sa buhay ko. I've been eating there every year since I was 17. I also like Sugi, Pepper Lunch,the Spiral buffet at the Sofitel, pati King Crab sa Greenhills. Actually, I love anything seafood.
ADVERTISEMENT - CONTINUE READING BELOW
What's your favorite seafood spot?
I love going to the Dampa, the one in Parañaque, near the airport.
Where do you guys usually hang out before and after gigs?
We usually we eat after gigs. 'Yung bassist namin, si Noel, sobrang hilig sa pagkain. He discovered this place near MC Home Depot called Slab. They serve ribs at a good price. We also found this place that serves really cheap but really good Filipino food called Cafe Gusto. It's near Cafe Juanita in Kapitolyo, Pasig. We usually go there to have lunch after rehearsals.
Aside from singing and songwriting, what other talents do you have?
Cooking. I love to cook. Para sa akin, art siya. Magaling akong magluto. I make the best sinigang and pastas (seafood, tomato-based, and olive oil-based).
Kat and the rest of Sinosikat for C2
Have you ever done modeling?
I used to do commercials for extra income. I did TVCs for Coke, Tricks hair gel, Araneta Center, Globe, and GSM Blue. As a band, we endorse C2.
You always look fashionable during gigs. Where do you shop?
I'm being sponsored by Guess USA. Pinapahiram din ako ng clothes nina Lotho, Puey Quinones, Frederick Pertalta, Gian Romano, Charmaine Palermo, and the I Love You Store. For shoes, I like to buy from People Are People, Una Rosa, and boots from the ukay-ukays in Baguio. I also shop online for stuff abroad.
What's been your best gig so far?
The recent album launch at McKinley Hill. Our good friend Chico Angeles directed the show. He set up five screens. There were pyrotechnics. The stage design was great. Well actually, halos lahat ng gigs masaya. Iba ang feeling kapag masarap talaga ang tugtugan niyo. Nararamdaman mo na talaga yung music. Parang siyang energy na pinagpapasa-pasahan. Umiikot 'yan sa stage tapos mararamadaman ng mga tao. Seeing people going to your gigs, singing [along to] your songs, and enjoying themselves, iba talaga yung joy. Every gig is special.
ADVERTISEMENT - CONTINUE READING BELOW
What's your favorite gig venue?
Pinaka masarap yung crowd sa Saguijo. It's so intimate at parang mahal na mahal ka ng lahat ng tao. They really listen to you and your music and they really pay attention.
Sinosikat performs "Magic" live at Al's Bar
What usually goes on in your head while performing?
I think all us artists have demons. There are times when you hear whispers in your head [saying,] "You're not good enough" or "Mali ang ginagawa mo" or "Pangit 'yan" but you have to learn how to block them because they affect the way you perform. When I'm on stage I tell those voices, "Shut up!" Ang kalaban ko talaga rito, ang sarili ko. I tell myself "Huwag mo na lang iisipin ang mga sasabihin ng mga tao."
But you always seem to flow smoothly on stage.
It's funny because I've been doing this all my life and I still learn how to perform every time. I just have to enjoy the moment and give it my best. I just let the music move my body. As long as maganda ang sound system, at maganda ang tugtugan namin, automatic siya. When something's off with the sound or something goes wrong, it becomes a domino effect. Nagugulo ang utak ko. So I really have to focus.
How do you react against rude fans?
Ang ugali ko kasi, ayaw kong magtaray. I still want to be polite, kasi siyempre, tao pa rin naman sila, may feelings din sila. Pero minsan, kapag sobra na, alam ko rin ang limit ko. Kapag may malaking concerts, merong diyang mahilig mang-trip or they would gesture na bastos. Hindi ka kasi puwedeng pumatol, dahil unang-una, gusto nila 'yon. Pangalawa, kapag napikon ka, mas matutuwa sila. Minsan sasakyan mo na lang. Tititigan ko lang sila one time then I won't look at them again.
ADVERTISEMENT - CONTINUE READING BELOW
Out of all the songs you've written, what's your favorite?
My favorite is called "Toilet." It's one of the new songs in our album. I actually wrote it when I was 19. Every time I perform it, I remember that [period]. Plus siya talaga 'yung pinaka-natural kong kanta. 'Yun talaga ang boses ko. 'Yun talaga ang landi ko when I perform it on stage. I think it's the song that shows the very groove of Sinosikat.
You already collaborated with Urbandub on "Inside the Mind of a Killer," which other artists would you love to do a project with?
Radioactive Sago Project! Favorite ko sila. Every time I watch them perform, I'm amazed. Also Bamboo, because Vic and Nathan are my "brothers". I even did back-up in their first album.
What other local bands do you love watching perform live?
Yosha. I love seeing them. Sa sobrang galing nila, nakaka-frustrate. [Laughs] I get inspired by their music. Maganda rin ang samahan nila.
You describe your music as Pinoy Soul, what exactly is it?
Pinoy Soul is a little bit of everything. Ang mga Pinoy mahilig sa love songs, rock, funky and upbeat songs, ballads, and a little bit of jazz. Sila Julianne, Yosha, Up Dharma Down, at kahit Radioactive Sago Project, para sa akin, may soul sila. It's soul music but it's purely Pinoy, hindi tunog foreign. It's not Mo-Town. I really want to promote Filipino music. I want to promote our culture through music. It's one of my dreams to make OPM original. Hindi panay covers na lang or hindi palaging nanggagaya na lang. I want to make our motherland proud.
ADVERTISEMENT - CONTINUE READING BELOW
"Never Say I Didn't Love You Back" by Sinosikat?
What's your songwriting process?
I write most of our songs. Yung ibang tracks, si Nick, our guitarist. I can write songs if I'm forced to, pero iba pa rin ang mga kantang biglang darating na lang sa'yo. 'Yun siguro ang magic ng songwriting process. Mapapasabi ka lang ng, "Wow. Ako ba ang nagsulat nito?" Recently, kumakanta ako sa panaginip. Pinipilit ko agad gumising tapos naka-capture ko lang mga ilang verse at chorus. Kapag ganoon, kailangan kong tapusin agad kasi mawawala na agad siya.
Why did you take two years to come out with a new album?
Importante kasi sa akin ang growth. I don't want to rush the second album's release just because the first one was a success. Gusto ko mayroong time mag-tour, mag-promote, mag-sulat. In time, the band also evolves musically. Para kapag pinakinggan mo 'yung first and second album, hindi sila magkaparehas.
What's the difference between the first and second album?
Since most of my songs are autobiographical, these albums are like diaries. They show you where you are in life the moment you produce them. So the first album, I was more in love. On this second album I was hurt, but it's funkier because we have a new keyboardist and bassist.
Where do you see yourself in the future?
Five years from now, superstar na ako. Then ten years from now, superstar pa rin ako, but married with a family. [Laughs] I told you I liked to daydream! But five to ten years from now, I'd still be singing. Ang mga idol ko, sina Ella Fitzgerald and Nina Simone, mamatay na sila, tumutugtog pa rin. I see myself doing that. I'm really a musician, a performer, and an artist. Hopefully I'll be traveling the world and touring. Why not? [Laughs]
ADVERTISEMENT - CONTINUE READING BELOW
�
Check out Sinosikat.com for more information on Kat Agarrado and the band. Watch them for free on May 15, 9 p.m. at the Greenbelt 3 Park. The Kat Agarrado quartet performs every Friday night this month at Le Bar. Sinosikat's "2nd Album" is available in record stores nationwide.
Photos provided by Kat Agarrado.
Photographers: Erving Go, Luann Dionisio, Marvin Gonzales, and Roxanne Nebres.

---
Help us make Spot.ph better!
Take the short survey
Load More Stories