10 Sexiest Pinay Lead Singers
SPOT.ph's hot list of the hottest rockin' rocker chicks in the Pinoy band scene.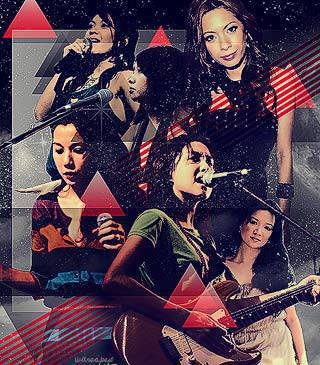 Although music is not gender-specific, it is the men who generally stake a claim on rock stardom. These women dispel the myth that the male species has dibs on rock and roll, supplying the music industry a dose of sugary yet profound, and oftentimes sexy music. SPOT.ph lists 10 women who can rock with the best of them, yet still look sexy in the process.
ADVERTISEMENT - CONTINUE READING BELOW
CONTINUE READING BELOW
Recommended Videos
Kat Agarrado of Sinosikat?
Sinosikat?'s "Magic" music video
Kat Agarrado is, simply put, the epitome of sexy. Oozing with copious amounts of sexiness, she can convert any non-believer by merely singing a line or two from Sinosikat?'s roster of Pinoy Soul hits.
High note: Her sincerity in "Turning My Safety Off", groovy angst in "Sino?" and somberness in "Nung Iniwan Mo Ako" have made her the definitive songstress of soul. She also throws in sultry renditions of Erykah Badu and Jeff Buckley songs for good measure.
Hot act: Every sway of her hip and every steamy stare gives more credence to the legend that Sinosikat? gigs are not for the faint-hearted.
Cooky Chua of Color It Red
Gloc-9 performs "Tao" with Cooky Chua at MYX Live.
Back when P-Noy probably still had a full head of hair, Cooky Chua became the ultimate female lead vocalist. Three and a half presidents later, she still has the sweetest face this side of OPM.
ADVERTISEMENT - CONTINUE READING BELOW
High note: The poignant words of "Paglisan" were made even more stirring when given life by her ethereal voice. Her versatility was highlighted when she collaborated with Razorback's Kevin Roy ("Jam"), fellow 90s kid Wency Cornejo ("Walang Hanggan"), folk legend Noel Cabangon and, yes, even Gloc-9 ("Bakit?" and "Tao").
Hot act: Her pure beauty and unassuming rock chic puts Cooky Chua at the top of any list with the words "Pinay" and "vocalist" in them-regardless if its 1995 or 2010. The fact that she is able to share the stage with Gloc-9 and still sound fresh is a gift that only she can possess.
Sarah Gaugler of Turbo Goth
Turbo Goth's "Morning Swim" music video
Between tattooing, teaching art history at The One School, designing album art for bands like Rivermaya and Orange and Lemons, and fronting electronic rock duo Turbo Goth, the doe-eyed Sarah Gaugler still has the time to look drop dead gorgeous.
ADVERTISEMENT - CONTINUE READING BELOW
High note: Gaugler showcases her dream pop sensibilities in Turbo Goth's "Morning Swim". She, together with Turbo Goth partner Paolo Peralta and Gloc-9, also appears on the track "Buzzkill" in OPM legends Ely Buendia and Francis Magalona's In Love And War.
Hot act: As a bona fide artist who can get away with gracing the cover of a men's magazine, her sexiness surpasses the realm of looks. So what can Sarah Gaugler not do, you ask? Be boring and unattractive, that's what.
Nicole Asensio of General Luna
General Luna's "Red Heaven" music video
What's better than one hot girl in a rock band? How about five hot girls in a rock band? Enter General Luna, a five-piece rock act fronted by the foxy Nicole Asensio. Joining her are four equally stunning beauties Bea (drums), Alex (bass), Caren and Audry (guitars).
ADVERTISEMENT - CONTINUE READING BELOW
High note: Backed up by the industry's finest (Ebe Dancel, Monty Macalino, Japs Sergio, Francis Brew Reyes and Angee Rozul) through producing roles, she flaunts her singing chops in the epic "Nandito" and the hard-hitting "Red Heaven".
Hot act: With five dazzling women each doing their own thing onstage, it is no surprise that General Luna's gigs are flocked by the male populace.
Barbie Almalbis-Honasan, formerly of Hungry Young Poets and Barbie's Cradle
Hungry Young Poets' "Firewoman" music video
A longhaired Barbie Almalbis singing "Firewoman" under the rain, beaming her ever winsome smile. That was back in 1997, when the Hungry Young Poets were, well, hungry and young. These days, Almalbis-with shorter hair-is still smiling as she plays the role of wife and mother, while occasionally picking up the guitar for a gig or two.
ADVERTISEMENT - CONTINUE READING BELOW
High note: Almalbis has always had that sweet yet wistful tone in her voice, even when she's serenading the "Torpe" bunch or when she's discussing the perils of being a singer in "Money For Food."
Hot act: Almalbis exudes an ideal blend of innate beauty and talent, which has made thousands of fans across the country hungry for more. In 2006, however, Barbie Almalbis got hitched. Across the country, thousands of hungry young poets' hearts got broken.
Beng Calma-Alcazaren of Drip
Drip's "Song #9" music video
Electronic live act Drip will go down in OPM history as arguably the sexiest band, introducing a brand of trip hop infused with sexy beats-and an even sexier frontwoman.
High note: Drip's trademark of hypnotic drum and bass (concocted by renowned beatmasters Morph and Caliph8) is complemented by her seductive voice in the songs "Song #9" and "Morning After". She also contributed in the tribute album Kami nApo Muna with the song "Kabilugan ng Buwan"-remarkably sexy-ing up the APO Hiking Society original.
ADVERTISEMENT - CONTINUE READING BELOW
Hot act: Her goddess-like aura and sensual swagger when performing (complete with gyrating of the hips) is more than enough to land her a spread in the pages of FHM.
Lougee Basabas of Delara
Delara's "Masarap Nga" music video
Taking over the vocal duties of an already established band is never easy, but the perky Lougee Basabas was able to do so with velvety grace. With the Mojofly drama behind her, she is starting anew with new band Delara.
High note: While Delara's sound is admittedly heavier (not exactly "Mata" material), her voice is still able to spruce up guitar-laden tracks "Gumising Ka" and "Masarap Nga."
Hot act: Her hosting stint with Eat Bulaga is probably the best thing that ever happened to noontime television, a breath of fresh air from the otherwise customary setting of skimpy outfits and crude jokes.
ADVERTISEMENT - CONTINUE READING BELOW
Aia De Leon of Imago
Imago's "Akap" music video
Imago is perhaps the best at documenting love, or in most cases, lack of love. At the helm is the dainty Aia De Leon, vocalist, guitarist, songwriter and all around pretty girl. She is not the only female in the band though, sharing the stage with bassist Myrene Academia.
High note: When she is not rocking her socks off on danceable tracks like "Anino" and "Taralets", she wears her heart on her sleeve on forlorn love-odes "S.R.O.", "Akap" and "Sundo".
Hot act: Her self-assured vibe when playing the guitar or simply grooving to the tunes makes her the quintessential lead vocalist.
Armi Millare of Up Dharma Down
Up Dharma Down's "Hiwaga" music video
By winning the Best Female Award at the 2006 NU 107 Rock Awards, Armi Millare proved that even lonely breakup ballads deserve credit. Despite her recent foray into mainstream television via GMA's Party Pilipinas, she keeps her indie cred intact and still holds the keyboarding, writing and singing duties for her band Up Dharma Down.
ADVERTISEMENT - CONTINUE READING BELOW
High note: Her strong pipes combined with the sweeping music of Carlos Tañada (guitars), Paul Yap (bass), Ean Mayor (drums) have produced breakup ditties "Oo" and "Sana", as well as throbbing numbers "Maybe" and "Every First Second". She can make jaws drop with her rendition of Tears for Fears' "Mad World."
Hot act: Whether it's opening for Incubus or filling SaGuijo to the roof, she has become the default queen of the hipster set. Her intense and heartfelt performances send indie fanboys into a frenzy, bewildered if they should bob their head to the music, or give her a warm hug.
Kitchie Nadal, formerly of Mojofly
Kitchie Nadal's "Huwag Na Huwag Mong Sasabihin" music video
A close-up of her expressive eyes and charming face, mixed with her pleasing voice and lyrical prowess are the only ingredients needed to make a music video, Kitchie Nadal-style.
ADVERTISEMENT - CONTINUE READING BELOW
High note: She broke through the mainstream with the song "Huwag Na Huwag Mong Sasabihin," earning a spot at every TV show imaginable. But it was the songs "Another Day" and "Scooter Boy" that brought her pretty face under the klieg lights.
Hot act: After finding God and endorsing a slew of products, she has brought her act overseas, leaving her fans in the Philippines even more anxious to once again see her perform.
Artwork by Warren Espejo.
Are you sure you want to delete this list?

Load More Stories