10 Most Charitable Filipino Celebrities
We list 10 Filipino celebrities who go out of their way to lend a hand and make a difference.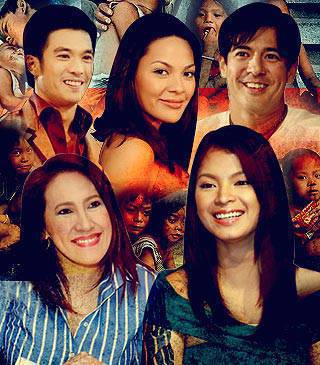 Celebrities are often stereotyped as creatures of glitz and glamor-nothing more, nothing less. But there are some of them who want to lend a hand and make a difference despite the trappings of fame. SPOT.ph lists 10 Pinoy celebrities who have touched people's lives through their humanitarian works.
ADVERTISEMENT - CONTINUE READING BELOW
Advocacy: Providing education, home and good health for the poor
Charitable institutions: Gawad Kalinga; World Vision (389 Quezon Avenue corner West 6th St., Quezon City; Tel. No. 374-7618 to 28); Philippine National Red Cross (Bonifacio Drive, Port Area, Manila; Tel. No. 527-0000)
Social contribution: Queen of all media Kris Aquino surely knows how to give back. A passionate donor, Kris wisely uses her fame and fortune in influencing more people, including her friends, to support her advocacies.
Inspired by the late President Cory Aquino's plight in battling cancer, she collaborated last year with Jul B. Dizon Jewellery to produce a 20-piece collection, proceeds of which go to the Philippine National Red Cross (PNRC). Philip Stein, which is one of Kris's many endorsements, has also given in 2008 a substantial amount of donation to PNRC to be used to purchase a platelet incubator that will significantly help the Red Cross in collecting blood for health purposes.
CONTINUE READING BELOW
Recommended Videos
ADVERTISEMENT - CONTINUE READING BELOW
For her other charity works, Kris fulfilled her promise to Gawad Kalinga in helping them finance more houses this year by funding ten houses for destitute families in Ajuy, Iloilo.
More notably, Kris is also a staunch supporter of World Vision. To date, she is said to be sponsoring a total of 319 children through its community-based Area Development Programs (ADPs), which ensures education, good health, values formation, protection and active participation in the improvement of their communities.
But Kris doesn't stop there. Last June, she went to distributing school supplies to some 2,000 elementary school pupils of Tarlac, Cebu and the Payatas community in Quezon City as part of her plans to annually distribute school supplies to the needy. Her next stop: Mindanao.
Gravity of involvement: It is a known fact that Kris only supports charities that she feels a personal connection with. Specifically for GK, when she started supporting the advocacy three years ago, as influenced by her mom, she has already granted 10 houses to families in Iloilo. What's more is, this 2010, she plans to build an entire village to serve more Filipino families.
ADVERTISEMENT - CONTINUE READING BELOW
Words of wisdom: "Because of my personal experience with my son [Josh, who has special needs], I wanted to be able to give my thanks for his progress by helping other kids. Kasi, 'di ba, ganun iyon? In all the devotional books I read, when you're blessed, that's because God wants you to be an instrument to share the blessings."
ADVERTISEMENT - CONTINUE READING BELOW
Advocacy: Bringing the real spirit of Christmas to less fortunate children
Charitable institution: Jollibee's MaAga ang Pasko (6/F Jollibee Plaza, 10 F. Ortigas Jr. Road, Ortigas Center, Pasig City; Tel. No. 688-7133)
Social contribution: If you don't believe in Santa Claus, then better believe in Aga Muhlach-because for 15 years now, he has continuously provided kids with gifts, including toys, books and writing pads, with the end-goal of restoring, if not instilling, in them the joy of Christmas.
A vision and mission shared with Jollibee Foundation, Aga has remained solid in his passion for the welfare and development of underprivileged kids through MaAga Ang Pasko, which is the country's longest-running gift-collection and gift-giving campaign drive.
Remarkably, with his whole family in tow, Aga has been able to bring this campaign to a national level by encouraging more people and volunteers in supporting this cause by means of donating to their caravans.
ADVERTISEMENT - CONTINUE READING BELOW
Gravity of involvement: Over the years, Aga has distributed more than 1.5 million toys and books to Filipino children. Of his plans for this year, he targets to help more children in need: "I really pray for it para mas maraming matulungan na mga nangangailangan. Hindi lang Pasko kundi buong taon kung pagpapalain tayo ng Panginoon na mabigay sa ating lahat 'yun so humihingi ako ng suporta kaibigan at kakilala ko kung pwede niyo akong matulungan para makaikot tayo sa buong Pilipinas."
Words of wisdom: "Seeing young kids and grown-ups pitching in to make other children happy never fails to brighten my day. The young Jolly Toy Scouts get to really understand the value of sharing and that's what I want my own kids to learn especially at a young age. I'm proud to be a Jolly Toy Scout myself."
ADVERTISEMENT - CONTINUE READING BELOW
Advocacy: Paying it forward
Charitable institutions: P.E.T.A. (Unit 706, Fedman Building, 199 Salcedo Street, Legaspi Village, Makati City; Tel. No. 817-5292); K.I.D.S. Foundation (2/F Xenon Bulbs, 341-A G. Araneta Avenue, Brgy. Santol, Quezon City; Tel. No. 714-3946)
Social contribution: Adding to his already impressive resume, Diether Ocampo, Filipino actor and social entrepreneur, is one of the country's celebrity philanthropists to be reckoned with. Not only is he a spokesperson for the international advocacy group, People for the Ethical Treatment of Animals (P.E.T.A.), Diether has also spearheaded the formation of Kabataan Inyong Dapat Suportahan (K.I.D.S.), which is an non-governmental organization that helps the underprivileged kids of the country.
Admirably, in just six years, his humanitarian efforts had already been globally recognized. In early 2009, he received a special invitation from Harvard University to participate in the school's On-Campus Conference Harvard Project for Asian and International Relations (HPAIR).
This was after submitted an essay to the HPAIR that examined the youth's right to suffrage. He writes: "...The rest remain uninformed on how they can help initiate change in their communities by exercising their voting rights. Our voices must be heard. The youth leaders in Asia must unite and present a resolution among our governments and international bodies to involve us as key partners and advocates."
ADVERTISEMENT - CONTINUE READING BELOW
Inspiring and passionate in fighting for his cause, Diether then landed on the December 2009 cover of Reader's Digest Asia, alongside other inspiring Asians.
Gravity of involvement: When Diether started K.I.D.S. in 2004, he initially provided medical assistance to children with cancer. But through the years, he said, "the foundation grew and eventually branched out to giving educational scholarships and donating books to public schools." And for 2010, Diether hopes that more people will support worthwhile causes to promote optimistic changes to the country.
Words of wisdom: "One day, I realized it's difficult to do it alone, to sustain the projects I have in mind. So despite the risk of being misunderstood by my friends, I thought it [would be] wise to open up to them and revealed my desire to share and to continue sharing to our less fortunate children."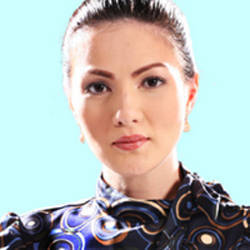 ADVERTISEMENT - CONTINUE READING BELOW
4. CARMINA VILLAROEL

Advocacy: Providing children with better lives
Charitable institution: Philippine Orthopedic Center (Ma. Clara St. corner Banawe St., Quezon City; Tel. No. 711-4276 to 80); Philippine Society for Orphan Disorders (24D Goldland Plaza, 8 Eisenhower St., San Juan; Tel. No. 725-6519)
Social contribution: Carmina Villarroel is a natural giver to children. Awakened by the value of motherhood, she has become committed in offering her time and effort just to bring joy to disadvantaged kids. Already an annual tradition, Carmina celebrates her birthday at the Philippine Orthopedic Center where she treats child-patients with food, gifts, games, and entertainment, aiming to alleviate both their physical and mental pain.
She has also actively rendered her support, together with husband Zoren Legaspi, to the Philippine Society for Orphan Disorders, which point towards increasing public awareness on rare disorders in the Philippines, such as Pompe Disease, Gaucher Disease, and Methymalonic Acidemia, among many others.
ADVERTISEMENT - CONTINUE READING BELOW
As one of its spokespersons, Carmina constantly helps PSOD in bringing across its message through various media exposures, as well as by being part of a photo library used for its awareness campaign.
Gravity of involvement: Cynthia Magdaraog, president of PSOD said: "One of the most of memorable experiences for our children beneficiaries was their photo session at the Manila Oceanarium with Carmina. She just finished an overnight taping early in the morning. In spite of being so tired and sleepy, she quickly proceeded to join the children's photo sessions. She made them smile and played with them and we noticed her sincere effort to get to know each and everyone of the patients. Whenever there was an occasion for awareness/fund-raising campaign, Carmina, as well as Zoren and their twins, would be there to support our organization. For PSOD and the children, we not only have an advocate but a true friend in Carmina and her family."
ADVERTISEMENT - CONTINUE READING BELOW
Words of wisdom: "Simula noong nagkaroon ako ng anak, mas lalo 'yung attachment ko sa kids. They really have a soft spot in my heart kasi parang inisip ko, what if 'yung mga anak ko 'yung nasa kalagayan nila? Masyado akong nata-touch kapag mga bata na 'yung affected."
ADVERTISEMENT - CONTINUE READING BELOW
Advocacy: Championing women's rights and saving lives
Charitable institution: Gabriela; Philippine National Red Cross
Social contribution: Dubbed as the Philippine's Angelina Jolie in terms of philanthropic efforts, Angel Locsin is indeed one of the very few Filipina celebrities who wholeheartedly commit their time, despite it being hectic, just to bring change in the lives of the needy.
Angel is a staunch supporter of Gabriela-an organization that addresses the issues of human rights, poverty, violence, and sex trafficking, among others-and the Philippine National Red Cross (PNRC), where she currently serves as its ambassadress.
As one of her notable charitable acts, Angel spearheaded an online shop called Shop & Share (alongside her co-Kapamilya celebrities, Kris Aquino, Anne Curtis, and Dimples Romana) to benefit those who have been greatly wrecked by Typhoons Ondoy and Pepeng. Proceeds of the sales went to the PNRC's relief operations.
Gravity of involvement: True to her name, Angel is a herald of good deeds on earth. As a silent worker, she usually goes out of her way to help the disadvantaged without requiring publicity of any sort. She goes to the Payatas Community sans makeup and assistants. No celebrity status. No celebrity demands. Said Lynn Garcia, immediate past president of the national youth council of PRC: "'Pag tumulong siya, bukal talaga sa kalooban niya dahil gusto niya talaga tumulong sa mga nangagailangan."
ADVERTISEMENT - CONTINUE READING BELOW
Words of wisdom: "Tayong mga nasa industriya, meron tayong mga gamit na sobra sa atin, medyo may kamahalan, pero hindi naman natin puwedeng gamitin nang sabay-sabay, 'di ba? So, ibinabahagi namin 'yung mga gamit namin sa ibang tao na mai-enjoy nila 'yung mga gamit, at the same time, makakatulong din."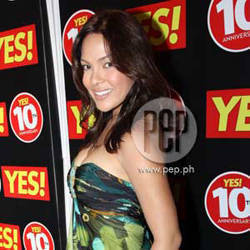 6. KC CONCEPCION
ADVERTISEMENT - CONTINUE READING BELOW
Advocacy: Feeding the hungry
Charitable institution: United Nations' World Food Program (5/F JAKA 2 Building, 150 Legaspi St., Legaspi Village, Makati City; Tel. No. 750-2561)
Social Contribution: From the Ambassador of the Philippine National Red Cross, we now go to the lady ambassador who fights hunger-KC Concepcion. As the national ambassador for United Nations' World Food Program (WFP), KC is only the third to be chosen from Southeast Asia after going on a three-month screening process in 2008 and got approved by three offices: Rome, Vatican and Thailand.
Sincere and determined, KC even went to as far as war-stricken Mindanao just to provide kids with nutritious hot school meals to keep them going all day. But to raise more funds in feeding the hungry, just last month, she opened an online auction site called KC's Closet Fights Child Hunger, which includes her personal signature items, such as bags and dresses. Proceeds of the sales will benefit the WFP's Emergency Food for Education Initiative, which currently supports around 70,000 children in Mindanao.
ADVERTISEMENT - CONTINUE READING BELOW
Gravity of involvement: According to Stephen Anderson, WFP country director and representative: "KC is very passionate and tirelessly works to promote awareness about the issue of hunger and also the programs of the WFP in the Philippines. She has also raised a significant amount of resources for WFP's program in the country, even generously sharing her own belongings and resources, an example of which is the online auction, KC's Closet Fights Child Hunger, an idea which personally came from her. Whenever possible, she likes to go to the field (in the conflict-affected areas of Mindanao and typhoon affected places in Luzon) to visit WFP program and talk to the beneficiaries."
Words of wisdom: "Youth can advocate for change, for our environment, and provide a voice for struggling children and families. And [they can also provide] comfort to those who are affected [by violence]."
ADVERTISEMENT - CONTINUE READING BELOW
Advocacy: Making a difference in a child's life through education
Charitable institution: World Vision
Social contribution: Lea Salonga is not only a world-class singer and Broadway star but is also a world-class philanthropist. As the ambassador of World Vision Philippines' flagship program called Child Sponsorship, Lea has given freely her voice in urging more Filipinos to help send poor children to school by sponsoring their education.
During her spare time, she helps out in various World Vision activities to bring across their message of hope among deprived children. And just last December, she staged a successful two-night concert titled "Lea Salonga: Your Songs," where she donated part of the proceeds to World Vision Typhoon Ondoy Response.
Bringing her advocacy overseas, it was reported that Lea, together with a group of Filipino volunteers, raised a total of P9.299 million and was even applauded by the Department of Foreign Affairs and Filipino officials based in Hawaii.
ADVERTISEMENT - CONTINUE READING BELOW
Gravity of involvement: Lea's involvement with World Vision started when she was chased down by one of the charity's mall booth volunteer. From then on, she feels more than grateful to have joined the organization. She said, "It is a gift. It's an opportunity not so many people realize the importance. When you're equipped with the knowledge and skills to navigate this world, then you become a success story."
Today, according to World Vision, "Lea wholeheartedly takes time off when she can to help out and be present in various World Vision activities trying to win as many people to sponsorship."
Words of wisdom: "I'd like to see how far they can go as far as education is concerned, this is something I really want to watch closely. It's really great that you can tract their progress... Then, who knows, they become scientists or educators... it's amazing what can happen."
ADVERTISEMENT - CONTINUE READING BELOW
Advocacy: Making a difference
Charitable institution: Elsie Gaches (Alabang Zapote Road, Alabang Muntinlupa City; Tel. No. 807-6023); Touch-A-Heart Foundation; Ploning Foundation (email: jourdansebastian@ploningthemovie.com)
Social contribution: Judy Ann "Judai" Santos definitely knows how to touch the hearts of the Filipino masses-and helping them is one of her many ways. During her early days in showbiz, Judai began supporting the cause of Elsie Gaches, a village in Muntinlupa City that provides aid and comfort to mentally challenged people.
ADVERTISEMENT - CONTINUE READING BELOW
Her helping hand also extends to the indigenious people. In 2004, she initiated the Touch-A Heart Foundation, which aims to address the educational and agricultural needs of a community of Aetas in Bataan, as well as to provide medical supplies for a hospital in Cuyo Island, Palawan.
When it comes to giving a hand to her colleagues in the business, Judy Ann remains to be a solid provider. Together with director Dante Nico Garcia, they launched the Ploning Foundation on February 2009 to inspire filmmakers to make quality projects intended for a global audience. It was also reported that Judy Ann plans to work on a housing project to help revive the careers of veteran actors, small-time comedians and action film sidekicks.
Gravity of involvement: Judy Ann holds her charities close to her heart. She said: "Nagsimula kami sa mga special children sa Elsie Gaches. Nagbigay kami ng mga pagkain, gamot at ilang mga regalo para matuwa naman sila sa pagpunta namin. 'Tapos sumunod ang mga bata sa Tondo area hanggang sa mag-reach out na kami sa Aeta community in Zambales." Bringing her advocacy to the small screen, in 2001, Judy Ann played an Aeta in ABS-CBN's Maalala Mo Kaya episode, titled "Basket," to further raise awareness about the plight of the Aeta groups in the country.
ADVERTISEMENT - CONTINUE READING BELOW
Words of wisdom: "Special sila [Aeta community] sa akin mainly because nakatrabaho ko na rin ang ilan sa kanila... So sila ang naramdaman ko na kapag binigyan mo sila ng tulong, ma-a-appreciate nila nang husto. As in, makikita ko sa mga mukha nila na masayang-masaya sila dahil naaalala mo sila. Kaya kami sa Touch-A-Heart, we try our best na buwan-buwan ay mapadalhan namin sila ng tulong. Kahit na manggaling pa ito sa sarili kong bulsa."
ADVERTISEMENT - CONTINUE READING BELOW
Advocacy: To "put a smile on everyone's faces"
Charitable institution: Missionaries of Charity (1030 Tayuman Street, Tondo, Manila; Tel. No. 255-0832)
Social contribution: Comedy box-office queen Ai-Ai delas Alas has been in the public eye for more than a decade now. But there are still some things about her that the public do not know-including the tradition she keeps with her kids every Christmas. For the past 17 years, her family has been quietly spending their mornings with the Missionaries of Charity in Tondo, bringing in food and presents, as well as hosting a Christmas program for the young orphans and the elderly.
She was once quoted as saying: "Noon pa 'to, baby pa lang 'yong panganay ko [Sancho]. Kasi naniniwala ako na tayong lahat, may purpose tayo. 'Bakit ako artista? Bakit ako nakakaangat ng konti sa buhay?' So, sine-share ko 'yung blessings kasi, alam ko, in my heart, isa 'yun sa calling ko... 'Tsaka 'yong mga bata [her children], nalalaman nila 'yong essence ng Christmas at essence ng pagtulong."
ADVERTISEMENT - CONTINUE READING BELOW
Gravity of involvement: Bringing her generosity to another level, Ai-Ai was also reported to donate a huge amount of money to the said orphanage in 2009, after receiving her bonus from the ABS-CBN management, following the success of her movie Ang Tanging Pamilya.
Words of wisdom: "Continuous pa rin 'yung pagtulong ko every Christmas sa Missionaries of Charity sa Tondo [Poorest of the Poor, which is run by the Sisters of the Missionaries of Charity-the same order of nuns Mother Teresa belonged to]. I always try to share every blessing I got sa mga nangangailangan."
ADVERTISEMENT - CONTINUE READING BELOW
Advocacy: Encouraging the private sector to help enhance youth access to education
Charitable institution: Yes Pinoy Foundation (G/F Unit D, PB Dionisio Building, 27 A. Roces Avenue, Quezon City; Tel. No. 217-6809); Project Aklat (email: info@nationalbookstore.com.ph)
Social Contribution: If there's one gift Dingdong Dantes wants to give to the thousands of Filipino children, it got to be education.
As the founding chair of Yes Pinoy Foundation (launched August 2009), Dingdong targets at helping build a new generation of top-notch Filipinos, by granting scholarships, with the support of his industry associates, friends in government and people in social movements.
Luckily, the National Book Store, through its Project Aklat, also showed its support to his advocacies by donating 5,000 school supplies and study kits for the distribution to the schools struck by Typhoon's Ondoy and Pepeng. And Dingdong couldn't be any happier.
Gravity of involvement: Dingdong is quite consistent in saying that education for the youth is one of the reasons why he put up the foundation. He said: "I founded the Yes Pinoy because of my desire to help the youth, those who could not afford but are willing and deserving, to obtain quality education and be able to realize their dreams."
ADVERTISEMENT - CONTINUE READING BELOW
As the founding chair, he admits that he is hands-on. "Even with my busy schedule I make time to personally attend to the various activities of the foundation. Currently, we are busy with the scholarship aspect of Yes Pinoy and will add more scholars in the coming terms. As to future plans, we would like to reach more because we are currently focusing on helping children of fallen marines. Another of our plans is to institutionalize our "Oplan Restore Paaralan," which we successfully conducted last October 2009 at a Pasig public school after the [Typhoon] Ondoy wrath. The plan is to conduct this activity on a regular basis so we can rebuild more and even construct new ones, especially in far-flung areas in the countryside."
Words of wisdom: "I believe kasi, education ang pinakamalakas na tool at pinakamalakas na katangian na puwedeng ibigay sa isang kabataan. So, it's one thing that I would like to protect."
ADVERTISEMENT - CONTINUE READING BELOW
Artwork by Warren Espejo. Photos by Noel Orsal, additional photo (Carmina Villarroel) from iGMA.tv.

Share this story with your friends!
---
Help us make Spot.ph better!
Take the short survey
Load More Stories