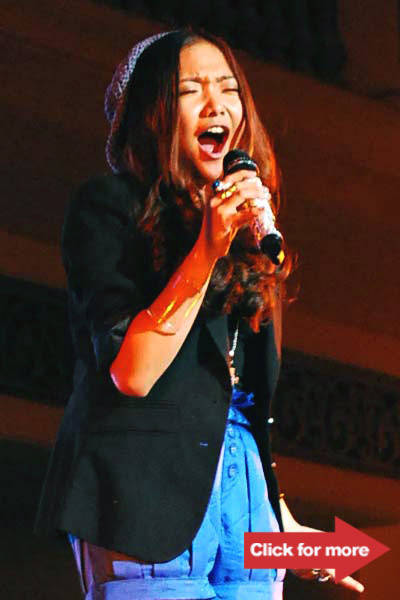 Charice Pempengco performs at Resorts World Manila on July 15. Click for more photos
International pop star Charice Pempengco has haters. A good number of them don't hold back when they say she's not good enough for the mind-boggling opportunities that come her way, the latest one being her stint on Glee. Still, nobody should be surprised that she can ignore the bitter rants and remain bubbly. She's been through so much worse.
Just like Oprah
Like her good friend Oprah Winfrey, Charice's childhood was troubled. In the November 2009 issue of YES!, Charice's mother Raquel revealed that Charice's father had been a drug addict who was prone to violent fits. In the same interview, Raquel recounted how her husband had kept the then two-year-old Charice away from her for three weeks. When he brought back Charice to her, the girl was horribly thin. It turned out that she had been eating plastic fruits. "Akala ko, Mommy, totoo, kaya kinain ko eh," Charice had told Raquel.
ADVERTISEMENT - CONTINUE READING BELOW
When Charice was three, Raquel finally decided to leave their home. Raquel went on to raise Charice and her brother Kokoy on her own. But that wasn't the end of Charice's travails. A perennial winner in provincial singing contests she joined starting at seven years old to earn money for her family, she was constantly being picked on by her competitors. Then, in contests like Bulilit Kampeon, Birit Bulilit, Magandang Tanghali Bayan's "MTB Popstar" and "Little Big Star," Charice had to be content with the second or third place. When her career started to take off, she had to deal with naysayers who attacked her looks and height. "Tulad nga po ng sinabi ko no'ng nag-guest ako sa SNN, ''Tong pangit na 'to, na-discover nila,'" she told YES!
Charice Pempengco performs "In This Song" at Resorts World Manila on July 15.

Going viral
In 2007, 15-year-old Charice hit karmic pay dirt, when the video her fan Dave Duenas uploaded on YouTube caught the attention of Ellen DeGeneres, who invited her to perform on The Ellen DeGeneres Show. Soon enough, Charice flew to the States. She later bowled over US talk show maven Oprah Winfrey. It wasn't long before she was rubbing elbows with international music stars like Celine Dion, Andrea Bocelli, David Foster, and, most recently, Justin Bieber.
To date, Charice has topped the Billboard Dance Charts in May with her first single "Pyramid" from her self-titled album. She also appeared in Alvin and the Chipmunks: The Squeakquel. Now, everyone is waiting for her appearance in Glee.
Jumping with Glee
Charice has landed a plum role in "Glee," as a Filipino (as she and her mother insisted to the producers) exchange student who will give the show's resident drama queen Rachel Berry (played by Lea Michele) such "a run for her money," that Berry gets so competitive she "contemplates murder." Taping on July 28 or 29 for 10 out of 20 episodes of the show's second season, Raquel told reporters after the press conference. "'Di naman puwedeng mag-full [season] si Charice kasi madami din siyang commitment sa America."
Charice said, "Talagang di ako nag-expect na makakapasa ako kasi talagang that time nanginginig pa ako." To prepare for the show, Charice said she is working on her accent and acting skills, "Ang pinakaimportante po talaga ay 'yung acting. Dun po kami nagfofocus talaga." She is also taking voice lessons for the role, something that might come as a surprise to anyone who has heard her sing in person or even on TV. The petite singer showed off her vocal prowess at the concert after the press conference.
ADVERTISEMENT - CONTINUE READING BELOW
Little girl no more
Clad in high-waisted blue shorts, a boyfriend jacket and platforms--far from her frilly dresses and neneng look of yesteryear--and using a glittery Hannah-Montana-esque microphone, she dominated the stage with her thunderous voice. She even had some of the well-heeled crowd of Resorts World Manila, located at the posh Newport City in Pasay, gamely gesturing the Pyramid hand sign.
She addressed the audience in a mix of Filipino and English with a slight American twang. In between songs, she playfully announced her need for air or water, and even once quipped, "Nagutom ako 'dun," after seemingly effortlessly belting out songs. She performed only six numbers--our trip to the venue from Mandaluyong actually took longer than the entire duration of her set. To appease the clamoring crowd at the end of the show, she sang Justin Bieber's "Baby," which she previously covered on Perez Hilton, acapella.
ADVERTISEMENT - CONTINUE READING BELOW
Charice Pempengco performs "Pyramid" at Resorts World Manila on July 15.
Busy as a singing bee
With the overwhelming turn of events in her life, Charice, who turned 18 in May, says that she doesn't quite feel like her age. "I'm 18 years old but I feel much younger and much older at the same time. I have time for play but I also feel mature for my age because of my past," Charice told SPOT.ph at the press conference on July 15 for her concert series in Manila from July 15 to 17.
These days, she considers dealing with criticisms her greatest challenge but she also draws strength from them. "May mga taong nagta-try na hilahin ka pababa. 'Yun ang pinakamahirap and at the same time, nagpapalakas sa akin. 'Pag negative sila, dapat mapakitang mas positive ka sa kanila," she said at the July 15 press conference.
ADVERTISEMENT - CONTINUE READING BELOW
It sure looks like her strategy is working. She's certainly come a long way from those small-town singing tilts.
Charice will country-hop for her first solo Asian tour starting with the concert at Resorts World Manila on July 15, followed by performances at The Venice Piazza on July 16 and Eastwood Mall Open Park on July 17. Afterwards, she will fly to Japan, Malaysia and Thailand, and then back to the US. Later this year, she'll be part of the David Foster and Friends tour.
Charice has also come a long way from her first win of P7,500 cash with groceries, a cassette player and a trophy, as reported by YES!--but not quite the alleged $100,000 per show talent fee. Charice said, "Wala akong alam talaga sa talent fee. Pero I think sobra naman 'yung $100,000. Nagsa-start pa lang naman ako."
Curtain call
Despite the good fortune brought by her singing, Charice admitted at the press conference that she didn't want to be a singer forever. She reiterated that she would like to take up law, as previously reported. Skeptics might raise an eyebrow at her dream but she might just prove them wrong. Currently studying BA Communications at an Massachusetts-based online international university, she also reads law books. "It's like my relaxation," she told Reuters Television, as reported by ABS-CBNNews.com.
ADVERTISEMENT - CONTINUE READING BELOW
She said at the press con, "Gusto ko pa rin pong may marating talaga ako. Not as an artist pero ibang posisyon. Lawyer--ang taas ng pangarap ko (laughs). Kahit na matagal po 'yun, magsisikap talaga ako."
Catch Charice live at The Venice Piazza on July 16, 8 p.m. and at the Eastwood Mall Open Park on July 17, 8 p.m. For tickets, call 709-1111 local 142 and look for Ian Frayco.
Photos by Jean Natividad.
Share this story with your friends!
---
Help us make Spot.ph better!
Take the short survey
More Videos You Can Watch
Load More Stories