On the Spot: Georgina Wilson
The model extraordinaire on being shy, wasting her double degree, clicking with Borgy Manotoc, Kanye West + more.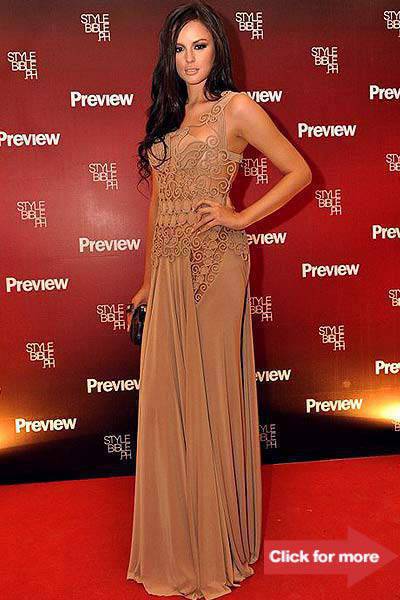 Georgina Wilson at the 2010 Preview Best Dressed Ball. Click for more photos.
Georgina Wilson claims she is timid, strict and motherly--not quite how most people outside her circle would describe her, she says. The 24-year-old supermodel insists she is "quite a shy person," but her Channel [V] VJ stint has "made her more comfortable with the camera."

And the camera loves Wilson, judging by her countless magazine covers (check out our gallery for some of them), billboards along EDSA and other thoroughfares in the city, endorsements, and showbiz offers. Preview Editor-in-Chief Pauline Juan said in Wilson's cover story for the fashion magazine's 15th anniversary issue, "The cover theme, (a tribute to) Alexander McQueen, is difficult to pull off; Georgina has the eyes, skin tone, height and bone structure to channel McQueen." She added, "Georgina was requested on the cover by our readers through the magazine's Facebook fan page. She has a huge following."
ADVERTISEMENT - CONTINUE READING BELOW
Wilson's Bench endorsement with former Wowowee host Willie Revillame, among other things, has fueled speculations on whether she will follow the showbiz footsteps of her aunt, Miss Universe 1969 Gloria Diaz. Wilson is still contemplating all the offers, though. One thing her fans may possibly watch for is a project with ex-boyfriend Richard Gutierrez; she says it would be "nice" and "even better" to work with the actor-host now than when they were dating.

When it comes to the dating department, Wilson isn't lacking either. She has admitted to going out with Borgy Manotoc, model and grandson of Imelda and the late Ferdinand Marcos. Their most popular moniker seems to be "BorGina" but don't call them that--it "doesn't sound too good," Wilson laughingly tells Young Star.

She also tells Young Star that Manotoc "reaches (her) on every level." But maybe not when it comes to her penchant for online sharing; Manotoc doesn't even have a Facebook account, she tells SPOT.ph. An avid Twitterer ("I get serious Twitter withdrawal!"), Wilson has over 92,000 followers as of September 13, including celebrity friends Anne Curtis, Tim Yap, Solenn Heussaff, Raymond Gutierrez, Liz Uy and cousin Isabelle Daza.
CONTINUE READING BELOW
Recommended Videos
SPOT.ph chats with the beauty and brains (Wilson graduated with a double major in Accounting and Finance at the University of Sydney) about accidentally "flashing" a crowd of college freshmen, getting to know Borgy Manotoc, and denying Kanye West her contact number.
You've been on the cover of so many magazines, transforming from one look to another. Which one is your favorite?

After all these years, it's difficult to choose my favorite one. I think my first solo Preview cover was a milestone for me, and it was also extra special because it was their 15th anniversary issue. I feel quite honored every time I'm asked to be on the cover.

What fashion concept are you dying to do?

I'd love to do a beautiful black and white 50s shoot.

What modeling assignment would you never take on in a million years?

There are quite a lot of concepts that I won't do; I'm quite picky with my endorsements. I have to truly like the product.
ADVERTISEMENT - CONTINUE READING BELOW
Georgina Wilson appears in a commercial with Willie Revillame for Bench's Wil cologne.
What are some of your boo-boos on the job? How did you deal with them?

The most recent one happened last month at a UP (University of the Philippines) freshman orientation for Channel V. I was hosting the program when my skirt blew up in the air. So embarrassing!

How catty are models in the Philippines? Can you share any particularly bad experiences with them?

I don't really have that many (bad experiences). I've been quite blessed to have pleasant experiences with all of my co-models.

You have already established yourself as a top model and celebrity. How does it feel when you're called the Megan Fox or Blair Waldorf of the Philippines?

It's very flattering to be compared to both of them. I get quite a lot of tweets saying that I look like both of them. I don't see it so much, though.

You obviously love fashion and dressing up, what was your biggest fashion splurge?

Definitely bags. My favorite brands are Balenciaga and Chanel.

Which fashion no-no makes you cringe the most? Which one do you think is pure genius?
I hate kitten heels! Pure genius? Sexy heels can spruce up any outfit!
2PM's "Boom Boom Boom" music video. Can you spot Georgina's cameo?
How was the shoot for 2PM's new music video? Did any of the band members try to make a move on you?

It was a long, three-day shoot for the behind-the-scenes special of Star World and Channel V. When I finally shot my part in the video, it was about 3 a.m. and I was so exhausted! They all became my good friends because we spent so much time together. They're all quite young but I was teased to a few--just friendly teasing though.
ADVERTISEMENT - CONTINUE READING BELOW

What has been holding you back from entering showbiz? What role or gig would make you say yes to showbiz?
I'm quite a shy person, believe it or not! I used to be quite afraid of the camera and that's probably what kept me away from showbiz. It's quite a tough world too. Channel V has made me more comfortable with the camera, though. I'd accept anything that I think I could execute very well.
Georgina Wilson on entering showbiz and working with ex-boyfriend Richard Gutierrez
Would you be open to doing a movie or TV show with Richard Gutierrez as your leading man?

Chard and I are still very good friends, so I think it would be nice to work with him. Actually, it would be better to work with him now compared to when we were dating.

What's the craziest or nastiest report about you that you've ever heard?
That I was pregnant! (laughs) I hated that rumor.
Georgina Wilson with 2PM
You've interviewed a lot of musicians as a VJ. Which one were you most excited to meet?

I was very excited to meet Kanye. He was so shockingly friendly and down to earth.

Which one was the hardest to interview?

Tokio Hotel had quite the strict management, but they were very friendly when I finally met them.

Raymond Gutierrez wrote in his column that Kanye West asked for your email address at Singapore's SINGFest, while Tim Yap tweeted that Kanye asked for your number. What did you say to Kanye?

Well, he first asked for my number, but I said I'd be more comfortable giving my email address. Yes, he emailed me after but just to casually hang. It wasn't much of a big deal.

A lot of your friends are on Twitter. Any chance of Borgy Manotoc signing up too?

We all decided to join Twitter after a group of us celebrated my birthday in Hong Kong last year. We were just using it as a way to chat with each other and then lots of people started following us. I've tried to make Borgy join, but he's quite a private person. He doesn't really like sharing his thoughts or life online; he doesn't even have Facebook! He does have an interesting blog, though, on an international website.

When you first met Borgy Manotoc, what did you think of him? What do you like about him?

I was quite young when I first met him. We worked together on a few advertisements and covers before, but we didn't really get to know each other because we were both in relationships at the time. It was only later that we got to know each other past the misconceptions and realized that we get along so well. 
ADVERTISEMENT - CONTINUE READING BELOW
Georgina in the music video of Christian Bautista's cover of "Beautiful Girl," along with Angel Locsin, Anne Curtis and Solenn Heussaff.
What makes your famous group of beautiful friends (Solenn Heussaff, Anne Curtis, Isabelle Daza and Liz Uy to name a few) click?

I haven't really thought about it, but maybe it's because no one is in competition with anyone else. We're all quite secure people. Without those traits, I don't think our group would work.  

What made you come back to Manila after studying in Australia? Why did you decide to stay?

Manila is definitely home for me. At a time of confusion, it brought me so much comfort so I decided to stay.

Have you ever felt like you're wasting your accounting and finance degree?

I never feel like I'm wasting it because I use that knowledge all the time. Lots of my interests lie in that field too, so even though I'm not working in the field yet, I constantly keep myself updated.

What wacky things about you would surprise people if they found out? Who is the Georg many don't know?

I'm quite a strict, motherly older sister. (laughs) Not that wacky but I guess people who don't know me don't expect that.

What's the sweetest thing that your fans like the Gorgeous Georgies have done for you?
They tweet me sweet things all the time.

What's on your playlist right now?

The Glitch Mob, Onra, Chromeo and lots of stuff.

Do you prefer clubbing or house parties?

I really like house parties but there aren't many good ones thrown.

Where in the metro do you love to spend your weekends and why?

I like to spend my weekends out of town when I can.

What's an R&R day like for you? How and where do you pamper yourself?

I usually go to Belo and the Jing Monis Salon.
ADVERTISEMENT - CONTINUE READING BELOW
Red Horse commercial featuring Georgina Wilson and her cousin Isabelle Daza, model and daughter of Miss Universe 1969 Gloria Diaz.
What are your favorite eating and drinking spots?
I love going to People's Palace and Kai in Greenbelt; they never fail to please. Cibo will always be my favorite restaurant though! I also like holes in the wall like Soms and Sango. I like drinking at B-Side because it's very laid back.
When showing around balikbayans, where in Metro Manila do you usually take them?

I like taking them to crazy Filipino things like watching the Club Mwah show. I also take them to good, authentic Filipino restaurants Via Mare and Fely J's.

What five things do you absolutely love about Manila?

I love the accessibility of everything, finding new places, eating in hotels around the metro, hanging out by the poolside in various places, and being able to quickly get out of town.
Photos courtesy of Preview (Best Dressed Ball 2010), Eddie Boy Escudero (Republiq launch), Jose Santos P. Ardivilla (Bench Uncut fashion show) and Daniel Tan (7 For All Mankind launch). Publicity photos from Channel [V], Bench, Kashieca and georginawilson.tumblr.com.
Share this story with your friends!
---
Help us make Spot.ph better!
Take the short survey
Load More Stories