Adam Lambert descends on Manila for his Glam Nation World Tour
Adam Lambert sings his hits and wows the crowd in his Glam Nation World Tour concert in Manila.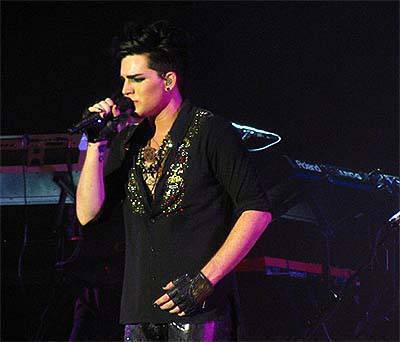 Adam Lambert makes it to Manila for his Glam Nation World Tour.
Singer Adam Lambert, who made his mark as the runner-up in the eight season of American Idol, came to the Philippines for a leg of his Glam Nation World Tour. But Filipino fans probably weren't expecting what they saw--or rather experienced--during his concert at the Mall of Asia Concert Grounds on Sunday night. And that's a good thing.
Adam Lambert makes a grand entrance.
If one could aptly describe the experience, it would probably be like being thrown into a rabbit hole--one which has neon lights and glitter in it.
Flawless vocals
At the beginning of the concert, the audience went into a frenzy when Lambert's flawless vocals surrounded the concert venue. His first song was the eerie "Voodoo" from his debut album For Your Entertainment. During this number, his silhouette was set against the background of a full moon, which eventually turned into a blood red pattern.
ADVERTISEMENT - CONTINUE READING BELOW
Lambert amped up the energy in his next number. He jumped into the spotlight--showing off his feathered hat, furry purple top, and shiny leather pants. To put the audience in a party mood, he sang the upbeat "For Your Entertainment."
Switching gears again, Lambert then sang the somber "Rabbit in the Hole" and "Ring of Fire." The latter, however, was probably taken too literally, with Lambert kneeling on a platform against a video of--what else--a ring of fire. In keeping with "hot" theme, he followed it up with "Fever."
Lip lock alert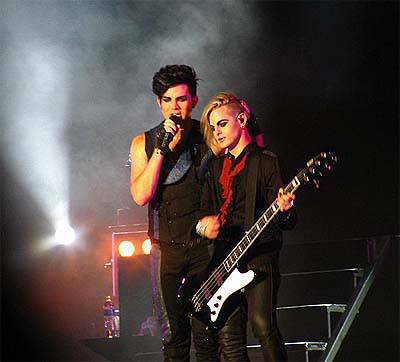 CONTINUE READING BELOW
Recommended Videos
Lambert and bassist Tommy Ratliff, whom he briefly kissed onstage.

If fans expected Lambert to do something controversial during his concert, they were not disappointed.
Adam Lambert has a brief lip lock with his bassist while he sings "Fever." (Catch the kiss at 0:32.)
In 2009, Lambert's onstage lip lock with his male keyboard player at the American Music Awards (AMA). This time around, Lambert had a brief onstage lip lock with his male bassist. But while network bigwigs made a fuss over his AMA kiss, the Filipino crowd didn't seem to mind. In fact, some of his fans shouted "I love you, Adam" while he was kissing the (lucky) bassist.
ADVERTISEMENT - CONTINUE READING BELOW
Second act
As Lambert briefly exited the stage, the band played an instrumental tribal song while dancers entertained the crowd.
When Adam came back from his short break, he was wearing a black trench coat over a black open shirt and black pants. He also switched from party mode to a more solemn feel again with "Sleepwalker."
When he finished the song, he sat on a stool and greeted the crowd. "It's good to finally be in the Philippines," he said. After the pleasantries, he went on to say declare, "The theme of tonight's show is love."
The crowd sings along when Adam Lambert sings "Whataya Want From Me."
Lambert explained that his goal was supposedly to make the fans understand that in order for humans to properly live, they must come to know all forms of love, even the heartbreaking ones. "If we didn't know heartache like that, we won't know true love," he said. He then sang an acoustic version of billboard charter "Whataya Want From Me," with the crowd singing along.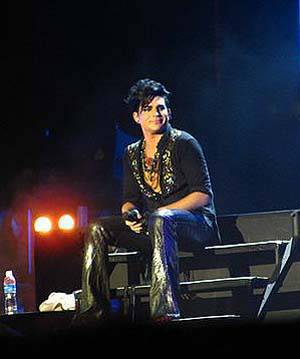 ADVERTISEMENT - CONTINUE READING BELOW
Lambert sat down for his acoustic set.
Lambert also went acoustic for the two numbers that followed: "Soaked" and "Broken Open." He then shared a love lesson with the audience: "The first step to finding true love is you gotta love yourself." This served as his segue to his next song, "Aftermath."
Adam Lambert shares a love lesson before he sings "Aftermath."
And just when the crowd thought he'd continue with the solemn route, he got them pumped up again with "Sure Fire Winners," "Music Again," and "Strut," wherein he performed a whole number with his dancers.
Two for the road
Then to the instrumental opening of upbeat charter "If I Had You," Lambert introduced his band members and said that this specific song was the message he wanted his fans to "walk home with." The song got all the people in the concert on their feet, dancing, and screaming Lambert's name.
Adam Lambert refers to "If I Had You" as the song he wants the audience to "walk home with."
But just like the abrupt ending of the song, Adam exited the stage right after finishing the number. The crowd momentarily went into shock and slowly built up an encore chant. With a pretty loud "More! More!" chant, lambert returned onstage and sang his trademark Idol song "Mad World," a cover of the song originally sung by the English duo Tears for Fears.
Adam Lambert kills it with with "Mad World."
Lambert was everything we thought he would be--a performer who is best appreciated live.
ADVERTISEMENT - CONTINUE READING BELOW
Photographs by Marla Miniano.
Share this story with your friends!
---
Help us make Spot.ph better!
Take the short survey
Load More Stories