On the Spot: Dawn Zulueta
SPOT.ph chats with the Town & Country October 2010 cover girl about her well-received stage comeback in "A Little Night Music."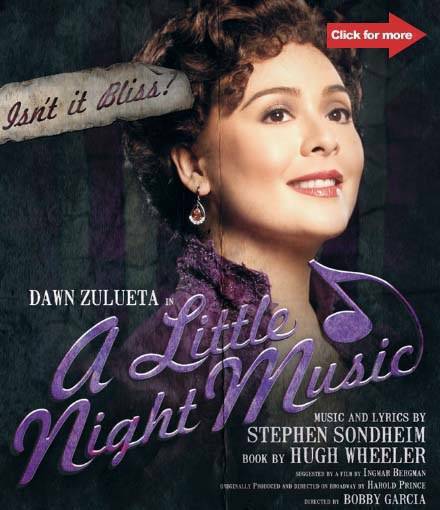 Dawn Zulueta in A Little Night Music. Click for more photos.

She first turned heads as a commercial model in her late teens. Now 41 and just as stunning, Dawn Zulueta makes it clear what she has proven a long time ago: this award-winning actress is way more than just a pretty face (though we love stealing her beauty secrets).
Remember when she won best supporting actress for Una Kang Naging Akin and best actress for Hihintayin Kita Sa Langit? Zulueta made history in the 90s when she became the first Filipino actor to win back-to-back awards at the Filipino Academy of Movie Arts & Sciences (FAMAS). Since then she has become the wife of Davao congressman Anton Lagdameo, a loving mom to two adorable kids, and now, a big draw to the local musical stage.
Currently she stars in Steven Sondheim's A Little Night Music, where she has received rave reviews for her performance as Desiree Armsfeldt. Her return to the musical stage comes 12 years after she appeared as "conga queen" Esla Montes in Larawan, the musical adaptation of Nick Joaquin's Portrait of the Artist as Filipino.
ADVERTISEMENT - CONTINUE READING BELOW
Says director Bobby Garcia, "Dawn was the first person who came to mind when I was thinking of doing A Little Night Music. I'm so glad she said yes. She's a very earthy actress. Not only does she bring movie-star glamour to the piece but also has an innate sense of truth. She is an honest and truthful actress. It is magical to watch her rehearse and become Desiree Armsfeldt."
Spot.ph talks to Dawn Zulueta about singing again, why Angelica Panganiban is her best bet for the next big thing, and why she refuses to ride the Facebook and Twitter bandwagon.
CONTINUE READING BELOW
Recommended Videos
How did you prepare for your role in A Little Night Music?
I listened to the music for a whole month, singing along with it every day until I became accustomed to the melodies. I also read the script and began memorization of my lines weeks prior to the start of our music rehearsals. Apart from that, I took care of my health by not exposing myself unnecessarily to the elements, as I wanted to guard against catching a cold or a cough.
What is the most fun part about playing Desiree?
Desiree is such an interesting character to portray. She has so many nuanced and comical lines throughout her story. She is a woman who has seen it all, being an actress traveling often to different parts of Europe for performances. She hopes to redeem some of the wrong decisions she made in the past, and she finds herself at once having the opportunity to change things but realizes it isn't all that easy. Like many of the roles I've portrayed, I do find some similarities [between myself] and Desiree's character.
ADVERTISEMENT - CONTINUE READING BELOW
You were doing theater 10 years ago, how difficult or easy was it to get back on stage?
Most difficult was convincing me that there was a role suited enough for me with my limited voice range. It was easy enough because I have always enjoyed performing on the theater stage, I just needed to get over the initial fear of the live performance.

Do you see yourself doing more theater than TV and movies?
More or less of any of the three is just a question of material and time. I love doing all: theater, TV, and film projects. What always becomes the clincher is whether or not the material is worthy of my time. I am blessed that I am able to choose freely what projects I want to do, so it will always boil down to this. I do limit my time for TV work; I cannot take the long hours of a teleserye. This lifestyle just doesn't mix well anymore with my real life as a mother and wife. But I would like to do TV work as a host of a talk show, perhaps, and also embark on nice film and theater projects.
Which plays and which roles do you want to do next?
I am interested in doing more musical plays such as "Camelot," "Chitty Chitty Bang Bang," and the like. However I would like to study these options well, as I am aware that my voice range is quite limited.
Do you have any pre-show rituals?
Prayer and meditation. I can never do without them. I become very quiet 30 minutes prior to going on stage because I want to focus... I avoid chatting with anyone, I put my phone on silent mode, and then I sit quietly alone to slow my heart rate (because it would be pounding) - as if waiting to be taken to the guillotine. I know that's funny to hear, but live performances have that terrible effect on me. I literally feel like I am about to be executed.
ADVERTISEMENT - CONTINUE READING BELOW

Dawn sings an excerpt from "Send in the Clowns."
Which do you prefer: acting in a movie, in a TV series or in a play?
They each have their own unique perks. When you're acting for a movie, you only get the nod of one person--the director, and wait for several months before you know what your audience thinks of your performance. The same can be said for acting for TV. When I am acting for live onstage, the whole exercise can be so exhilarating and terrifying all at once. And by the time you're done, you'll know for sure whether or not you pleased your audience-the reaction is more instantaneous, which makes it also a better playing field for any actor. I don't know yet that I prefer one to the other, all I know is that I enjoy performing; and the fulfillment is made complete when I manage to capture the audience.

How do you choose the projects offered to you?
I choose projects based on what I have and have not done in the past. I don't enjoy playing similar roles to those that I've already portrayed. I prefer stories that are relevant, and if they aren't, they should at least be fascinating enough to try for a change. I also choose projects based on my time; as a mother and wife, it has become quite limited.

Which actor would you like to partner with for a show or movie?
I would only dream of performing opposite Dustin Hoffman, Clint Eastwood, and Robert Redford. The last two being acclaimed film directors as well, I would also love to be directed by them. In our local scene, I would like to collaborate with Michael V, I think he has such an exceptionally creative mind - I think he and I would work well in a sit-com.
ADVERTISEMENT - CONTINUE READING BELOW
Which young stars do you think people should watch out for?
There are only a few that I have noticed recently. They are Angelica Panganiban and John Lloyd Cruz, they seem to be up to the challenge. I've observed how they're not afraid to take risks, it's also obvious in some of their performances that they give their role-playing some thought, and their acting choices are quite varied.
What would you say to your kids if they decide one day to join showbiz? What advice would you give them?
Study, finish college, and perhaps earn a degree first. Acting is all right, but it doesn't necessarily always bring food to the table.

What is your comfort food?
Carbo and sweets!!
What are your favorite restaurants in Metro Manila?
Some of my favorite places for eats are I Am Angus and Elbert's, both have the best steaks. I also like Je Suis Gourmand, for some French cuisine. And Tsukiji and Senri for Japanese and grilled food. I also like lots of Asian fare such as Korea Garden, People's Palace, several other great Chinese restaurants; and occasionally go for fine dining at The Tivoli and Prince Albert.

Where in Metro Manila do you go for a day of R&R?
I like having body massages at home and nail spa treatments, where it's private and I am near my children. On other occasions, I also enjoy going to Facial Care for my weekly beauty facials and treatments, and Marie France to relax while having my body slimming treatments. Another way I spend R&R is by just playing with my children at home, or taking them shopping or visiting our relatives who live near by.

Do you frequent any gyms in the metro? Aside from the gym, where do you go to exercise?
Occasionally when I have extra time, I do the treadmill at home so I can sweat off toxins, it's a good way to keep one's heart strong too. I also attend adult ballet classes twice a week at a nearby school; this helps my muscles stay flexible and bones strong. Another favorite sport of mine is badminton, but because I've been so busy since before I got pregnant with our second child, I have missed playing this game.
ADVERTISEMENT - CONTINUE READING BELOW
Have you ever thought of running for public office?
The thought of running for public office has always been asked of me, but it's never been something I considered. I feel happier and better suited doing what I do, which is being a mother, an actor, and my philanthropic work; I think I can better serve humanity in this way.I think that celebrities go into politics for many different reasons, some for noble causes, others not so. However, unfortunately not many are enlightened enough to really be effective elected leaders.

What do you think of celebrities who have become politicians?
Of the celebrity-politicians, the only ones I admire are Vilma Santos and Jinggoy Estrada - they're about the only ones to have proven their mettle.

Do you have a Twitter or Facebook account?
No. And no. I don't have the luxury of time to sit in front of a computer and communicate with people there. I prefer meeting and being in touch with them through the phone, letters and get-togethers, where I feel it is safer, more intimate and especially more mannerly. I don't think I could ever go for a Twitter or Facebook account as this would mean losing the very last frontier of privacy. I don't really care to let the world know all my personal views. And neither do I want blatant random thoughts flooding my quiet existence. It's less obtrusive to read the dailies.
Stephen Sondheim's "A Little Night Music" runs until October 31 at the Carlos P. Romulo Auditorium at the RCBC Theater. Check out the schedule.
ADVERTISEMENT - CONTINUE READING BELOW
Share this story with your friends!
---
Help us make Spot.ph better!
Take the short survey
Load More Stories