On the Spot: Solenn Heussaff
The sexy Survivor star, model, designer, makeup artist and painter on being a "girl of contradictions," her sexy shoots, Richard Gutierrez, and more.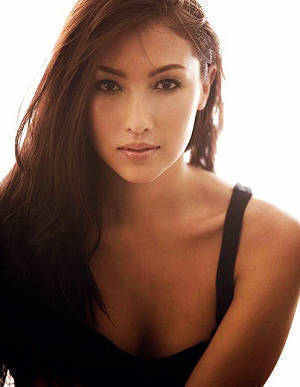 Photo by Xander Angeles.
At a time when wearing two or more hats is de rigueur, Solenn Heussaff, 25, stands out as a painter, singer, model, fashion designer, makeup artist, stylist, reality show star, and VJ. The French-Filipino celebrity is the first Heussaff to join showbiz, but you may have heard of her brother Erwan, who's dating her friend, host-actress Anne Curtis. Heussaff and Curtis belong to the same circle as stylist Liz Uy, supermodel Georgina Wilson and model Isabelle Daza. Always tagged as Derek Ramsay's girlfriend (and then ex-flame) before, Heussaff is now making a name for herself--though romantic rumors aren't far behind (see: Richard Gutierrez).
SPOT.ph chats with the new It girl in town about her Survivor tactics, artistic pursuits and dating preferences.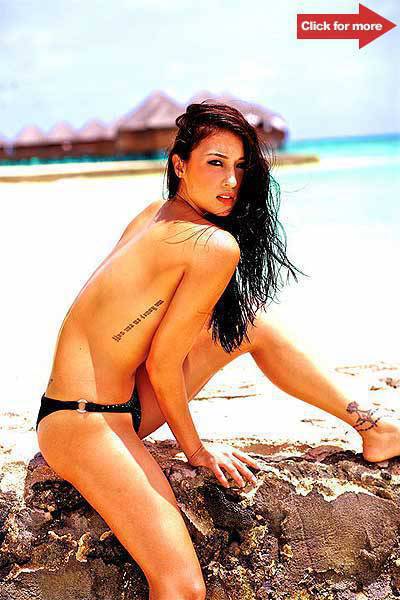 Photo by Paolo Pineda for Metro magazine. Click for more photos.
What was the most difficult thing you accomplished in Survivor?
It would have to be battling the cold and mosquitoes at night while sleeping in wet clothes with no blanket.
ADVERTISEMENT - CONTINUE READING BELOW
How did you deal with the homesickness?
I don't really get homesick since I have already lived away from my family several times. It was just hard to have zero contacts and not know what was going on back home.
How did it feel like when you lost the scorpion-eating challenge?
I felt bad because our team had already gone to so many tribal councils. But I did my best, and it was a close fight. I chewed all the insides already but I could not swallow the skin of the scorpion.
The Survivor scorpion-eating challenge
We read that you now sleep with a bunch of pillows because you got used to sleeping side by side with your fellow castaways. What other quirks did you pick up from the show?
CONTINUE READING BELOW
Recommended Videos
Yes, every night we slept so close to each other. Our shelter was really small, and it always rained so we were like sardines in a can. Now, when I sleep, I have pillows all around me. I sleep with five to six pillows. Don't have that many quirks anymore but the first month I got out, I had a hard time socializing. I felt like a cave man brought to 2020. Seeing people talk made me paranoid and think they are talking about me. If I forgot to brush my teeth, I didn't really mind anymore. (Laughs)
In an interview, you said that before Survivor, you ate rice only once a month. But during the taping, you ate it every day. What is your diet like now?
ADVERTISEMENT - CONTINUE READING BELOW
Yes, I stopped eating carbs when I started doing yoga. I would eat brown rice very rarely and if I did, it's like only a fourth of a cup. But on Survivor, that was our only source of energy so I had no choice. I ate about two cups a day! Now, I just eat meat, fruits and veggies. Sunday is my cheat day when I can have fried food, big meals, softdrinks, etc.
Solenn Heussaff's "Solennisms" on Survivor.
Would you go for another reality show stint? What kind of reality show would you like to do?
I'd love to join Amazing Race next year with my brother. And if Survivor asks me to join in two years, I would definitely do it and play nasty. (Laughs)
What tips can you give to Survivor aspirants?
Don't trust anyone. Don't be too sensitive, and remember that at the end of the day, it's just a game (for all the haters out there). Don't worry if you smell like rotten eggs because everyone does. Don't get too close to the cameras; they might see armpit hair. (Laughs) Remember there are cameras around 24/7 so don't say anything you wouldn't want people to know about. Prepare yourself mentally and physically. Think of a strategy. At the end of the game, smile and be happy for this once in a lifetime experience. Not everyone comes out with the cash prize but everyone's a winner for doing the whole thing.
ADVERTISEMENT - CONTINUE READING BELOW
What tattoos do you have and what do they mean?
I have five tattoos, almost all from different artists. I had one done in Tahiti on my 17th birthday. It's a Polynesian turtle with a tiki god on the shell and a manta ray around it. It means reincarnation of the gods of the oceans. I'm a fan of underwater life and have passed three PADI levels, so I thought it was appropriate. On my inner ankle, I have the Southern Cross, which is a constellation of stars that help you navigate the south and is used by the marines. It represents my father who used to be in the Navy.
I have a rosary around my ankle, symbolizing my mum who is very Catholic and has taught me faith. On my rib, I have my family motto in Celtic: "Ma kouez en em saff," meaning "If I fall, I will rise again". And I have a flower on the back of my neck symbolizing freedom and self expression.
Do you plan on getting more?
I want more tattoos: one in Alibata and one I'll draw myself. But that can wait.
Solenn Heussaff on painting
How come you don't give titles to your paintings?
I don't name them because I don't display them. I just give them away. I let the owners imagine what they want the paintings to be and decide on the story behind them.
Which one is your favorite?
My favorite so far is a Burmese monk I did last year for my parents. It was inspired by one of my dad's photos from his last trip to Burma.
ADVERTISEMENT - CONTINUE READING BELOW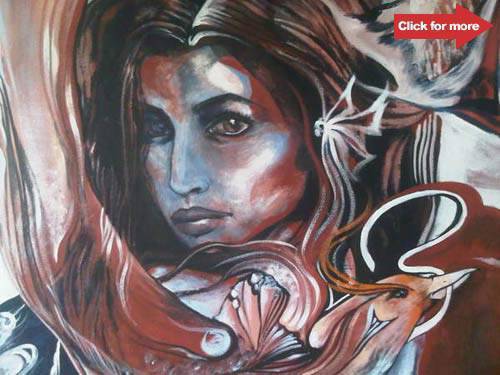 Anne Curtis portrait by Solenn Heussaff. Click for more of Heussaff's works.
If you were to have an exhibit, what would the theme be?
I'm actually planning an exhibit next year. I just finished my first portrait of the series. It will be called "Scene by me." I'll be painting local celebrities and personalities, and all proceeds will go to charity. I just finished painting Anne Curtis. Have 19 more to go including Manny Pacquiao, Tessa Prieto-Valdes, Tim Yap, Georgina Wilson and Marc Nicdao. All the paintings are going to be really big.
To whom have you sold your paintings? What's the price range?
I do not sell. I always give away. But I like painting and giving it to whomever I want. When people ask me to paint something for them, I usually don't. (Laughs) It has to come from me. For the exhibit though, I want to cover the cost of the paint, canvas and frame, and then add the charity donation. Probably P40,000 or more for each painting.
ADVERTISEMENT - CONTINUE READING BELOW
Who is your dream human canvas?
I don't really have any; I like transforming what's in front of me.
Solenn Heussaff performs with Chris Cayzer at the launch of Hayden Kho's fragrance
What are the songs you write about?
I haven't written many songs yet, have about three. They usually express a feeling I'm going through at the moment.
Who are your favorite singers?
I love Amy Winehouse, Alex Cornell and Norah Jones.
You once said, "Everyone's a model in the Philippines. Who are you kidding?" For you, what is a true model?
Well, there are different models. You have role models, who are people you look up to, admire and learn from. And then you have fashion models. When I think fashion model, I think really tall, skinny and knows how to project.
I said everyone's a model here because literally every cute girl I know is a model regardless of height, etc. Way back, people in the airport always used to ask me, "Artista ka?" I mean, what is an artista supposed to look like? You just have to know how to act. But just because I'm half, I'm automatically an artista or a model.
Solenn Heussaff's video blog for Penshoppe
Which makeup artists, models, painters, singers and actors do you look up to?
I love Lala Flores; she used to model as well and has been in the business for years. As for models, I recently discovered Pauleen Prieto. I think she's amazing and she really knows how to emote and look different in every single layout. For local painters, I like Tim Austria--we have a few pieces by him at home--Ben Cab... There are many new artists as well and all of them are great in their own way.
ADVERTISEMENT - CONTINUE READING BELOW
Singers, I would have to say the pride of the country, Charice. She started out with nothing, believed in herself, made it big on her own and now she's on Glee. For local actors, I think Anne Curtis, Heart Evangelista, John Lloyd Cruz and Angelica Panganiban are brilliant. They can cry on cue and are not OA (overacting). Abroad, I think Edward Norton and Johnny Depp are legends.
Channel V plug
Tell us about your VJ stint in Channel V.
I started two months ago. They asked me to join them before I left for Survivor. I was thrilled especially because my good friend Georgina is part of it so I knew work could only be fun. I am now more at ease in front of the camera. I still need to learn to speak slower. I'm like a bazooka machine. (Laughs) I want to interview everyone! I love listening to different stories and how artists came about.
Lolit Solis has said that you are beauty queen material. If given the chance, would you go for a beauty title?
It's not my thing, and I think I would really panic in the question-and-answer portion. (Laughs) I'll stick to painting, thank you.
If somebody asks you to style Angelica Panganiban, would you accept the job? How would you style her?
I would love to. I don't know why people think we have an issue. We might share something in common, but who in this world doesn't? The past is the past; everyone should move on. I would make her do something she hasn't done yet, maybe Euro chic or something.
ADVERTISEMENT - CONTINUE READING BELOW
How are you and Derek Ramsay? What if you were offered to do a project with him and Angelica Panganiban?
We are friends. Like I said, the past is the past. Yes, I would.
Richard Gutierrez on Solenn Heussaff: "She's a good friend of the family."
How are things between you and Richard Gutierrez?
Chard and I are good friends. I enjoy his company.
Do you believe in not dating your friends' exes?
Yes, I do believe girls shouldn't date their best friend's ex. It also makes things weird when the group hangs out together. But it really depends on the situation.
What's it like to be friends with equally gorgeous celebrities like Anne Curtis, Georgina Wilson and Isabelle Daza?
I love them; they are all very different but fun to hang out with. Unlike what other people think, there is no competition among us.
Does your brother Erwan cook for you?
He does for my family every Sunday. He makes all kinds of stuff depending on what I feel like having. He recently started doing molecular food. It's great what he can do.
In an interview a year ago, you said, "I refuse to join Twitter. It's like, what do people care what I'm doing?" What made you change your mind?
Yup, I didn't want to fall in the bag! Then again, I often say, "I will never..." and end up doing it. (Laughs) Who hasn't? I'm a girl of contradictions. Twitter is a good way to be in touch with my friends without having to text or call them. It's also very good for promoting my fashion shows with Tan Gan, etc.
ADVERTISEMENT - CONTINUE READING BELOW
What are your three favorite restaurants in Manila and what do you like to order in those places?
Chelsea for their Carbonara, Cibo for their Bruschetta and Stewed Pomodoro, and Terraces for their Artichoke Dip.
In your opinion, where in Manila can one spot a lot of cute guys?
Nowhere. Charot! I would say at the gym or M Cafe. (Laughs)
How do you deal with guys who hit on you while you're hanging out with friends? What's the worst pick-up line used on you?
I just smile, nod and then go to the toilet. (Laughs) Worst pick-up line would have to be "Are you tired? 'Cause you've been running in my dreams all night." PUKE.
Have you dated French guys? Can you compare them to Pinoys? Do you have a preference?
I have dated French men. Sometimes I think they are too self-centered. When you travel with them, there are so many things they don't want to try. They can't eat street food, etc. Pinoys are sometimes too possessive like you have to call them to tell them where you are at every time of the day. They're sometimes too "sticky" to me. But then again, let's not generalize; these are from my experiences. Not every French or Pinoy guy is the way I just described it. I usually prefer mestizos so I have the good of both and the bad of both. (Laughs)
How has growing up half-French and half-Filipino molded you as a person?
ADVERTISEMENT - CONTINUE READING BELOW
I'm open to a lot of things and I like to try everything. I feel like the world is my home. Every time I'm here, I want to go back to France; every time I'm in France, I want to return here. (Laughs)
What French traits do you like most and like least about yourself?
I like that I'm not judgmental, and I dislike the fact that I am too hard headed sometimes.
What Filipino traits do you like most and like least about yourself?
I'm friendly to everyone around me. I like least that I don't speak the language! Ah! Have to learn! Pero sobrang hirap! (Laughs)
Solenn's brother Erwan helps her out in Survivor.
How do your parents feel about all the things you're doing--Survivor, your ultra-sexy photo shoots, etc.?
My parents are very cool people. They guide me but never tell me what to do or not to do. They trust my decisions. About my sexy shots, my mum, who's more conservative than my dad, sometimes says, "Ay, nako Solenn." But I never do tacky or dirty sexy shoots. I only accept classy, artsy ones or the kind of shots that could be featured in Vogue, Vanity Fair or whatnot.
What is your message to and wish for young Pinays and Pinoys who admire you and are following your career?
Always go for your dreams. Don't let anyone stop you because anything is possible if you believe in it and yourself, and work hard to obtain your goal. Try to think out of the box and experiment new things that are good for you. Also, don't believe everything you read or hear; it's not always true!
ADVERTISEMENT - CONTINUE READING BELOW
Share this story with your friends!
---
Help us make Spot.ph better!
Take the short survey
Load More Stories