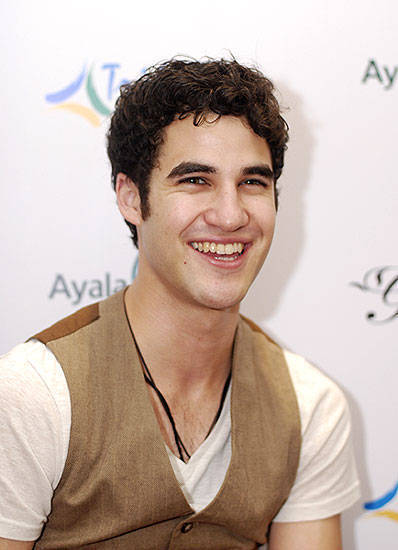 Darren Criss, Glee's out-and-proud gay student Blaine who made the world feel like they've been living a teenage dream within seconds of his TV show debut, is in Manila to perform in two Ayala Malls, last night at the Greenbelt 3 Park in Makati and tonight, 7 p.m. at the Trinoma Activity Center in Quezon City.

Though he is now more known for his Glee character, Criss was already enjoying a cult following before appearing on the hit musical TV show. Criss worked as an actor, singer, composer and songwriter on the viral Youtube videos A Very Potter Musical, A Very Potter Sequel and Me and My Dick along with his partners in StarKid Productions. A graduate of the University of Michigan with a degree in acting, he also came out with an EP titled Human, containing five acoustic songs he wrote, this year.

SPOT.ph got a chance to spend a few minutes with the multi-hyphenated Irish-Filipino artist who gamely talked about his Pinoy side.
We saw your Tweet ("Goin back to the Philippines... Sweet! So pumped! Wonder if they'll serve lumpia on the plane...") Is lumpia your favorite Filipino dish? What else do you like?

There was no lumpia on the plane, unfortunately. Yeah, that's the first thing that I'll say. I'm a seasoned Filipino food eater. The first thing (I thought) when I landed was I want my lumpia, pancit, cassava cake, bibingka, adobo, everything, all at the same time. I don't know if we have the same kind of aunts and uncles but all of my aunts are like, "Darren, eat! You're so thin; eat!" So it's always, always food... (Now,) I have my calamansi juice which is good for my throat.

Do you know any Filipino traditions?

As much as I want to say-you know, because I'm in the Philippines-that I lived a very close life to the Philippines, that's really not the case. My mom's the youngest of seven. She's Cebuano. She was born and raised here, and she came to the States looking for a different life... But that's not to say-I don't want to get this confused-that she disavowed Filipino culture. But she's very much an American. So aside from (having) adobo... or having my Filipino family over, I can't say (we have) other Filipino traditions other than having Filipino (food). To me, that's tradition enough. My favorite thing about being Filipino is just having Filipino family and relations, and the grander community.

(Also), there are just little things like really silly Filipino jokes-puns and a lot of Taglish jokes... I can't think of any, but you know what I'm talking about, right? They all have to do with puns on the Filipino accent.

Have you been to the Philippines before?

This is my third time in the Philippines with (my) family. I was here in January 2008, almost three years ago. My cousin and aunts live in Makati. My aunt has a restaurant called Lemuria in (Quezon City). My cousin got married in San Antonio Church... We (also) spent some time in Puerto Galera and Cebu because that's where my mom was from.
ADVERTISEMENT - CONTINUE READING BELOW
Before that, I came to Manila when I was very young so I wasn't very conscious of where I was. It's interesting coming back here under very different circumstances... I'm not from the Philippines but I have this bizarre kinship (with the country). As soon as I got off the plane, I was like, "Ah, this is me back in the Philippines." I love this place. It's cool. Whatever Filipino blood (I have) in me, it's very happy to be here.
Darren Criss and the Warblers sing "Teenage Dream."
Darren Criss and the Warblers sing "Hey, Soul Sister."
Darren Criss and Chris Colfer sing "Baby, It's Cold Outside."
Also read: "Glee's Darren Criss treats fans to a Merry Criss-mas indeed at Trinoma."
Catch Glee on ETC and Jack TV via satellite every Wednesday at 4 p.m. with a primetime telecast at 9 p.m. Photo by Dakila Angeles, courtesy of OK! Magazine.

Share this story with your friends!
---
Help us make Spot.ph better!
Take the short survey
Load More Stories