Richard Gomez and Lucy Torres on keeping fit, eating out, and more
Men's Health and Women's Health feature the celebrity couple in their latest issues.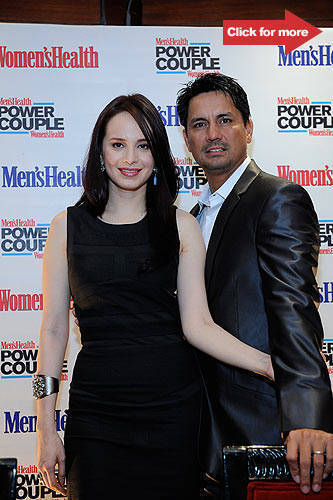 Lucy Torres-Gomez and Richard Gomez. Click for more photos.
Celebrity couple Richard Gomez and Lucy Torres are the first ever Power Couple of Men's Health (MH) and Women's Health (WH), with Gomez on the MH cover this month and Torres on WH. "It's a really beautiful concept," said Gomez. "I enjoy working with my wife on and off the camera."
ADVERTISEMENT - CONTINUE READING BELOW
CONTINUE READING BELOW
Recommended Videos
The actor and actress-turned-congresswoman have a relationship that is "a model for many couples to emulate," WH Editor-in-Chief Lara Parpan said in a press conference on Friday. "They've metamorphosed from just being a celeb showbiz couple into a couple that's been involved in civic projects and now in politics." Last year, Torres won the Leyte congressional race after she took her husband's place, following his disqualification. He now helps her out in Congress, calling himself her "chief of staff."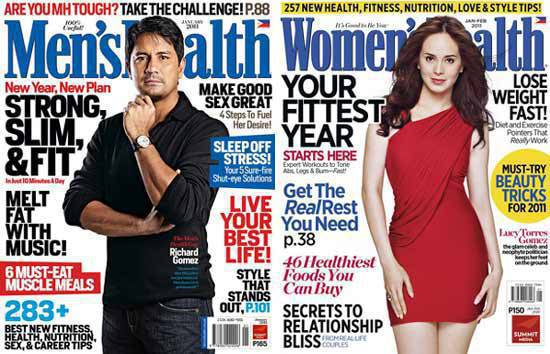 ADVERTISEMENT - CONTINUE READING BELOW
The January 2011 issue of Men's Health and the January-February 2011 issue of Women's Health
Both celebrities take time to lead an active lifestyle. Asked where he exercises in the metro, Gomez said he runs and fences at the PhilSports Arena (formerly Ultra) and plays badminton mostly at the Valle Verde Country Club. For her part, Torres has been a dance and yoga enthusiast for years. In the press conference, she said she watches what she eats, but her husband was quick to tease her about her appetite for chicharon bulaklak.

The couple and their daughter Juliana love to eat out. "A recent discovery is Gustavus. It's really nice. I enjoyed the steak, oysters and Caesar salad... If you want meat, Arya is very good. They also have this yogurt drink with rosewater; my daughter and I are addicted to it," Torres said. Gomez added, "The buffet at the newly renovated Cafe Ilang-Ilang of Manila Hotel is delicious." He also shared a cheap find in Magallanes: "On the right side of Golden Spoon, there's a kiosk that sells shawarma. It's really good; it costs about P75." Juliana, whom Torres called a "real foodie," loves frequenting yogurt places with her friends.
ADVERTISEMENT - CONTINUE READING BELOW
Behind the scenes of Richard Gomez and Lucy Torres' cover shoot.
To get some much-needed R&R from their hectic schedules, Torres said they usually ask a masseuse to come to their house. "Going to the spa is just so time consuming with the traffic in Manila... We're also lucky because we have three helpers who are what they call in the province suhi. They were born baliktad (upside down). The belief in the province is that if you were born baliktad, you have healing hands."
Men's Health (P165) and Women's Health (P150) are available in newsstands, bookstores and supermarkets nationwide. Press con photos by Ryan Ong. Video courtesy of Men's Health and Women's Health.
Load More Stories