Tweetie de Leon Gonzalez on beauty, love, living life well, and more
The new Pond's Gold Radiance endorser is still on everyone's radar after all this time.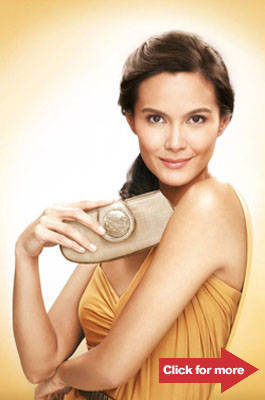 Golden Girl Tweetie de Leon Gonzalez is the new face for Pond's Gold Radiance. Click for more photos.
Hers is a charmed life-we know her as the model who got her big break at 14 with numerous magazine covers, TV commercials and endorsements to her name, plus a stint as the leading lady of TV comedian Vic Sotto in Okay Ka, Fairy Ko! for four years in the 90s. Tweetie de Leon Gonzalez, the quintessential morena credited for putting brown-skinned beauties on glossies in a mestiza-obsessed world, has proven time and again that she is no flash in the pan.
ADVERTISEMENT - CONTINUE READING BELOW
When she retired from the modeling industry in 1995, she added more feathers to an already colorful cap: wife to engineer Mon Gonzalez, mother of four kids, Bride and Home magazine editor, squash enthusiast and advocate, and jewelry designer whose creations have landed in Paul Smith stores worldwide as well as in US fashion magazines. She makes taking on anything look effortless, but such is the charm of Tweetie. Tapped by Pond's Philippines to be the new face of the Pond's Gold Radiance line, the dusky beauty proves that she can never be too far away from the limelight. Pond's senior brand manager Jacqe Yuengtian says, "Tweetie de Leon Gonzalez is the epitome of youthful beauty and radiance," making her a natural choice to endorse the line.
Gonzalez admits, "I take better care of my skin now, which I didn't do when I was younger."
ADVERTISEMENT - CONTINUE READING BELOW
In an intimate get-together with media held at the Makati Shangri-la Hotel, Gonzalez dished out her beauty philosophy, what she remembers about playing "Faye" on TV, and why she swears by the new Pond's Gold Radiance line.
On aging and the Pond's Gold Radiance line:
"Aging is not something I worry about. Just try to delay it as much as you can. You just do what you can to look the best that you can. I honestly feel better about myself at this stage in my life. As a woman, you need to really take good care of yourself. I take better care of my skin now, which I didn't do when I was younger. Now, I use the whole Gold Radiance line, but I can't do without the Gold Radiance serum and the day cream. I sometimes skip the eye cream but use the moisturizer."
ADVERTISEMENT - CONTINUE READING BELOW
Her rule of thumb on accepting endorsements:
"Before I go into any agreement to endorse a product, I really try the product. It's really an effective way to test it before committing to a product. It makes it more real, and you become trustworthy as an endorser."
Her formula to a life well lived:
"What I exercise in my life is balance: you can't be exercising your life away and you can't be dieting all the time. It's everything-your outlook, your disposition, it's [about] finding the right balance in your life. [You have to have] time with family, time with friends. Work hard, party hard, but not too hard. You have to set aside time for rest."
Why weekends will never be about work:
"I don't want to think about work [on weekends]. If you try to e-mail me, or text me, more often than not, you won't hear from me. This works for me."
ADVERTISEMENT - CONTINUE READING BELOW
On being a compulsive scheduler:
"I have this compulsive need to know what I'll be doing next week. I just have to have my schedules set as early as I could. Scheduling-that's what I've learned to master."
On her TV stint as Faye in Okay Ka, Fairy Ko:
"My husband noticed me in that show, I was always in short shorts. I refused to wear the dusters [in the show]." She jokes, "Because of that, I have a husband."
The secret to finding true love:
"Don't search. Potential targets are allergic to hapless, hopeless relationship seekers. Men, er, boys prefer happy, independent and confident partners. Looking needy for love is a total turnoff."
How she and her husband spice things up amidst their daily routines and busy schedules:
"Incessant flirting does the trick. It chooses no time nor manner in doing so. No attempts fail as they can either be successful or downright hilarious. It's a win-win situation."
ADVERTISEMENT - CONTINUE READING BELOW
What makes her truly happy:
"A big, warm hug. It reassures me  that everything is good."
Her secret guilty pleasures:
"Aromatherapy, chocolates, pizza, travel, kissing."
On what makes a woman truly beautiful:
"When she concerns herself with other people's welfare rather than her own."
On her childhood dream:
"You'll think it's corny, but ever since I was young, I always dreamt of working with the United Nations (UN). Not necessarily working for world peace, it can be in any department in the UN. That was just my dream.
But whatever happened in my life at a young age really paved the way to what I have now, they're not things I consciously planned, they just happened."
On her Valentine's Day plans and her most memorable one ever?
"We'll be in Sagada where the temperature drops to the single digits. I can get my big, warm hugs there, every minute, every day. My most memorable V-Day ever? I can't remember!"
ADVERTISEMENT - CONTINUE READING BELOW
Recommended Videos
Load More Stories