Fil-Am American Idol contestants Thia Megia and Clint Jun Gamboa wow judges in semi-finals
Plus: Look back at their <em>Idol</em> journey and check out their competition.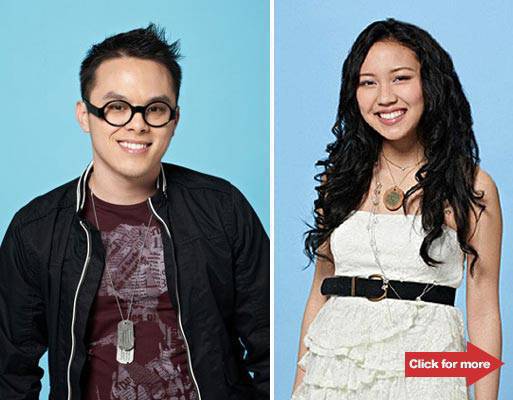 No token Asians here. Filipino-American singers Clint Jun Gamboa and Thia Megia got rave reviews from the judges this week. Click to see all Idol contestants this season.
From 327 golden ticket holders, American Idol has chosen its Top 24 and put them to a test this week on Guys' Night and Girls' Night. Thia Megia, a 15-year-old Filipino-American singer from California, shone yesterday with her soulful rendition of the Fame classic "Out Here On My Own." Randy Jackson was so impressed that he said her tone reminded him of the late King of Pop Michael Jackson. "It doesn't matter what age you are; this is what hot singing is about."
Thia Megia owned the spotlight on Girls' Night with "Out Here On My Own."
On Guys' Night the day before, Filipino-American singer Clint Jun "Junebug" Gamboa, the first male contestant to reach the Top 24, performed "Superstition." Although the song is a wildly popular karaoke choice, Jackson praised him and said, "There's no karaoke singer in the world that's got that kind of vocal talent."
Clint Jun Gamboa's "Superstitious" had Steven Tyler saying, "Wow! Beautiful!"
Find out if Megia and Gamboa will move on to the Top 10 tonight at 6 p.m. on Star World. In the meantime, take a look at their Idol journey so far:
Thia Megia got a golden ticket to Hollywood with "Chasing Pavements."
Megia is one of the 15-year-old phenoms who made the cut on Idol's 10th season when the reality show lowered its age limit by a year. Although this high school student is one of the youngest in the competition, she's no newbie to the industry. She made it to the quarterfinals of America's Got Talent in 2009, and she has already performed in a leg of the "David Foster and Friends" tour.
ADVERTISEMENT - CONTINUE READING BELOW
Based in Mountain House, California, she said she flew to Milwaukee to audition for Idol because she "just couldn't summon the patience to wait" for the California tryouts. Her rendition of Adele's "Chasing Pavements" was a hit with the judges, with Steven Tyler praising the "smoke and heat" in her voice and Jennifer Lopez calling her "the total package."
Thia Megia and duet partner Melinda Ademi survived "the vocal coach from hell."
In Hollywood, Megia continued to show off her vocal prowess with songs like "What a Wonderful World" and "Summertime." For the Beatles challenge, she and duet partner Melinda Ademi had to face "the vocal coach from hell" Peggi Blu. Their "Here Comes the Sun" number got a lukewarm response from the judges, but Megia pulled through. She went on to become one of the Top 12 female contestants, beating Jessica Cunningham-who has tried out for Idol six times before-for the last slot.
CONTINUE READING BELOW
Recommended Videos
Thia Megia moved forward to the Top 24, beating Idol veteran contestant Jessica Cunningham on the latter's 25th birthday.
Meanwhile, Gamboa, a 26-year-old karaoke bar host from Long Beach in California, wowed the judges with his audition piece "Billionaire." Tyler described his performance as "brilliant," while Randy Jackson said it was "one of the best (he has) seen in San Francisco." Asked where he learned to sing, Gamboa said he "grew up singing in a lot of gospel churches."
Clint Jun Gamboa charmed the judges with "Billionaire."
During the Hollywood rounds, he shone with "Georgia On My Mind." Drama ensued during the group round when he and The Guaps "had to kick out" 15-year-old Jacee Badeaux. "It had nothing to do with Jacee's talent because he's very talented. It just had to do with how we wanted the group to go," Gamboa said. After a momentary scare when Jackson called forward Gamboa's three group mates, all of The Guaps survived Group Night.
ADVERTISEMENT - CONTINUE READING BELOW
Clint Jun Gamboa and the rest of The Guaps got through Group Night.
Catch American Idol on Star World every Thursday and Friday at 6 p.m. and 8 p.m.
Share this story with your friends!
---
Help us make Spot.ph better!
Take the short survey
Load More Stories