Up Dharma Down's Armi Millare in a Rare One-on-One With SPOT.ph
The talented singer-songwriter on music, inspiration, and advice.
(SPOT.ph) When Armi Millare sings, people listen. There's something about the 25-year-old's powerful yet restrained voice and unassuming presence that captures people's attention. More commonly known as the vocalist and keyboardist of Up Dharma Down, one of the most followed bands in the music scene, the singer-songwriter remains unpretentious, and sometimes even shy-hard to believe, right? Despite the band's awards, rock god status, and recognition from a BBC radio show and Time magazine, the self-confessed loner stays grounded.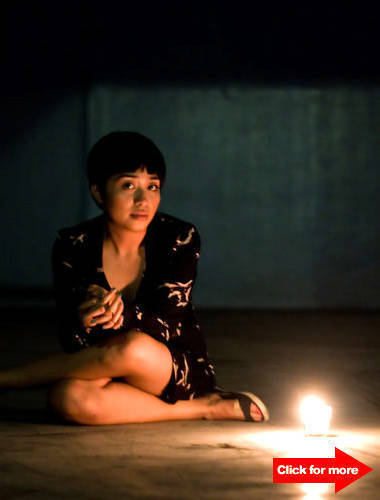 This woman rocks, literally. Photo by Erving Go from Facebook. Click for more.
The talented Up Dharma Down vocalist opened up to SPOT.ph about music and other things.
How long have you been singing and writing music?
I've been writing songs for quite sometime now and been singing far long as I can remember, the keys I learned at five years old.
Do you play other instruments aside from the keyboard?
ADVERTISEMENT - CONTINUE READING BELOW
Yes, mostly self-taught guitar and percussions as well. The koto and the kulintang are some instruments I've learned over the years, too.
What is it about music you love?
It's the only thing I know I can keep doing forever.
Where do you get inspiration to write music?
Life and whatever is presented alongside it, people most especially. It's that one thing I truly want to understand more than anything else. There's no exact value you can put into human beings except certain laws that run on expiration dates; age and health. But the mind is fascinating, feelings are tremendously interesting and the way people react to them I find immensely intriguing.
CONTINUE READING BELOW
Recommended Videos
What are your favorite topics to write about?
Mostly love, but I've dabbled into some of my philosophies and those of the people I know and have met. I'm apolitical, unlike most artists, because to me advocacies don't have to translate directly into songs. There are things I believe in that I wish I could write about-it may be my limits as a young songwriter that's stopping me, but the issues I stand for, I don't forget. There's not many of them, too. If I can represent an idea, I let the music speak separately from me as a woman who wants to emphasize something. I just happen to have a band and a few things to say.
Why do you think people have accepted your music?
When something resonates, people simply pick it up. I don't believe in music that not one person in the world doesn't get. There's got to be someone out there who appreciates the transfer of one's feelings.
ADVERTISEMENT - CONTINUE READING BELOW
Do you get nervous before gigs and performances?

Yes. It depends on the spirit and energy of the people we're performing for. Sometimes it's really just passive energy, that's easy to feel. And when it's full of expectations, it's even stronger.
How does it feel being the only woman in the group?

I do not get special treatment being the girl of the group unless I remind the guys; but then again I've been such a boy my whole life. My closest friends are guys and I grew up with two brothers. I'm pretty much a bit of a boy when I dress up, too.
What can Up Dharma Down fans look forward to?

We're currently working on the third album which is set to come out this year. I've just finished a batch of new songs-some of which might or might not make the album. I think it's pretty crucial this time around to let go of certain preconceived notions about the band sounding a particular way, which is unnamable still, but the feel is somewhat there, like a thin sheath of air right above our breathing space.
Up Dharma Down rehearsing "Tadhana"
What advice can you give to bands that are just starting out?

Just be yourself, maintain a sense of self-respect because you'll be meeting a lot of people from all walks of life, situations you never thought you'd ever get into, mostly ones you never thought possible, would test you. I say this because I'm not perfect and I've made quite a few mistakes, but what's important is you learn from them. If at any point you reach a status where you'll have to be exposed to the public, a point where it's uncontrollable, just keep in mind what you stand for and don't forget your roots and bits of advice from your parents and older friends-you go back to these people when the show's all over.
ADVERTISEMENT - CONTINUE READING BELOW
How have you evolved as an artist?
For as long as there's movement in you, there's evolution happening, whether it's regression or subtle progressions. My horizons have expanded, and I've learned that not everything you hear from people you look up to may necessarily apply to you, but because it doesn't apply, doesn't mean it's wrong. There are just things that work and don't work for certain people.
Are you aware that many people look up to you?

No, not really. Perhaps the band as a whole, and the singer in me, I'd like to believe that we're still very under-the-radar as personalities. Our music is probably seven times more popular than us as individuals. We're a team of four who are of equal billing.
What piece of advice can you give to those who look up to you?

Life's too short to be unhappy all the time, so if you know what truly makes you happy, you have to go and get it. Don't make money the center of your being. Hang with people who know how to live life before you lose your youth and vibrance, but know your limits. Also learn how to stick up for yourself because if you don't, there might come a time when nobody will, just because life has the uncanny ability to surprise us when we least expect.
What do you do during your downtime?
I spend a good amount of time being by myself unless friends drag me out of my hole. A lot of time walking and talking in my head. My job entails a lot of going out and being with people so I don't see the need to replicate it on a normal basis.
ADVERTISEMENT - CONTINUE READING BELOW
What's a regular day for you like?
I wake up, get some tea, go to the studio. If I'm lucky, I finish a song. Some days I really just spend alone and show up at gigs at night.
What other projects are you working on?
I'm still working on my clothing line but I've set it aside since I started writing songs for the third album. Maybe when were done recording I can focus on it again.
Share this story with your friends!
---
Help us make Spot.ph better!
Take the short survey
Load More Stories