Taken by Cars launches much-awaited second album Dualist
The local indie band was among <em>Time</em> magazine's Five New Bands to Watch in 2011.
(SPOT.ph) Heralded by Time magazine as one of the Asian bands to watch for in 2011, Taken by Cars took the Manila music scene by storm when their single "A Weeknight Memoir (In High Definition)" hit the airwaves in 2007. The song became an instant favorite amongst radio listeners and garnered tons of airplay. The quintet's dance-rock sound complemented by singer Sarah Marco's androgynous vocal proved to be a winning combination.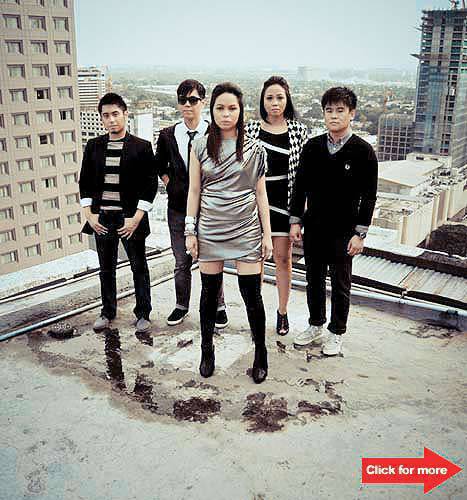 Taken by Cars' new lineup. Click for more.
In 2008, the band released their debut album Endings of a New Kind. As expected, the album was a success. Bryce Zialcita (guitars), Siopao Chua (guitars and synth), Bryan Kong (drums, synth, and vocals), Sarah Marco (vocals), and new member Isa Garcia (bass), collectively known as Taken by Cars are finally launching their second album, Dualist. What took them three years? The band's vocalist Sarah Marco dishes out answers, and more.
ADVERTISEMENT - CONTINUE READING BELOW
What took you guys so long to release your second album?
The band encountered a few challenges. A lineup change to begin with. Our old bassist, Benny Yap, left due to personal reasons. Along with that, was the resolve to build our momentum again with songwriting and performing since we slowed down with doing gigs and writing after the lineup change. All of us also have day jobs so scheduling was difficult at times. It took this album three years to write and make but it was all in good time-all at a pace that suited our individual lives and all in great timing.

What makes Dualist different from the first album?
CONTINUE READING BELOW
Recommended Videos
The songwriting process was definitely more tedious the second time around. We were more experimental with how we wanted songs to sound and tried out different ways of recording. We also added the synth and the micro korg to our instrument pool. In terms of singing, I think the vocal style has also changed a bit. The stories in the songs are still relevant. I hope it will resonate.

How many tracks are on Dualist?
11.

Who wrote the songs and what are the topics of your songs?
I write the lyrics but it's a collaborative effort when we write the melodies. I think everybody can relate in a Taken by Cars world where life can be thought of as happy, angry, sweet, sad, joyful, brooding, sexual, all at the same time. There are songs which don't really have any dark moments like "This is Our City." Some are very sentimental and brooding like "Matter of Fact" or "Sea Bass." Or some are aggressive like "Thrones: Equals" or 'Autopilot."

What's your favorite song in the album?
ADVERTISEMENT - CONTINUE READING BELOW
I can't really pinpoint one song as these songs tell my stories. I love all of them like children. But maybe the one that will stir some emotions in people is "Matter of Fact."

Where did you get inspiration to make this album?
A lot of inspiration comes from my life and the bands I've listened to, my current state of mind and the ever-changing status of my emotions. It changes day by day and a song can come to me anywhere so lyrics tend to come about very spontaneously.
"Shapeshifter" from their first album Endings of a New Kind. The video was directed by Quark Henares.
Now that you've released your second album, how does it feel?
At the present, beaming with excitement.

You've worked with director Quark Henares before, how was it working with him again for the video of "This is our City?"
Quark always manages to make the shoots fun. He's become a good friend of the band so we have a lot of laughs with him and he has a very casual but professional approach with his work. It gets tiring but at the end of the day, when you see the result, we say we're tired, but we'd rather be tired doing something that we love doing with good results to boot.

What can we expect from Dualist?
Hopefully a more mature sound and songs that touch you and move you more!

How does it feel to be mentioned in Time magazine as one of the best emerging bands in Asia?
ADVERTISEMENT - CONTINUE READING BELOW
It was very unexpected and very welcomed. We are proud and lucky to be featured in a magazine as important as Time.

How has Taken by Cars evolved?
I think we have all evolved so much musically and also individually, as people. As musicians, I think each of us has cultivated this never-ending drive to always get better and better at what we are doing. There is always a constant need to be inspired and re-inspired and learn new things. Personally, we have also grown in our own careers and in our relationships with people and with ourselves.

Who are your major music influences?
Each of us have our own preferences. We like to listen to anything good really but we are all united when it comes to the preference for indie rock, new wave, ambient, electro, shoegaze, house and the like.
Where do you get inspiration to make music?
It could come from the bands we're listening to, or a sound we're trying to emulate, or a new thing we've been trying with the equipment we have. We fiddle a lot with things in the recording studio. A lot of trial and error goes on and when we come across a certain sound we like, it's an "a-ha!" moment.

What do you do when you're not making music?
We're hanging out, drinking, watching bands, and laughing at each other.

Where are your favorite hangouts in Manila?
SaGuijo, our friends' houses, it depends on the occasion really. This past January we all went to the Laneway Festival at Singapore to watch Foals, Ladyhawke, Beach House, and a bunch of other bands play. It was a very good thing for us because we were even more inspired to make music after that.

Who are you listening to now?
ADVERTISEMENT - CONTINUE READING BELOW
Foals, Deerhunter, Beach House, Florence and the Machine, the new Pains of Being Pure at Heart, the new Strokes.

Who are your favorite local bands?
Pedicab, Sandwich, Sleepwalk Circus, Urbandub, Chicosci, there's a lot.
The Dualist album launch is on April 15 at the Amber Ultralounge at the Fort Strip.
Photos courtesy of Taken by Cars
Share this story with your friends!
---
Help us make Spot.ph better!
Take the short survey
Load More Stories