The Late Isabel on making music and their newly released EP, Lackadaisical
The elusive post-punk indie band opens up to SPOT.ph.
(SPOT.ph) Who is Isabel? That's probably the first thing that pops into your head when you first hear about The Late Isabel, an under-the-radar band that's been in the local music scene for more than 10 years. "She was supposed to be a visual experiment for the band in the early days," says Allan Hernandez, the band's guitarist. "To promote our band, we would make a series of posters of a woman always leaving-in a restaurant, a train station, the toilet, anywhere-you can't ever see her face. Then below that we would put, The Late Isabel, and then a date for the gig. It turned out we could use her for just about anything the band does."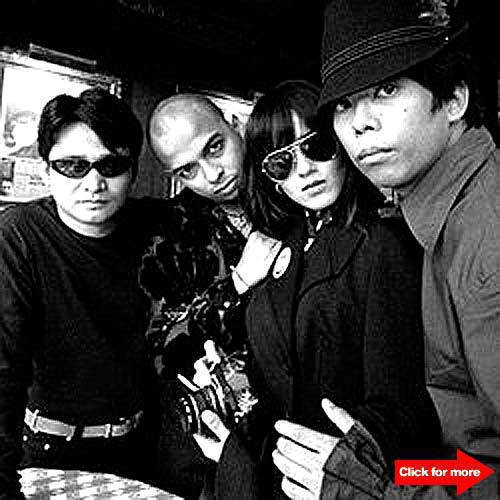 The Late Isabel. Click for more.
Not exactly mainstream material, the foursome composed of visual artist Wawi Navarroza (vocals), JP Agcaoili (drums), Roval Bacale (bass), and Allan Hernandez (guitar) created a buzz when they released their first album, Doll's Head, in 2005. The nine-track album was nothing the local music scene had heard before-gothic, dark, and whimsical. Doll's Head bagged the MTV Pilipinas Best Indie Music Video, NU107's "In The Raw", and MTV Style awards. More than five years after the release of Doll's Head comes Lackadaisical, a limited edition five-track EP that's grittier and more raw than the band's initial offering.

SPOT.ph chats with the group's guitarist, Allan Hernandez, on making music, the new EP, and more.
ADVERTISEMENT - CONTINUE READING BELOW
You've been around for more than 10 years, how has the band evolved?

It would be easy to say that the music has changed, but only a little bit. We still think we're the same band that we were 10 years ago except that now our listeners get to hear the grittier songs. What has changed though is how we deal with being an indie band in the Pinoy scene. When we were a younger band, the disappointment would be evident if our audience don't get us, or we end up playing last because nobody knew us in the scene, or our songs wouldn't even be listened to. Now, we just let things be and sit back, have a beer and wait for our set. We don't feel the need to hang around late after the set, too, because you have to, you know, "network." We can even not play for a year-like we're doing now since Wawi (our vocalist) is leaving for Spain to study-and see each other when we see each other in a bar and become a band again. We're a band because we're a band, not because we can be bigger than what we are.
CONTINUE READING BELOW
Recommended Videos

How would you describe your music to someone who is not familiar with your sound?

Kind of like if you were in a dark carnival.

What makes the band different from how it was when you started?

We're 11 years older, which means two of us have families, all of us are struggling with day jobs and/or rackets. One is turning 30, two are in their mid-30s, one is turning 40. We don't know how long we can still be this kind of band in a couple of years. Otherwise, the whole idea behind the band-post-punk, with a very visual approach to songs-is still the aesthetic behind everything we do.

Who writes the songs?

We usually credit the entire band because nothing comes out of each band member as a complete song. It starts with one idea and we toss it around.

What are the usual topics of your songs?

Words come in last with our songs so it's largely determined by the mood of the music. In the EP, the title song I think (Wawi wrote the words) dwells in "those thoughts that linger in your head" when you're feeling "lackadaisical." "Isabel the Damaged" is lifted from a short story by Karl De Mesa about a girl who gets run over by a jeep and yet comes out alive, though all twisted. "Tinstick Romance" is about frail girls, "Imperial" is simply an oriental fantasy, and "Midnight City" is a midnight cowboy fantasy. Nothing concrete, just moods.

What's the band's music-making process?

We work from the drums up. Meaning we agree on a rhythm, a percussive idea, then we play it over and over again in the studio. Next, the bassist will try to lie down on those beats, create a sound that comes from the bass but sounds like the drums-we always tell him, try to disappear so his rhythm becomes like a pulse. Then guitars come in. Usually, because the rhythmic bed is done, the guitar sound comes out as pastiches-kind of like action painting. No real chord patterns. Then we think of the words that can fit into that sound.



ADVERTISEMENT - CONTINUE READING BELOW
"Doll's Head" music video

What keeps you inspired to make music?

The act of writing it. The possibilities of sound. Inspiration can come from anything-whatever makes you stop and take a second look.

When and where do you find it most conducive to write music?

In the rehearsal studio, when there is no compulsion to come up with new music. Just noodling around until you hit on something.

Who are your musical influences?

The Velvet Underground, Talking Heads, Siouxsie and the Banshees, The Smiths. Movie soundtracks. Oriental music. Television, David Bowie. It doesn't stop there, really.

The Late Isabel recently released Lackadaisical, a limited edition EP packaged with merchandise created by contemporary artists, what's the story behind this?

You can say it was a happy accident and a contingency plan. We had been working on a full album since 2006. Studio accidents-including a computer crash that buried all our songs, so we had to rerecord-and our personal time got in the way until in 2011, Wawi gets a grant to study abroad for a year. So what do we do? So, as in a guerilla operation, we worked to release five songs that became the EP, and marshaled all our artist-friends to pitch in, which was how the merchandise came to be. Lackadaisical won't be available anywhere, though. We're treating it as an illicit item, so it will be delivered to you personally. You just have to leave a message on The Late Isabel group on Facebook, then we'll message you back and arrange a drop-off.

Do you think art and music go together?

Definitely. Without us being conscious about it, I think that's how it's been with The Late Isabel. We treat sound as a medium, and what comes out are the songs. We think in terms of a movie soundtrack, a score, sound as color, as movement. It sounds pretentious but that's how we work.

What's next for The Late Isabel?

We'll be out for a year, unfortunately. But we agreed to write songs again. There's a full album coming out when Wawi returns next year.

Any advice for bands that are just starting out?

I'd say rehearse for a year. No gigs, just rehearsing. Then when you go out there, you can play your songs even if you're blind and deaf-you'd still sound good and you'd have a better time onstage as well, so you will look good as well. Besides, you won't ever need to rehearse after if you do that. Also, let your songs grow on you, don't write, then record immediately. Let it breathe. If you still like it after a period of germination, then it should be good.


Photos from Facebook and The Late Isabel's website


ADVERTISEMENT - CONTINUE READING BELOW
Share this story with your friends!
---
Help us make Spot.ph better!
Take the short survey
Load More Stories