Grammy-Winning Rock Band Switchfoot Live in Manila on April 30
SPOT.ph grilled Switchfoot's Pinoy band member Jerome Fontamillas on the band's big win, the new album, and coming home to Manila.
(SPOT.ph) Switchfoot recently made a few big changes: a new home studio, a new label, and a return-to-roots creativity and sense of purpose. The result? Hello Hurricane, the quintet's successful seventh album. So successful it bagged the Best Rock Gospel Album at the Grammy Awards this year. "Hello Hurricane acknowledges the storms that tear through our lives," shares frontman Jon Foreman. "This album is an attempt to respond to those storms with an element of hope, trying to understand what it means to be hopeful in a world that keeps on spinning."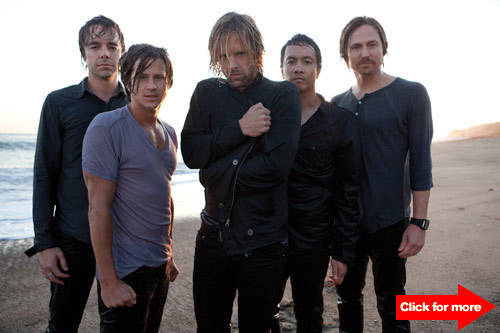 ADVERTISEMENT - CONTINUE READING BELOW
Switchfoot, all set to play in Manila. Click for more.
Together for more than 10 years now, the multi-awarded group is not only known for their music, they're also popular for doing charity work and supporting various humanitarian causes worldwide. They founded the Switchfoot Bro-Am Surf Contest, a benefit surf competition topped off with a concert to raise funds for organizations that help homeless kids.

Despite having a huge following, the San Diego-based band composed of Jon Foreman (vocals/guitar), Tim Foreman (bass), Chad Butler (drums), Jerome Fontamillas (keyboard/guitar), and Drew Shirley (guitar), remains humble.
"It's hard to say when we got so popular, or if in fact we're really popular," Fontamillas said, the band's Filipino guitarist/keyboardist. "We just love to write and play music. We never would measure our success by how many album sales we have. It's about connecting to an individual, or a few people, or an arena. We feel the music is for everyone, and if more people are listening because they feel connected somehow to the music and the songs, that's more meaningful to us. "
ADVERTISEMENT - CONTINUE READING BELOW
Switchfoot performing the title track "Hello Hurricane"
Switchfoot's Pinoy guitarist/keyboardist, Jerome Fontamillas, took a break from recording to chat with SPOT.ph.
How did it feel to win a Grammy?

It feels so surreal. It's such an honor to win and to be in the same level as all the other Grammy winners. We're just so blessed to be able to make music.

Is there more pressure now after winning?

The pressure is on our own. We constantly push ourselves to write and make music. We constantly push ourselves to become better.

What can we expect from the new album?

It's a rightful next step after Hello Hurricane. There's definitely going to be more rhythm.

As a band, how are you guys?

We're really close. If the band ended today, we'd still be hanging out.

What are you looking forward to when you visit the Philippines?

I was born in the Philippines and lived in Pasay until I was three. I can't wait to eat lumpia, pansit, bangus, tilapia, definitely not looking forward to eating balut. Filipinos are so warm and inviting. It's going to be like one big family reunion.

Any message to your Pinoy fans?

My kababayans, I'm so excited to come back and see you guys. You guys are like family to me.

Watch Switchfoot perform live in Manila at the Phil. Sport Arena (formerly Ultra) on April 30, 7:30 p.m.


Photos from the Switchfoot website
ADVERTISEMENT - CONTINUE READING BELOW
Load More Stories