Q&A: Ex-Bamboo band members regroup to form Hijo
Meet the newest rock band to hit the local music scene
(SPOT.ph) Early this year we witnessed the breakup of Bamboo, one of the local music industry's favorite and most followed bands. It was an unfortunate event that stunned music fans-it even spawned a Facebook group called Bamboo Believers where fans of the former band can reminisce and talk about the much-loved quartet. While we will probably never know for sure what their reasons were for disbanding, new hope comes in the form of Hijo, the newest band to hit the local music scene with some very familiar faces.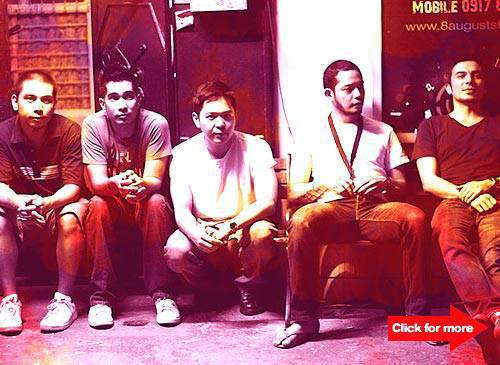 Bamboo's out, Hijo's in. Click for more.


Composed of ex-Bamboo members Nathan Azarcon, now on vocals and bass, Vic Mercado on drums, Ira Cruz, Radioactive Sago Project's Junji Lerma on guitars, and Jay-O Orduña on keyboard, the group is set to take Manila by storm. Having been around for only a month (the band's premiere gig was on April 16), Hijo has already conjured a following, which isn't surprising at all considering the pool of talent this band has. There are even rumors that Hijo will be releasing their first album soon. 


ADVERTISEMENT - CONTINUE READING BELOW
Hijo sings "Dahil Sa Iyo" during their premiere gig at Route 196
Hear it from Hijo's frontman Nathan Azarcon who sat down with SPOT.ph to answer a few questions.

When did Hijo start?

The band officially started when we got fired from our old band.

What's the story behind the band's name?

Well, it was the only name that we could agree upon.

How did the band come about?

We just picked up where we left off. The three (Nathan, Vic, and Ira) of us soldiered on and enlisted an old friend and found a new one to strengthen our ranks.

Is it easy working together or are there creative differences?

Of course there are differences, but I discovered that whenever I bring my shotgun to our band rehearsals, all our differences, both personal and creative, pretty much disappear.

What type of music does Hijo play?

Kung-fu rock.

Does the band do covers songs or original songs?

We don't do covers; we do renditions of classic Top 40 songs from the 80's and mid 90's. But don't get us wrong we are very picky.

What are the themes of Hijo's songs?

Mostly about love and loss, Murder and Mayhem, nose goblins, nose hairs, that kind of stuff.

Is there an album in the works?

Yes, we are currently recording an album.

Is Hijo independent or under a record label?

We are in the market for a record label. A label that hopefully shares the same vision we have, in short, a label that we can call home. We will not disappoint.

After all you've been through in the industry, what's your take on the local music scene?

Everybody is searching for the next "big thing," but what they don't understand is that the reason for its success is because they are an alternative to OPM that was pretty much dominant for a long time. It's a five-year cycle and the slate has been wiped clean. Let's just hope another torch bearer, like a Francis Magalona or another Eraserheads; smart, witty enough to catch our attention, yet sincere and honest in its entirety to speak for all of us suddenly emerges. It's just like this quote that I stumbled upon from Catch a Fire: The Life of Bob Marley by Timothy White which says, "the public expression of a private truth," that is basically what all of us are looking for.




Photos courtesy of Hijo and from their Facebook page
ADVERTISEMENT - CONTINUE READING BELOW
Load More Stories